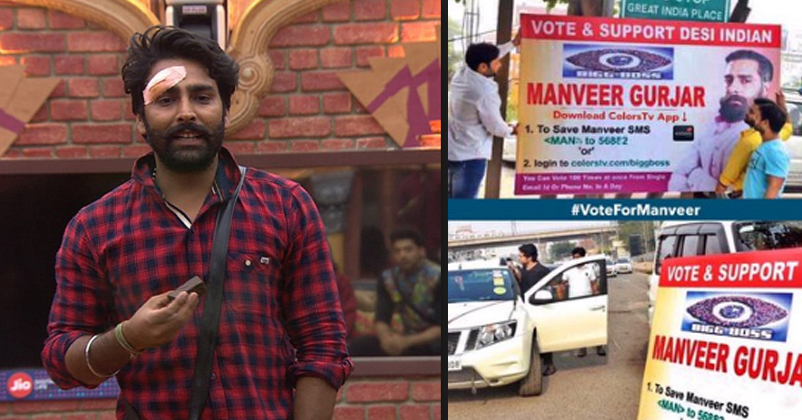 Bigg Boss finale fever has just started and fans are going crazy. This evening we revealed that Manveer defeated Manu Punjabi to become the first finalist of Bigg Boss 10. Manveer's popularity and honesty got him majority of votes.
Manveer has just got a spot in the finale, but it seems his fans in North India have already assumed that he has won the Bigg Boss season. Yeah, they are actually behaving and celebrating his win well in advance and not only this, they are also supporting him in every possible way. Fans are showing complete loyalty to their favorite contestants; even Manveer's followers are doing whatever they can to make him win.
Do you know what all have they done? Majority of them have stuck Manveer's pictures on their bikes and cars along with the message #WeSupportManveer. Huge rallies have been held in North India and fans are requesting everyone to vote for Manveer Gurjar.
In some places, Manveer's banners have been put up at every nook and corner and huge white screens have been arranged for watching Bigg Boss together. It is so much fun to sit together, watch and cheer for the favorite contestant; have you experienced this before? The craze is just unstoppable it seems…
Don't you wish to see the pics after hearing all this? Check it out right away…
Vote for Manveer!
Stickers on cars!
And one more!
Fans are doing everything possible!
This is full-on Josh! The finale week has gripped the fans and the upcoming episodes would be fun to watch. Do you think Manveer will leave all contestants behind and walk out with the Bigg Boss trophy? Share your views in our comments section below…
Share Your Views In Comments Below