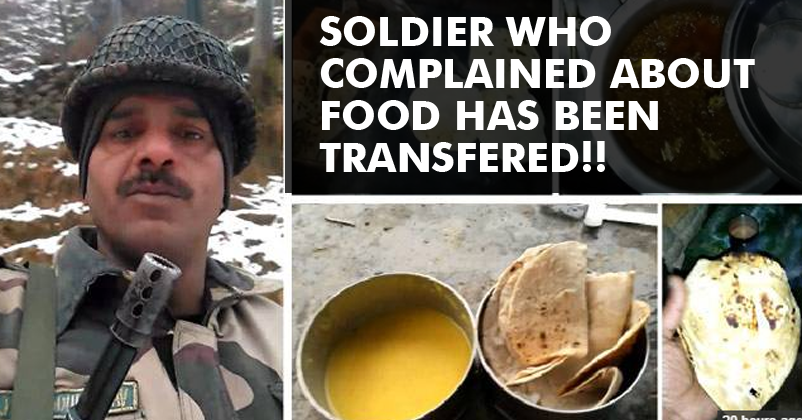 Yesterday, a BSF Jawan Tej Bahadur Yadav shared 3 videos and we were shocked to see the food quality that soldiers have been getting on the border. The main purpose of sharing these videos was to highlight these worst conditions, because media doesn't bother to cover them.
The Jawan also appealed to the PM to look into this matter and take some action immediately. He had a valid point; how could a Jawan give duty for 10 hours by eating such low quality food, which is bland and tasteless.
We felt lucky that we get good food to eat and stay safe in our homes, while our jawans are busy protecting us, even though they have to compromise with extreme weathers and bad food. However, the videos went viral as soon as they were uploaded; even celebs took to Twitter and sympathized with their conditions.
Although it was risky for Tej Bahadur to upload these videos (Defense personnel don't have permission to share updates), he did so just to reach out to people and show them the truth. Had he not uploaded them, we would have never ever come to know about this harsh reality. Even his life was at risk, but he didn't step back.
And yes, the thing which he feared has happened. You won't believe what punishment he has got for sharing the truth. Well, he has been transferred from the Camp to the BSF headquarters and has been allotted the duty of a plumber. This is seriously PATHETIC.
When Yadav spoke to the superior officer, he said that they were helpless because the ration was inadequate, which further resulted in poor foods. So where is all the money going?
Transfer is not the only thing that happened; you will be shocked to see the reports by BSF. They have now termed Yadav as a mentally sick person. Here are the tweets…
Constable Tej Bahadur as an individual has a difficult past. From initial days of his career, he needed regular counselling: BSF

— ANI (@ANI_news) January 9, 2017
He was habitual offender of absenteeism without permission, chronic alcoholism, misbehaving with superior officers: BSF

— ANI (@ANI_news) January 9, 2017
OMG! It's sick to blame the Jawan this way. When the videos went live, it was the duty of BSF to check and take immediate action on the prevalent conditions. But what are they doing in return? They are just blaming the soldier who had that daring to show people what exactly goes on there. Was he wrong at his place? How far is it justified to give such food to the soldiers who struggle day and night to protect the nation. In fact, they should be given special treatment. Even if Tej Bahadur Yadav is mentally unfit (Although he looks stable in the video), can the BSF rubbish the live videos that were posted about the pathetic food conditions? Does it have an answer to give us?
It's just like they are shifting their focus from one issue to the other and showing him in bad light so that media doesn't believe him. Whatever happened is completely WRONG. What's your view on this? Do share in our comments section below.
Share Your Views In Comments Below