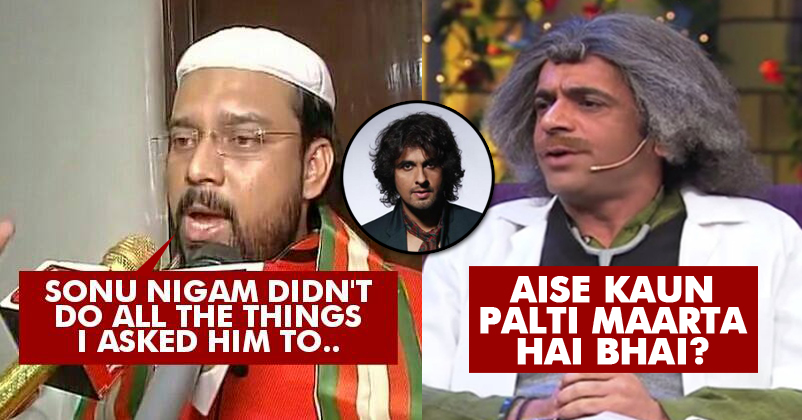 Sonu Nigam attracted lot of negativity for his remarks about loudspeakers in mosques, temples and Gurudwaras; no one is ready to understand that he's not against Muslims but is against those loud sounds. A Maulvi issued fatwa against him and promised to pay Rs 10 lakhs to the one who shaves off Sonu's head; accepting this challenge, the singer himself arranged for an Aalim and got bald in front of the media.
Image Source: Bollywood Life
The singer had even asked him to keep Rs 10 lakhs ready because he was firm on shaving off his head, because he wanted to shut the mouth of that Muslim cleric.
Sonu fulfilled his commitment but it seems, the Maulvi took a U-Turn. On being asked to give Rs 10 lakhs, he flatly refused and said that Sonu just complied with 1 condition out of 3; Maulvi said that he shall give him Rs 10 lakhs only after he fulfills other 2 conditions.
Speaking to ANI, the Muslim cleric said,
"Sonu Nigam has not done all the things I asked for, two out of the three things remain unfulfilled. Will give reward of 10 lakh, only when he does rest two-garland of old torn shoes and tour around the country."
Someone tweeted Maulvi's response; check it out…
The mullah refuses to pay Sonu Nigam. Asserts his fatwa. Adds new conditions. pic.twitter.com/rmW4K4axse

— Simply ME (@Simblee) April 19, 2017
Watch the video on YouTube;
For More Videos, Subscribe Us Now
Click here to watch the video directly on YouTube.
As of now, he's not willing to pay him Rs 10 lakhs; people are trolling Maulvi for not sticking to his words. Check Twitter reactions…
Getting calls from banks!
BREAKING- Maulvi gets calls from banks for 10 lac rs loan on cheapest interest rates.

— one tip one hand_ (@OneTipOneHand_) April 19, 2017
Kejriwal's letter!
Meanwhile, Kejriwal has just sent a Congratulatory Letter to the Maulvi for taking such a sharp U-Turn.

— Aladdin (@Alllahdin) April 19, 2017
Puncture campaign!
"I appeal to my Muslim brothers to run "Puncture Campaign" & contribute its income so that I can pay 10L to Sonu Nigam", says Maulvi saab pic.twitter.com/ZURavc7VNJ

— Republic Hour (@Republic_Hour) April 19, 2017
What's your take on this? Share your views in our comments section below.
Share Your Views In Comments Below