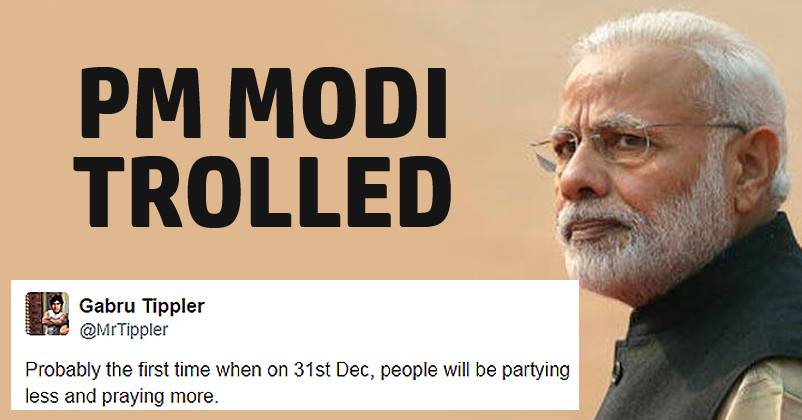 PM Modi would address the nation on the 31st of December at 7.30 pm. Yes, it is expected that he will be speaking about how successful the government is in curbing corruption and black money due to the demonetization drive.
There are already some indications by PM Modi that he is having some more plans for bringing in reforms after note ban. Everyone is eagerly waiting for Narendra Modi's speech as it will have some important things after this 50-day window.
Things were expected to be normalized during this 50-day window; so let's see what would be covered in this speech. Modi had promised everyone that the problems would definitely ease post 30th December. The Prime Minister had also said that if the move isn't successful till the 30th of December, he is ready to accept any kind of punishment.
But people are still facing issues with the move; let's see what this speech has for us. Meanwhile, as soon as this was announced, Twitterati was filled with assumptions.
Here's what people thought Modi would speak in his 31st December speech; obviously, you can't miss out these hilarious reactions!
Mummy!
PM Modi to address on 31st December 7:30 pm

Mummmyyyy :-((

— Venkat Vasant (@VenkatVasant) December 29, 2016
Should i spend all Rs 100 noteS?
Should I spend all my 100s before this happens? https://t.co/NWosQt3lXn

— Shivangi (@TranceCosmos) December 29, 2016
LOL!
*31 December 7.30*

*Modi appears with sunglasses and a DJ set*

"Mitron let's go fucking wild".

— Ivan Mehta (@IndianIdle) December 29, 2016
2017 is cancelled!
"Mitron, 2017 is cancelled." https://t.co/b9mUFAZkF1

— k (@krazyfrog) December 29, 2016
Ab kya ban hoga?
Ab kya ban hoga! 🤔 https://t.co/7ObDvqqBZT

— Neha Jain (@naya_anda) December 29, 2016
Pray more and party less
Probably the first time when on 31st Dec, people will be partying less and praying more. pic.twitter.com/G3kC6E5Bs8

— Gabru Tippler (@MrTippler) December 29, 2016
Aaj ki party mere taraf se
On 31st Dec: 7:30 PM#NarendraModi : Aaj ki party meri taraf se….
😂😂😂😂 #2016 #Demonatization #cashkiaadatbadlo

— Utpal Ruparel (@utpal2323) December 29, 2016
Gangaajal chalu
kuch naya chutiyap hoga

"mitron, aaj se daaru bandh. gangajal khareedo"

— thewisecrab (@thewisecrab) December 29, 2016
2-3 din baksh do!
Kyon naye Sal ki kushi mein khalal dal rage ho…kam se kam 2 – 3 din baksh do Bhai….

— saju T joshua (@saju267) December 29, 2016
HAHAH!
or 2000 note is going to get demonitised we are coming with new 1000 one with chip😎

— Janebhidoyaro (@janebhideyara) December 29, 2016
So guys, what do you think will be announced next? Do let us know your thoughts in our comments section below!
Share Your Views In Comments Below