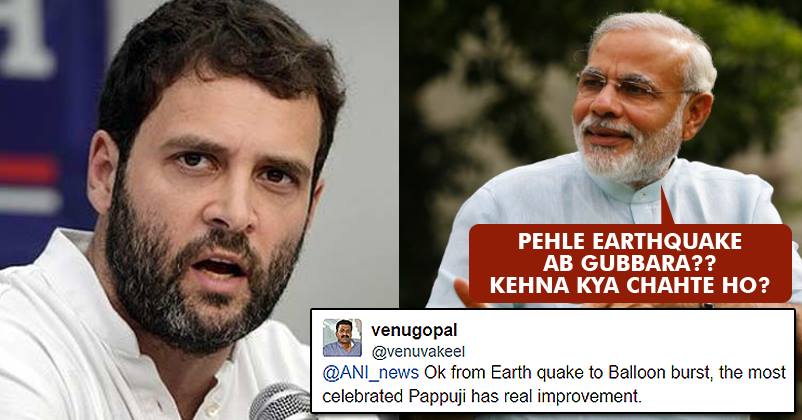 Congress Vice-President Rahul Gandhi has once again provided Twitter with enough material to troll him. Last time, he said that "earthquake will come" if he gets a chance to speak on demonetization in the Parliament and now he has alleged that PM Modi is not letting him speak in the Parliament as he is terrified and if he gets to speak, then PM Modi's "balloon will burst".
This time Rahul Gandhi has also claimed that he has some "personal information" about the "personal corruption" of PM Modi; however, he will disclose that information only in Lok Sabha.
RaGa said in a press conference,
"PM is afraid that if he lets me speak then his balloon will burst. I have some personal information on PM Modi, which is what I want to speak on in Lok Sabha, but I am not being allowed to speak. Allow opposition to speak in the house. PM owes country an explanation, cannot keep running away to pop concerts & public meetings."
People were quick to react on the social media networks, especially Twitter and started asking as to why Rahul is not ready to release that information outside Parliament. Delhi CM Arvind Kejriwal also asked the same question in his tweet, "If Rahul Gandhi actually has papers on Modi ji's personal involvement in corruption, then why doesn't he expose it outside Parl?"
Needless to say, Twiteratti enjoy making fun of the references "earthquake" and "balloon" also. People are also confused and thinking as to how Rahul will disclose the information as the winter session of the Parliament is getting over on 15th Dec, that is today, and not much work has been carried out in the session.
Here are some of the tweets that you must read:
Exactly!
If Rahul Gandhi is not allowed to speak inside the house, than he should speak outside and disclose the information he has about Modi ji. https://t.co/WqpbfIVG5S

— Ashish Khetan (@AashishKhetan) December 14, 2016
Even Kejriwal has a nice piece of advice:
If Rahul Gandhi actually has papers on Modi ji's personal involvement in corruption, then why doesn't he expose it outside Parl? https://t.co/5xc2WkCd5B

— Arvind Kejriwal (@ArvindKejriwal) December 14, 2016
Bang on!
Rahul Gandhi at a press con with cameras all over saying into the mic, "I'm not being allowed to speak." That's it, that's the joke.

— Ripper (@Ace_Of_Pace) December 14, 2016
Joke of the year!
You need to be of a certain kind to be as shameless as Rahul Gandhi.. pic.twitter.com/Sf3oqMXBiw

— Amit Malviya (@malviyamit) December 14, 2016
Satire at its best!
Rahul Gandhi ji looking impressive now. Brilliant, Confident, Committed & fully ready to take responsibility for Congress's defeat in 2019.

— Paresh Rawal fn (@Babu_Bhaiyaa) December 14, 2016
LOL 😀
This is how Rahul Gandhi bashes BJP in Parliament. 😁 pic.twitter.com/kfNmYUePLU

— Amit A (@Amit_smiling) December 10, 2016
Mumma knows everything!
COMIC: Why Sonia Gandhi isn't happy about Rahul Gandhi's "proof" of the Prime Minister's corruption (via @karthlax) pic.twitter.com/m9V8D9fPPe

— The UnReal Times (@TheUnRealTimes) December 15, 2016
What could be more insulting than this?
https://twitter.com/AsYouNotWish/status/807165475683790848
Sometimes, being absent is life saving!
Report says Modi won't face Rahul Gandhi in the parliament because he doesn't want to die laughing hearing Rahul speak

— Ra_Bies (@Ra_Bies) December 9, 2016
Is this what Rahul has?
Rahul threatens to expose Modi! @mail_today cartoon #RahulGandhi pic.twitter.com/0suUf8c23M

— Satish Acharya (@satishacharya) December 15, 2016
Do you think that Rahul Gandhi really has some information of corruption about PM Modi? Do let us know your views in this connection in the comments section below.
Share Your Views In Comments Below