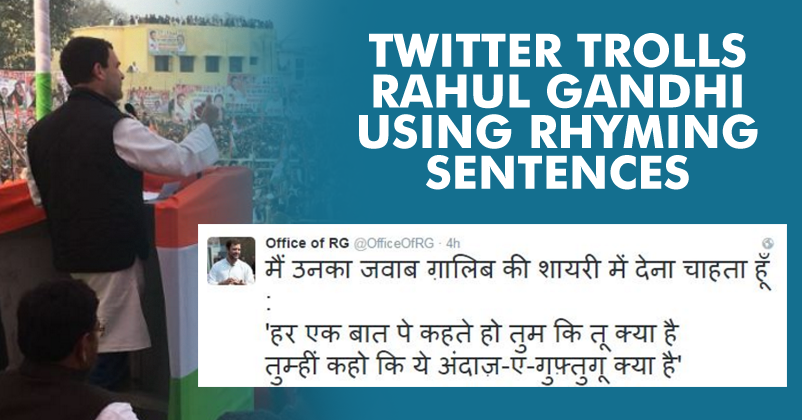 Rahul Gandhi, the Vice-President of Congress party, has been very actively opposing the demonetization decision of the Modi government and declaring it as a big mistake. However, he made all heads roll when during the winter session of the Parliament, he gave a statement of having information about the "personal corruption" of PM Modi but he was not allowed to speak in the Parliament because if he would, there would be an earthquake and PM Modi wouldn't be able to sit there.
On December 21st, when he finally made the revelation about his information on PM's personal corruption, even the tables didn't shake, let go the earthquake. He said that Sahara bribed PM Modi when he was Gujarat's CM. The same allegation was made by the New Delhi CM Arvind Kejriwal few weeks back so there was nothing new in Rahul's statement.
In return, PM Modi took a jibe at Rahul during a rally in Varanasi where he said, "it is good he (Rahul) has started to speak because now we know there is no chance of an earthquake". Rahul also responded and talked about how Modi made fun of his allegations in a rally in Bahraich but what took all the attention was a tweet from official handle of RaGa.
He tweeted in Ghalib's Shayari, "Main unka jawab Ghalib ki Shayari main dena chahta hoon: Har ek baat pe kehte ho tum ki tu kya hai, tum hi kaho ye andaaz-e-guftugoo kya hai."
मैं उनका जवाब ग़ालिब की शायरी में देना चाहता हूँ :
'हर एक बात पे कहते हो तुम कि तू क्या है
तुम्हीं कहो कि ये अंदाज़-ए-गुफ़्तुगू क्या है' pic.twitter.com/bZNZFAASZL

— Office of RG (@OfficeOfRG) December 22, 2016
Twitter is already in love with Rahul Gandhi and after this tweet, they just can't afford to miss trolling him. Soon Twitterati started responding in rhyming Shayari and here are some selected tweets!
Shayari ka jawab Shayari se 😀
भाई इधर से भी शायरी से जवाब लेलो,
हर बार तुम पप्पू बनते हो, अपने ही कारनामे से,
कब ला रहे हो भूकम्प,अपने बेढंगे दिमागखाने से,@OfficeOfRG

— Deepak Sharma (@iamamitsr) December 22, 2016
.@OfficeOfRG मैं भी तेरी जवाब शायरी में देना चाहता हूँ:
'एक बार में कर दिया तीन सौ को चवालिस,
नही सुधरे तो अगली बार काफ़ी हो टोयोटा क्वालिस'

— Maithun (@Being_Humor) December 22, 2016
Heights of insult:
अरे वाह मेरे नन्हे शायर।। वैसे, ये भी अहमद पटेल ने लिखा है, या ये अलग से कोई लिख के दे गया है…रट्टू तोता

— ANUJ SINGH (@MANUSHYA3787) December 22, 2016
@JhaSanjay राहुल गांधी जी
को जो लिख के दिया जाता है वो पढ के बोल देते है।
पार्टी वाह वाह करती है
जनता -हाहाहा करती है
😂😂😂

— Sachin Sharma⏺ (@sachinredbull) December 22, 2016
में भी तेरा जवाब शायरी से देता हूं।
राजीव और सोनिया की तू बडी भूल है।
डंकी,मंकी, ,उल्लू जोकर ,इडियट,fool है.

— All Rounder (@matlabi_rokx) December 22, 2016
. @OfficeOfRG
आज कल बन्दर भी पहनते है अमुल माचो,
राहुल की भी शायेरी निकल गयी नाचो रे नाचो.😂😂

— John Laliya (@Lala_The_Don) December 22, 2016
https://twitter.com/Rohtakite/status/811889861380702208
https://twitter.com/yogi26787/status/811901179710107649
Me tmko Chand keh du mgr usme Daag h, Suraj keh dun usme to Aag h, Socha Tmko Bandar keh Dun, Magar us kambhakt me Bhi Dimaag h😛

— Delhi se hu bhench*d (@delhichatter) December 22, 2016
Hilarious reactions
अंदाज-ऐ-गुफ्तगू क्या है अब क्या ये भी हम बतायेंगे । जिस दिन जमानत खत्म हो गई सीधा जेल जायेंगे ।।

— अवस्थी 📣 🌏 🔊 (@awasthideepesh) December 22, 2016
ले मेरी सुन

जैसे कान छोटे होने से कोई बहरा नहीं होता

उसी तरह दाँत बड़े होने से आशीष नेहरा नहीं होता

— Nevla (@Nevla3) December 22, 2016
https://twitter.com/daktar_saab/status/812162637840531456
Bang on!
Hahhaha ! Just cannot imagine that 1) you know who ghalib is & 2) most important, you were able to mug his lines ! 😂😂😂

— Mandar,Mandy (@mandar2404) December 22, 2016
Twitterati didn't fail to call him Pappu!
इसका जवाब 'मोनू की शायरी" से @OfficeOfRG
ये अंदाजे बयां मेरा नही,जनता की फरमाइश है,
तुम पप्पू हो,मैं नही कहता,तुमने जमाने से तारीफ पाई है pic.twitter.com/IgsYw80GVr

— MUKESH Modifier#Hind (@monurajasthan) December 22, 2016
LOL 😀
Don't forget to share your views with regard to the article in the comments section below.
Share Your Views In Comments Below