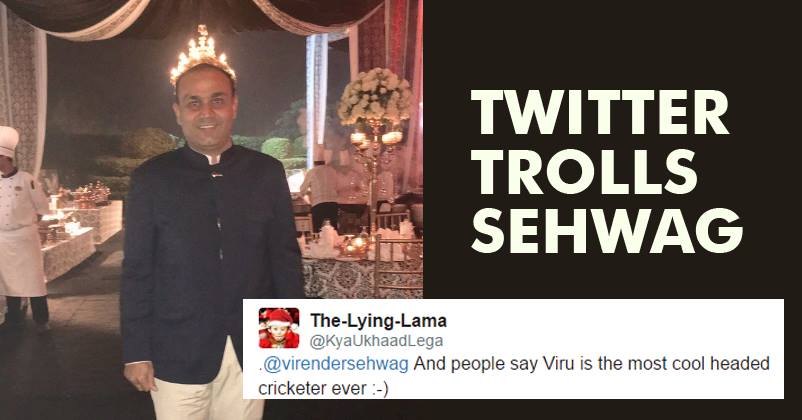 The marriage of cricketer Yuvraj Singh and Bollywood actress Hazel Keech has been talk of the town for quite some time now and many photos of the function have been shared on social media nowadays. This one photo from their reception in Delhi is making Twitter go crazy; however, the surprising fact is that it doesn't feature the couple but Sultan of Multan, i.e., Virender Sehwag.
The Twitter king himself shared the photo on Dec 7, in which he is seen standing alone. But what is grabbing the eyeballs is that Viru, who is known for his witty remarks, has shared the photo without any caption.
Isme to caption ki jarurat he ni h…ye to apne me he kaafi kuch bolti hai…

— Pranshu Gupta (@pg_1706) December 7, 2016
However, there is something special about the photo! Can you notice the headgear that Nawab of Najafgarh is wearing in the shot? Has it happened accidentally or was it done purposely?
After this photo was shared by Viru, Twitter is abuzz with comments and the photo has received almost 8,000 likes on the Twitter.
This tweet has proved that Virender Sehwag rules Twitter and even if he doesn't write anything in the tweet, he still can make people go crazy.
— Virender Sehwag (@virendersehwag) December 7, 2016
Here are some of the epic and hilarious reactions!
Twitterati burst into laughter seeing the crown on Sehwag's head!
what are your wearing on your head? 😂😂😂

— Abhishek Gureja (@AbhishekGureja) December 7, 2016
it took me to glance twice to notice how nature wants to crown you

— Twisted Reality (@Away_Label_Not) December 7, 2016
Electronic "Taaj":
सर पे इलेक्ट्रॉनिक ताज पहने बहुत अच्छे लग रहे हैं पाजी keep it up..

— Rakesh barman (@rakeshbarman011) December 7, 2016
Really?
your crown embedded with lights reminds me of God Indra 😉

— Harsh Meena (@harsh77252) December 8, 2016
Funny reactions!!
just signed for Ghost Rider 3 pic.twitter.com/RLZ3rZHGvG

— Nikhil Dhere (@nikhilus27) December 8, 2016
LOL 😀
जब खाना ख़त्म होने के डर से कोई शादी पर पहले पोहनच जाए 😂😂

— Lavish Sharda (@LavishSharda) December 7, 2016
.@virendersehwag सर ट्रांसप्लांट के बाद भी बाल उड़ गए तो क्या सर में आग लगा लोगे ?😢

— Spyder Mahesh (@Fussy_Ca) December 7, 2016
Dimage me batti jali 😀
पाजी, आपके तोह "दिमाग में बत्ती जली" 😂😂

— Suyog Dange (@SuyogDange) December 7, 2016
Ye aag kab bujhegi..
Yeh Aag kab bhujegi 😉

— Raajeev (@Raajeev_romi) December 7, 2016
Superb!
.@virendersehwag सर बाल की जगह छोटे छोटे बल्ब निकलने लगे हैं आपको तो बधाई, भारत में बिजली पहुँचाने के लिये @PiyushGoyal जी का संपर्क करें 😂

— Tejas Barot 🇮🇳 (@imTejasBarot) December 7, 2016
Haha 😀
Pic 1~Taqila on Fire
Pic 2~ Takla on Fire
😂 pic.twitter.com/mnZmV2gLQF

— अभिजीत💿 (@CaptainKameena) December 7, 2016
Ironical..
.@virendersehwag And people say Viru is the most cool headed cricketer ever 🙂

— The-Lying-Lama (@KyaUkhaadLega) December 7, 2016
This user took a jibe at Nehra:
.@virendersehwag पाजी सर में नेहरा के दांत क्यों लगा लिए हो 😂

— Lavish Kumar (@Brain_Humor) December 7, 2016
Hilarious! Don't forget to share your views with regard to the article in the comments section below.
Share Your Views In Comments Below