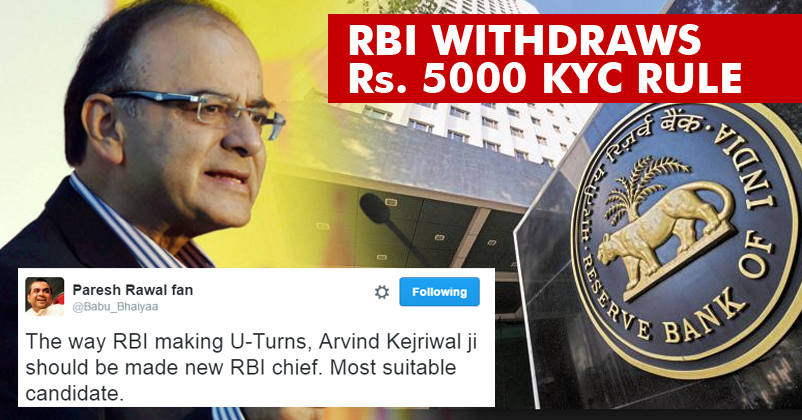 Earlier RBI said if a person deposits an amount over Rs 5000 more than once, he will be questioned by the bank officials. However, today, it rolled back the decision, seeing the growing anger among people. The process was already creating a lot of confusion and there was frustrating people.
But, the decision was rolled back today for KYC compliant customers. This means that customers who aren't KYC compliant would have to give an explanation.
RBI issues notification, withdraws Rs.5000 deposit restriction for KYC compliant accounts

— ANI (@ANI_news) December 21, 2016
People lost their cool because they failed to understand why they have to give explanations for depositing their own money. Moreover, some people quoted PM Modi's promise that allowed them to deposit notes till the 30th of December. This order was "Stupid" and "Unfair" and eroded the credibility of RBI.
As soon as this decision was taken back, people started slamming RBI on Twitter; have a look at their furious tweets…
Such a difficult life!
Limit set of Rs5000 on Deposit- great leader NaMo.
Limit withdrawn – Greatest leader NaMo.
Such a difficult life, being a Bhakt.
😁

— Mehek (@MehekF) December 21, 2016
My moody girlfriend!
My moody gf changes moods less often than #RBI changing cash deposit rules

— Pitr Pravakar (@BigotBaba) December 21, 2016
Golmaal!
RBI press con

"We would like to introduce a new rule – starting 31.."

*GOLMAAL HAI BHAI SAB GOLMAAL HAI*

"…kisi ko gaana sunai diya?"

— Tanmay Bhat (@thetanmay) December 21, 2016
LOL!
RBI is as independent as DDCA was under Jhoothly.
RBI is chnging rules lyk Jhootly changes Laptop & Printers n DDCA.https://t.co/0v0u9yvfV4

— Fairy ❤ (@Humhongekamyab1) December 21, 2016
Arvind Kejriwal must be made the new chief!
The way RBI making U-Turns, Arvind Kejriwal ji should be made new RBI chief. Most suitable candidate.

— Paresh Rawal fn (@Babu_Bhaiyaa) December 21, 2016
Real face!
Real face of RBI under Modi ji ! pic.twitter.com/IZWjUW3YNS

— Randeep S Surjewala (@rssurjewala) December 21, 2016
Destroyed credibility!
It is not just the RBI's credibility that Modiji has managed to destroy but also that of Fin Ministry. Rendered them unworthy&incapable. Sad

— Priyanka Chaturvedi (@priyankac19) December 21, 2016
New definition!
#RBI = Roz Badlega Instructions 😜 lol #Demonetisation #India #BJP #MODI

— Gaurav Dedhia (@gauravdedhia2) December 21, 2016
Waiting!
Wating for the latest #RBI rule change! pic.twitter.com/53ccmdVXqK

— Ashwin Mushran (@ashwinmushran) December 21, 2016
Rollback bank!
At this rate, RBI will soon be the Rollback Bank of India! 😄

— Rajdeep Sardesai (@sardesairajdeep) December 21, 2016
What's happening? Why is this decision being changed again and again? Why isn't 1 firm rule implemented? We have no clue whatsoever…
So what's your take on this? Do share with us in our comments section below!
Share Your Views In Comments Below