Travel
A First-Time Travel Guide To Thailand From India
With epic post-card perfect tropical islands, magnificent ancient temples, tranquil beaches, and vibrant nightlife, Thailand offers a chaotic charm to tourists across the globe. Also known as the Land of Smiles, Thailand combines the opportunity to witness a different culture.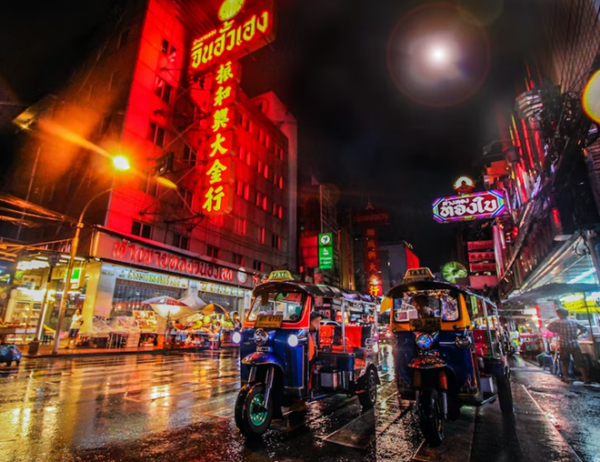 Also Read – 8 Ideas to Save Money on Flights and Hotels While Planning Your Next Trip
Individuals planning for their first-time trip to Thailand should make sure to consider a few factors to enjoy the trip to the fullest.
7 Things To Consider For Thailand Trip
Thailand, encompassed in the tropics, extends a diversified ecosystem for everyone. However, irrespective of whether gap-year backpackers, couples or families, tourists must factor in the following before the trip to ensure a hassle-free experience.
Plan your budget
The average daily cost for a Thailand trip can range somewhere from Rs. 1650 to as high as Rs. 33,000, depending on one's requirements. However, to get flight tickets at affordable rates, opt for transit flights from nearby airports.
Coming to food, Thailand is a paradise for food lovers, and one does not need to spend a fortune on daily food.
For accommodation, Thailand has a lot to offer for every type of tourist. Daily room rates start as low as Rs. 500 per person and go up to over Rs. 78,000 per night.
In terms of transportation, Thailand offers inexpensive taxis, trains and buses to travel conveniently across different parts of the country. Daily commuting costs per day may range between Rs. 82 to Rs. 165 per person.
Also Read – How To Have A Luxury Experience When You Travel
Know the best season to visit
The best time to visit Thailand is between November and April. The days remain calmly warm with a clear sky, ideal for an outing at the beaches. In addition, the chances of rain are thin, making it suitable for exploring archaeological sites and temples.
However, given its budding popularity as the most-visited destination in Southeast Asia, the Land of Smiles cordially welcomes tourists year-round. So, if you are planning a budget trip to Thailand, select a relatively affordable time, like between July and September, to enjoy the steepest discounts on flights, tours and accommodations.
Apply for a Thailand visa on time
Thailand visas for Indians are available on arrival but under a few criteria. It includes:
A confirmed return ticket within 15 days of entry.
A passport that is valid for more than six months.
The visit must be solely for tourism purposes.
Your accommodation in Thailand must have a valid address.
You need to pay a fee of Rs. 4,460 (2,000 THB) upon entry, which must be paid in Thai currency only.
Each passenger must have Rs. 23,775.43 and per family, Rs. 47,550.86 to stay in the country.
Now, to boost tourism, the Thai Government has introduced an e-Visa on Arrival for Indian passengers against nominal fees. One can apply for the same via VFS by filling in an online application form with the necessary documents.
Know the best occasions and festivities in Thailand in 2023
Thailand is all about blissful beaches, lip-smacking foods and swirls of neon light and late-night clubs. What one may not know is that Thailand also has enthralling festivals. A few among them comprise:
Songkran (Thai New Year in April)
Chinese New Year (in February)
Phi Ta Khon (in July)
Boon Bang Fai (in May)
Yi Peng Festival (in November)
Chiang Mai Flower Festival (in February), and many more
Also Read – Things To Do Before You Travel To Make Your Life Less Stressful
Get travel insurance
Whether one is a thrill-seeker, a budget tripper, an impulsive nomad, or a well-planned traveller, International travel insurance is a must-have to safeguard against various disruptions to one's plans. It provides financial protection against losses and expenses due to passport or luggage loss, flight cancellations or delays, emergency medical expenses, etc.
Check the health advisories and other essentials in place
According to the Tourism Authority of Thailand, Indian passengers no longer need to carry any COVID-19-related documents upon arrival. However, individuals can carry medicines only along with prescriptions. In addition, vaccinations like Hepatitis A and Typhoid are recommended for travelling to Thailand.
Plan your travel itinerary
Given the food, affordability, and ease of getting around, Thailand is among the ultimate foreign destinations. Also, Thailand is a paradise for shopaholics and fashion enthusiasts across the globe. Nonetheless, to ensure the traveller witnesses the rich culture, one must plan for at least 8 to 10 days in Thailand.
This includes sightseeing in the capital city Bangkok, and other popular places like Phuket, Koh Phi Phi Islands, Koh Samui etc. Further, travellers can indulge in several activities like scuba diving with sharks, kiteboarding, white water rafting and many more.
Recent years have shown exponential growth in the number of travellers in Thailand. It is because of the diverse terrain and a plethora of adventurous excursions. The land of Smiles has to offer to the world. Individuals planning a trip to Thailand should remember the following factors for a memorable trip.
Also Read – Planning And Preparing For Worldwide Travel
Share Your Views In Comments Below