Food
Chef Makes Popcorn Salad With Mayonnaise, Carrots, Sugar & Lots Of Ingredients, Foodies React
We all love to have delicious food and nowadays we can watch many cooking shows on television which teach us to how to cook lip-smacking dishes but sometimes we also get to see several bizarre dishes being cooked in such shows. For example once a chef made a grape pizza and the Internet lost its cool.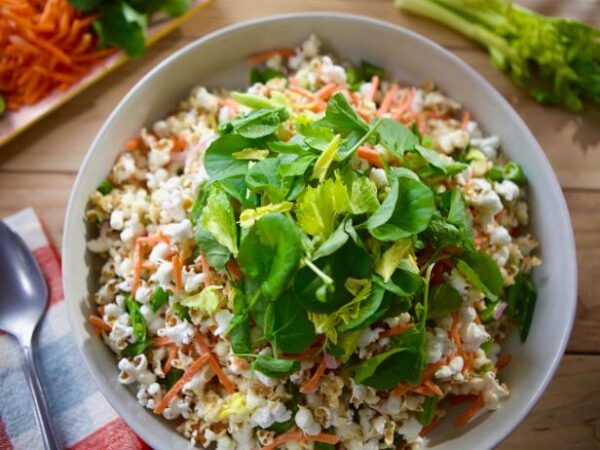 Recently, a chef named Molly Yeh who is associated with Food Network prepared an unusual salad dish which she named as Crunchy Snap Pea Popcorn Salad. For making this dish, you first need to chop the vegetables  – carrots, watercress, shallots (onions), peas and celery leaves and then mix them. After this, you need to add cider vinegar, mayonnaise, sour cream, Dijon mustard and sugar to the vegetables. In the end, popcorn is added to the mixture and the dish is ready. Though popcorn is crunchy, it must have turned soggy after getting mixed with the vegetables and mayonnaise so it must have lost its taste.
The video was posted by the Food Network on Facebook:
You can also watch it by clicking here
While the majority of the social media users disliked the recipe, very few thought of giving it a try. Here are some selected reactions:
#1
I'm hoping this was an April Fools episode 😭

— Beanpots (@beandooodles) April 12, 2021
#2
No way this is a real recipe. Got to be a parody

— Eric Hillner (@emh1729) April 11, 2021
#3
She LYING pic.twitter.com/UcxT9WNcy0

— Beast Mode(rna) (@sReginald) April 11, 2021
#4
EXACTLY!! I was about to freeze that image too! She knew this was some garbage. They probably came up with this after some other recipe fell through 😂

— Dr. Lanier Frush Holt (@ohsolanier2) April 11, 2021
#5
if u bring me out some soggy mayo popcorn i will be going to jail that day. https://t.co/7C9CM29JIo

— sarah lugor! (@sarahlugor) April 11, 2021
#6
Satire?

— captain (@bmicheal1981) April 11, 2021
#7
Oh nah pic.twitter.com/pvu9RyRQQW

— Greg (@King_COLDD) April 11, 2021
#8
popcorn salad 🤢 pic.twitter.com/GsTdeSme9r

— 𝖆𝖌𝖆𝖕𝖊 𝖑𝖔𝖛𝖊 🦋 (@unknwns0ul) April 11, 2021
There is no denying the fact that it has become a trend to mix 4-5 vegetables and make the recipe look colourful which has been done in this dish as well but how does it taste? Well, only those people will know who try or dare to make it! I'm sure you would like to avoid it but if you actually give it a try, don't forget to tell us how you found it.
Share Your Views In Comments Below