News
Farmer Uses DJ & Loud Music To Keep Locusts Away From Field, Twitter Reacts Over Desi Jugaad
Year 2020 has been one of the worst years of our lives, we were already busy fighting against coronavirus which has already taken so many lives and now we have to deal with the locusts that have entered India and are damaging our crops.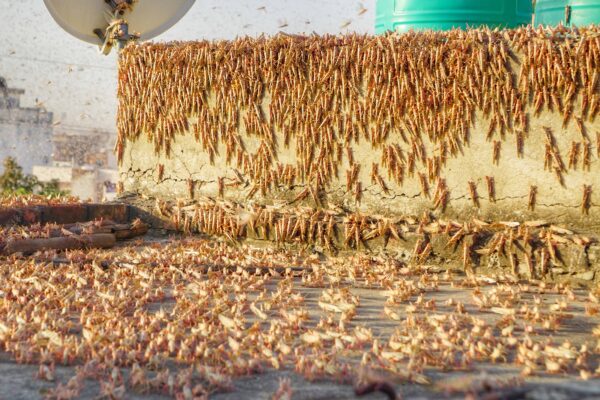 Though the Indian government and many state governments started preparing for this problem quite early, it is still not easy to control locusts and they are ruining the crops in Punjab, Uttar Pradesh, Maharashtra, Haryana, Madhya Pradesh, etc. It is being said that the locust attack this year is among the worst that has taken place in the last 26 years.
This is not the scene of any Movie. #LocustsAttack in India 😞😣 pic.twitter.com/jPeBCqDmR6

— .。.:* ☆Huma☆*.:。. (@Miss_huma_) May 27, 2020
While the governments are doing their best to get rid of these locusts, the Indian farmers have also come up with desi ways of dealing with them.
A senior official of Uttar Praesh police recently took to the micro-blogging site Twitter and shared a video in which a farmer has set up a DJ booth in the middle of the field and played loud music for scaring away the locusts. The police official wrote that DJ is not only used for dancing purposes but it could be helpful in making these locusts run away as well.
Watch The Video:
डीजे सिर्फ़ नाच गाने के लिये ही नहीं बल्कि टिड्डी दल भगाने में भी कारगर होता है ।

दिन सबके बदलते हैं !

आप मुँह से आवाज़ निकाल सकते हैं या थाली भी पीट सकते हैं ।#DiscJockey #Locustswarm #locustswarms #Locusts #Locustsattack #LocustInvasion #LocustSwarmsAttack pic.twitter.com/zUcpYiJTGb

— RAHUL SRIVASTAV (@upcoprahul) May 27, 2020
Click here to watch this video directly on Twitter
The Indian Twitterati was full of praises for the out of box thinking of the farmer while some of them took out humour in the tough situation. This is how people reacted over this Indian Jugaad:
#1
जब टिड्डियां डीजे पर नाच नाच के थक जाएंगी तो अपने घर लौट जाएंगी 😂😂

— Shaswat singh (@shaswatcool) May 27, 2020
#2
😀😀😀 We Indians are so fast in creating new ways, whatever the situation be.

— Bharti (@Bharti56622976) May 27, 2020
#3
टिड्डी बोलेगा डीजे वाले बाबू मेरा गाना चला दो.! 😂😆😆

— Ajåy kûmár (@ajaykum61068972) May 27, 2020
#4
Maybe they are dancing to the music 😂

— Dipz🌻 (@deepa98thakur) May 27, 2020
#5
Ingenious idea👏👏👌

— Payal Singh (@Paayalsinngh) May 27, 2020
#6
Bc tidde se bhi mujra karwa diya

— Saifee (@AliSaifee23) May 28, 2020
#7
मोदी का इशारा टिड्डे के तरफ़ था, लोग सोचा कोरोना के बारे में बोल रहे हैं!😂

— suman (@sumanjha870) May 27, 2020
#8
Tiddis be like Abhi toh party shuru huyi hai!!!! #Locustsattack #Locustswarm #LocustInvasion #discjockey #locusts

— Feline Fundas (@DrVerti) May 27, 2020
#9
वाह जी वाह ….इंडियन जुगाड़

— Ankit kr. Sahay (@ankitsahaylko) May 27, 2020
What do you think of this idea? Can something else be helpful in dealing with locusts? Share your ideas with us.
Share Your Views In Comments Below