Food
"Ghor Kalyug," People React After Man Tweets About Vada Pav Being Sold For Rs 250 In Plane
Flights are certainly the best medium of transportation if saving time is your first priority but then you should also be ready to bear a dent in your pocket because not only the tickets of the flights are highly expensive but the food served there is also quite costly.
Vada pav is an integral part of the lives of Maharashtrians because it is one of those few food items which are delicious, easily available in the market and very cheap as well. As per some Twitter users, they buy vada pav for a price of Rs. 10, 15 or 25 but you will be shocked to know the price of vada pav which is being served in the flights.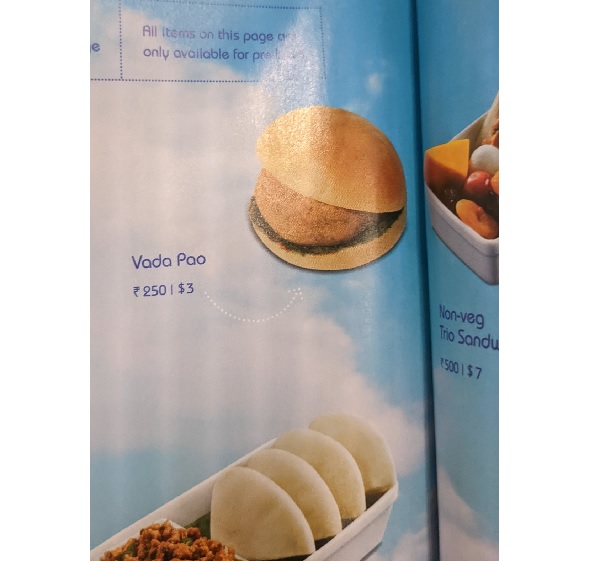 Recently, a Twitter user shared a photo of a food menu of an Indigo flight in which vada pav was priced for whopping Rs. 250. The online user asked everyone to throw him from the plane if he is seen having this costly vada pav in the flight.
The tweet read, "Mujhe kabhi ye flight mein khaate dekhlo to plane se hi neeche fek dena"
Here is the tweet:
Mujhe kabhi ye flight mein khaate dekhlo to plane se hi neeche fek dena pic.twitter.com/6tAstH3wiz

— Pulkit Kochar (@kocharpulkit) March 13, 2022
Soon the micro-blogging site was flooded with reactions and people also started sharing their own experiences as to how they have also spent big amount on dishes like poha, noodles, etc in the flight which they could have purchased for 10 times lesser price on the ground. Few people also had problem with the symmetrical shape of the vada and pav in the image printed on the food menu.
Here are some selected reactions:
#1
Me agar Ambani jitnj Ameer bi ho jao to bi na kareedo itna mehnga Vada pav😂 https://t.co/iEPKlRc66B

— Nandu (@nanditha1919) March 14, 2022
#2
3 years ago I had chicken noodles in flight , bhai 300 ke the voh , usska aaj tak regret hai. 😐

— Harshit (@Asktheharshit) March 14, 2022
#3
₹25 on land, ₹250 on air 😭 https://t.co/DJnJATaWX3

— Ꮙє₦ΐא 💘 (@VenixLove) March 14, 2022
#4
40-50 ke cup noodles 200 me dete ye logg 😭😭😭😭
isse accha khudka dabba laake air hostess se garam paani lelo👍🏼 https://t.co/5V6AUwBEbA

— sure ya (@Shauryaa_7) March 14, 2022
#5
Almost 5 years ago I bought poha in flight for ₹200 just because I couldn't say no to the staff…

— I AM WEED (@Stoic_Shiv) March 13, 2022
#6
250 for vada pav is outrageous but at least make it look appetizing on the menu FFS https://t.co/k5jpfRxBfg

— Cresida Rodrigues (@crxsydz) March 14, 2022
#7
mai idhar price 10 se 15 hone ke upar ladhti hu, ye kya hai 250 rs ka chutiyapa https://t.co/Xn4R9xNZLZ

— k is faking orgasms | LTWT (@loumultiverse) March 14, 2022
#8
Ghor kalyug *crying* https://t.co/UrnviXuZa4

— αкѕнιтα☽ (@sanelychaoticxx) March 14, 2022
#9
In 2019 same thing happened with me when i saw 1 sandwich of rs 350🥴 https://t.co/3Twkr0mVEI

— 🕊 (@xprex_xpreprex) March 14, 2022
#10
I find the absolute symmetry of the vada & the pao offensive. https://t.co/61Cc6lkViB

— anupma (@anupmabakshi) March 14, 2022
#11
Bruh I had a chicken roll at the airport once 😬 260 bucks. Decided to boycott airport or airlines food since that day

— 💀 (@ostricheggslmao) March 14, 2022
Many people take flights in emergency situation only and prefer trains usually because trains not only provide scenic views but also give an option of trying snacks at the different stations on which it stops and snacks are quite cheap as well in comparison to flights.
What was the costly food item purchased by you in a flight? Do share with us.
Share Your Views In Comments Below