We all see a lot of dreams for our love life and wish our partner to do something out of the box for us which becomes an example for others. Every girl wishes to be proposed in a unique way and this moment is so beautiful that she cherishes it in her heart forever. There is no denying the fact that movies and serials have instilled a lot of fantasy thoughts in the minds of youngsters with regard to their love life and they expect to be treated in a special way by their partner. One Twitter user also started a discussion on the same and asked Tweeples why they can't propose to their girl the way Emraan Hashmi did in the Bollywood movie "Jannat".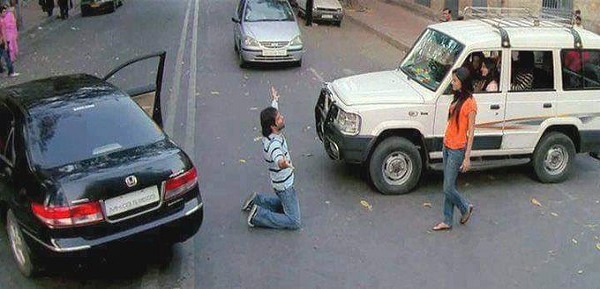 If you have watched the 2008 released film, you must not have forgotten Emraan's iconic proposal to Sonal Chauhan that he did in a busy road. After stopping his Honda Accord car in front of the actress' vehicle, Emraan got down on his knees and proposed to her.
That all appeared to be so dreamy and wonderful, didn't it? But is it really practical? Your answer must be in negative and that's how Twitter users responded to the tweet made by someone with the Twitter handle @thewittydoctor who shared a still of proposal scene from "Jannat" with caption, "Dear boys what's stopping you from doing this".
Here is the tweet:
Dear boys what's stopping you from doing this 🥺 pic.twitter.com/eZPYTiJomv

— STFU witty (@thewittydoctor) February 25, 2021
As soon as the tweet was made, reactions started pouring in; while some gave practical reasons including studies and traffic issue, several others gave it a completely hilarious turn by citing reasons like Salman Khan, thrashing from cops, not having a girlfriend, money problem, pain in knees and a lot more.
These tweets will tickle your funny bone:
#1
Not having a gf like zoya , a car and most importantly lacking a luck of a successful bookie 😂

— Jeet 🇮🇳 (@Jeet_says_) February 25, 2021
#2
mumbai ka traffic, public utarke beltey beltey maarne lagegi.

— Virus (@virus_vally) February 25, 2021
#3
What's stopping me from doing this? – "Mera Mama Mahesh Bhatt nahi hai"https://t.co/oNHUsJImSB

— Ranjan (@Ranjan_zeh) February 26, 2021
#4
Traffic Police be like: pic.twitter.com/gMnAf0IfTy

— Jason Bharakhada (@BharakhadaJason) March 2, 2021
#5
Rejection
Traffic
Traffic Police
Police
Public Kutai
🤔

— 🇮🇳 Yuri Bezmenov 🇮🇳 (@DeshBhakt_7th) February 25, 2021
#6
Due to such drivers 😰😰🤷‍♂️🤷‍♂️ pic.twitter.com/Rukw6jHuBl

— 🇮🇳On The Rocks 😏🥃 (@iabhi_shek) February 25, 2021
#7
https://twitter.com/tweetingVs/status/1364875512582197251
#8
Mere ghutne jaldi dard dene lag jaate hai..

— N I T I N (@theNitinWalke) February 26, 2021
#9
Selmon bhai in this car pic.twitter.com/9S1F9VXGtM

— Nobita (@Harami_Nobita) February 26, 2021
#10
3 more beautiful gals in d jeep

— Typo madter Doc (General/UR) (@samintensive) February 25, 2021
#11
https://twitter.com/gujrati_walter/status/1364859277425344515
#12
Honda accord gives 4kmpl average. yet to afford it. but soon I'll 😂

— ThakurSaab. (@HathwalaThakur) February 25, 2021
#13
https://twitter.com/pathik_1199/status/1364926375463854081
#14
https://twitter.com/iamranonymous/status/1365212110662238208
#15
— Ash_WaR (@udxs1993) February 25, 2021
How do you want to be proposed by your partner or how did your partner propose to you? If that's also so distinctive, do share with us.