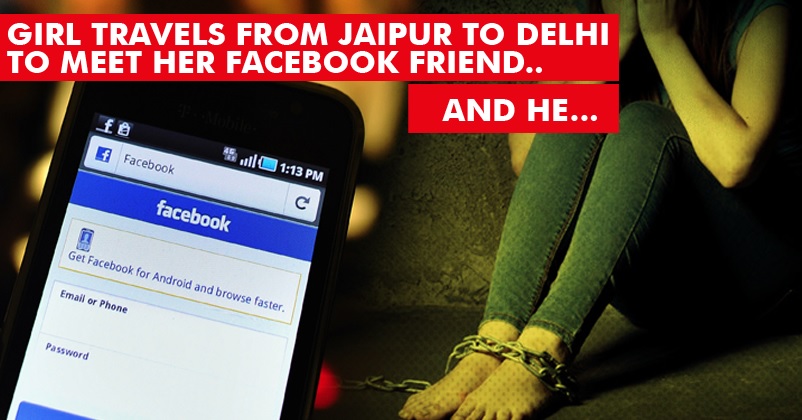 Social media networks have not only made it easy to remain connected with our known ones but also opened the avenues for those who want to cheat or rob people. Many times, police and other social agencies have issued warnings that people should not reveal their details to a person whom they meet online and never trust such individuals completely without verifying all the information.
However, a number of cases take place in which people got robbed after believing someone whom they met online. One such incident happened with a girl from Jaipur who came to Delhi to meet her lover whom she met online through Facebook. The Delhi boy had made a promise of marriage to the girl but when she reached there, he trapped her in the hotel room. The good news is that the accused, who is identified as Imraan, has been arrested by the police on the charges of kidnapping and crime branch rescued the girl from Mahipalpur.
As per the police, Imraan was planning to sell the girl off to the human traffickers. Nothing can be said with confirmation on the question of her sexual assault.
G Ram Gopal Naik, DCP (crime), told,
"Imraan had a Facebook account with a fake name and sent a friend request to the victim. A few months after she accepted his friend request, he asked the girl to come to Delhi to meet him. He also promised that his family would like to meet her so that they could make their relationship official."
The Jaipur girl left her house to meet Imraan without letting her family know about it; nevertheless, her family lodged a missing complaint in Jaipur, which led to exhaustive search operation for the girl by the Delhi police after the Rajasthan police sought their help. Police carried out search operations in Mahipalpur, Gari and Vasant Kunj and Imraan was arrested from Mahipalpur.
According to an officer, the girl reached Delhi on 14th March after chatting with Imraan through Facebook and WhatsApp. It was also disclosed while investigating the case that she was made to stay in a rented house in Mahipalpur, forcefully.
The officer told,
"When the victim came to know the real nature of Imraan, she resisted and refused to live with him. But she was beaten up and her mobile phone was snatched by Imraan."
Be careful and save yourself from falling a prey to such traps!
Do share your views with regard to the article in the comments section below.
All Images Are Used For Representational Purpose Only
RVCJ Video Of The Day
Share Your Views In Comments Below