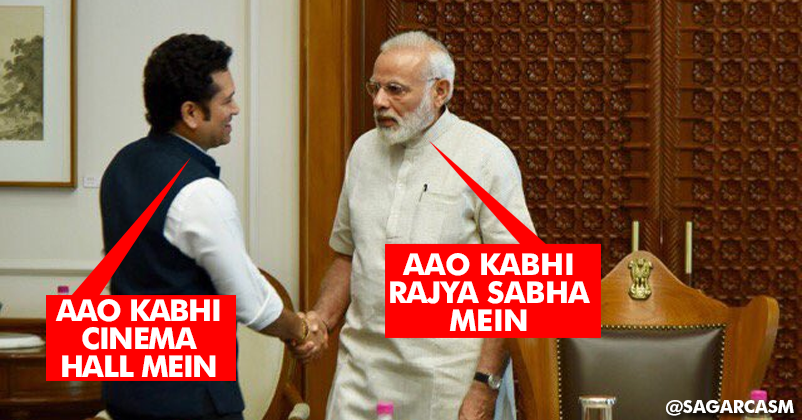 Sachin Tendulkar is gearing up for the release of his biopic "Sachin: A Billion Dreams" and is actively participating in all its promotional activities. The film will highlight his personal as well as cricketing journey and will definitely be a treat to watch.
Today, Sachin Tendulkar met PM Modi to brief him about the biopic and seek his blessings. The cricketer even took to his Twitter handle to share a pic from his meeting with the PM.
Here's what he tweeted….
Thank you for your inspiring message @narendramodi ji 'Jo khele, Wahi khile!' Could not have agreed more. #SachinABillionDreams pic.twitter.com/irqm7q51sL

— sachin tendulkar (@sachin_rt) May 19, 2017
Even PM Modi expressed happiness on meeting Sachin Tendulkar. He said that the life journey of the Master Blaster is very inspirational; check out his tweet…
Had a very good meeting with @sachin_rt. His life journey & accomplishments make every Indian proud & inspire 1.25 billion people. pic.twitter.com/qqUYB3qEez

— Narendra Modi (@narendramodi) May 19, 2017
After both these legends met, an epic photo has gone viral. Have a look…
This is a lovely capture; fans were so excited to see both of them together that they couldn't control themselves from posting some hilarious memes and jokes on Twitter. Check it out…
Haha, the "Rahul" factor!
Modiji :Sachin who was the most reliable guy in your team.?

Sachin: Sir, Rahul (Dravid)

Modi Ji: In my team too dear(Rahul Gandhi)
????? pic.twitter.com/MHlw0HZxU9

— अनुराग तिवारी (@VnsAnuT) May 19, 2017
Total bhakts!
If you add the total number of their bhakts, it may cross the total population of India.. pic.twitter.com/3PhlBEe6gJ

— Keh Ke Peheno (@coolfunnytshirt) May 19, 2017
What an introduction!
???? pic.twitter.com/4f1sxJnqzt

— Sagnik Misra (@Sangy_Sagnik) May 19, 2017
Aao kabhi cinema hall mein!
— SAGAR (@sagarcasm) May 19, 2017
LOL!
Modi ji: Sunaa hai acting kar rahe ho, kya baat hai!

Sachin: Aapke muqaable kuch nahi sir? pic.twitter.com/HkS5wT44WY

— Sameer Allana (@HitmanCricket) May 19, 2017
Helmet pehna karo!
#HelmetDaalo pic.twitter.com/671EpR1fKA

— Sense of tumor (@dashhtweets) May 19, 2017
Destroyed careers of many spinners!
They both destroyed careers of many spinners. pic.twitter.com/3B0S6gWqCI

— Shaitaan Khopdi™?? (@shaitaankhopdi) May 19, 2017
Their specialties!
One is famous for straight drive and another is for surgical strike, both has given equal stress to neighbour country. pic.twitter.com/0UpSwWZzUP

— ROFL UPWallah (@UPWallah) May 19, 2017
Bashing the spinners!
मोदी: आपने जो नंबर वन स्पिनर शेन वार्न को धोया था, वो मुझे अभी तक याद है.
सचिन: सर! सरदेसाई की धुलाई के आगे वो तो कुछ भी नहीं थी… pic.twitter.com/5jfT3DUKU3

— °अद्वितीय° (@AnupamHB) May 19, 2017
These jokes have tickled our funny bone and we would love to have some more of them. Do you have some funny memes/jokes related to this? Feel free to share in our comments section below.
RVCJ Video Of The Day
Share Your Views In Comments Below