News
Mukesh Ambani Beats Chinese Billionaire & Becomes Asia's Richest Man
This is definitely a proud moment for Indians as an Indian has become the richest person in Asia.
Mukesh Ambani beats China's Hui Ka Yan to become Asia's richest man:
We are talking about Mukesh Ambani, the chairman of Reliance Industries who has surpassed China's Hui Ka Yan for becoming the richest man of Asia. As per the Forbes' real-time billionaire's list which was released on November 1, the net worth of Mr. Ambani is $42.1 billion (Rs 2.72 lakh crore) while the net worth of Hui Ka Yan, the Chairman of China's Evergrande Group is estimated to be $40.6 billion on Wednesday.
The ranks have been calculated on the basis of their assets and worth of their stock holdings at the real-time basis. There has been a rise of 1.22% in the shares of Reliance Industries which resulted in increase of Ambani's wealth by $466 million, while on Wednesday, wealth of Hui Ka Yan decreased by $1.28 billion and his net worth was $40.6 billion.
Forbes said that as per the estimate made by the World Bank in 2016, the wealth of Mukesh Ambani is equal to the complete GDP of former Soviet republic of Azerbaijan.
Reliance Industries is India's most valued firm:
The market capitalisation of Reliance Industries is Rs 6 lakh crore, which makes it the most valued firm of the country and the other firms which are in the top 5 list are TCS, HDFC Bank, ITC and HDFC. Reliance Industries reached the 6 lakh crore mark on Oct 24 on the National Stock Exchange.
The net profit of Reliance Industries was Rs. 8,109 crore in the September quarter after there was an increase of 12.5% in their profit.
Jeff Bezos beats Bill Gates to become the world's richest man: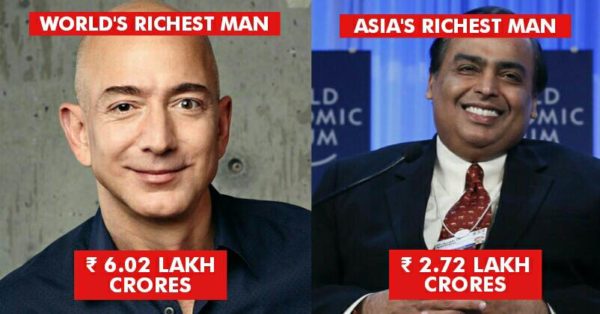 Jeff Bezos, the Amazon CEO, has surpassed Bill Gates to become the world's richest man with his net worth of $93.3 billion (Rs 6.02 lakh crore) while Bill Gates who is on the second spot has a wealth of $89.5 billion.
Mark Zuckerburg, the founder of Facebook, is at the fifth position with $75.8 billion of net worth. The second richest Indian is Azim Premji of Wipro with $ 19 billion.
Share Your Views In Comments Below