Sports
Nathan Lyon Heavily Slammed By Fans On Twitter For Missing The Crucial Run Out
The ongoing Ashes series between England and Australia has been leveled after England won the third test match. The first test match was won by Australia while the second test match was a draw.
The Australian fans are not able to believe that their team has lost because almost all the time, it was in a strong position. Australia was going great in the test match as England was all out for a meager total of 67 runs in their first innings and in the second innings, the English players were given a target of 359 runs which seemed to be an impossible task for them.
However, Ben Stokes changed everything with his superb knock of 135 runs and he was also supported well by Jonny Bairstow as well as Jack Leach. Credit can't be taken from Ben Stokes but the truth is that Australian players too committed some unforgivable mistakes in the third test match.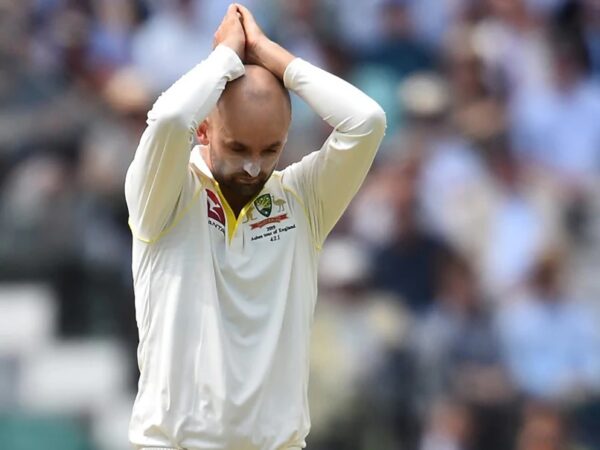 Who can forget the moment when Australia needed only one wicket to win the match and Nathan Lyon missed the simple chance of getting Leach run out. The only thing that Nathan was needed to do was to hit the bails as the throw was in hands and Leach was around 2 feet away from the crease. But Nathan Lyon was so nervous under pressure that he fumbled and a golden opportunity was lost.
Here's a video in this connection:
#Ashes
Nathan Lyon needed this run out for Australia to win and he stuffed it up pic.twitter.com/jOtP1iJ21e

— @Georgebakhos1 (@GeorgeBakhos1) August 25, 2019
Click to watch this video directly on Twitter
On the very next ball, Ben Stokes was hit on the pads, an lbw appeal was made but the umpire didn't agree. However, it was seen in the replays that Ben was out but Australia was not able to take DRS as their options were already exhausted.
The Australian cricket fans slammed Nathan Lyon for his fumble heavily on the micro-blogging site Twitter and here are some of the selected reactions:
#1
2 runs to win or 1 wicket to win. Nathan Lyon. Over to you… #ashes pic.twitter.com/8NB9lNuBO3

— Adam Fox (@Adam_Foxy) August 25, 2019
#2
Lets see if Nathan Lyon stays and plays the next 2 tests or runs home scared half way through a test series. Only someone not really playing for their own country would do that.

— Peter Niers (@Pazend) August 26, 2019
#3
Asked #NathanLyon to get me a bowl of muesli this morning!!! pic.twitter.com/8EFWiXKtQK

— Graham Everitt (@geveritt71) August 26, 2019
#4
I love this cute home movie footage of a young #NathanLyon #TheAshes2019 pic.twitter.com/MlcSlvoUvT

— Mike Bubbins (@MikeBubbins) August 26, 2019
#5
#NathanLyon missing a simple runout pic.twitter.com/iznp9odB41

— SB (@sbala13) August 26, 2019
#6
Remember when Nathan Lyon mocked AB?? 🙃🙃

What goes around comes around bro ✌️✌️ pic.twitter.com/LfEZQiwFvF

— Sabeeha Majid ♥🇿🇦 (@SabeehaMajid) August 25, 2019
#7
A quick replay of the Nathan Lyon run out attempt! pic.twitter.com/jG87UgMBqD

— Gary Carter (@GaryC72) August 26, 2019
#8
Nathan Lyon at Breakfast this morning 🤣 pic.twitter.com/GggNqWV7PT

— Jon Male (@JonjMale) August 26, 2019
#9
Three mistakes by Australia they will be ruing:
Marcus Harris's dropped catch, Nathan Lyon's missed run out, Tim Paine burning last review in desperation which meant they had none left for Ben Stokes lbw to Lyon the next over. #TheAshes

— Andrew Wu (@wutube) August 25, 2019
#10
I hope Nathan Lyon wakes up screaming in the middle of the night thinking about this moment tonight AND EVERY NIGHT FOR THE REST OF HIS LIFE pic.twitter.com/yoPzwr9QOX

— GPG (@GPGoodall) August 25, 2019
#11
Big up Joel Wilson for closing his eyes on the LBW shout, big up Nathan Lyon for having utterly butterley on his fingers for that run out and big up tim Paine for using that review what was about 4 mile outside leg stump, What a fucking match 😂👏👏👏

— Jon Pierpoint (@Jonpswfc) August 25, 2019
#12
Nathan Lyon fumbling the easiest of run out chances 😭

— Scott Collison (@collo05) August 25, 2019
#13
It was Nathan Lyon's '@bowlologist' moment. Instead it turned out to be his '@philtufnell' moment. #Ashes pic.twitter.com/h7WIQuND6Y

— Daniel Davini (@davvers605) August 25, 2019
#14
Time for Nathan Lyon to retire🏏🕷🤨

— David Bowmaker (@david_bowmaker) August 26, 2019
Which team do you think will win the Ashes this time?
Share Your Views In Comments Below