Humour
No Corona No – Ramdas Athawale's Slogan For COVID-19 Strain Lit Up Twitter With Funny Meme Fest
The year 2020 is about to end soon but it seems that the COVID-19 pandemic will trouble us for some more time in 2021 as the new strain of coronavirus has been found in England, South Africa and Nigeria. The good news for India is that no patient with new strain has been detected till now and the number of COVID-19 positive patients is also decreasing.
"Go Corona Go" is one of the most famous slogans used for motivating people to fight the lethal virus. If you remember, this slogan was given by BJP politician and Union Minister Ramdas Athawale and in a video, he was seen chanting this slogan with Mr. Tang Guocai, Chinese Consul General in Mumbai and some Buddhist monks. This happened on February 20 in a prayer session which took place at Gateway of India. The slogan and the video went viral instantly; while some liked it, few slammed the approach of the government in dealing with such a serious situation. However, it can't be denied that the slogan was quite useful in fighting COVID-19 as it filled people with enthusiasm.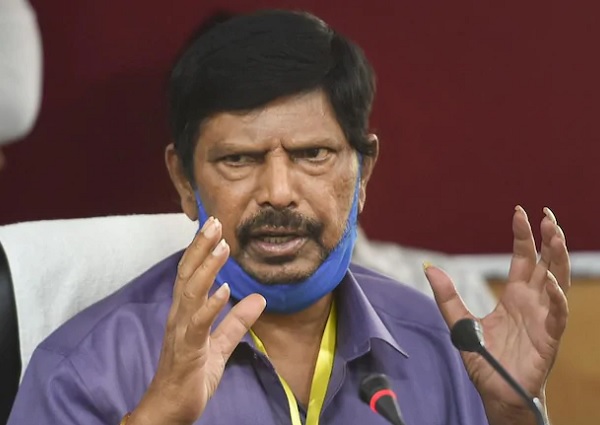 Now, Ramdas Athawale has come up with a new slogan for the strain of COVID-19 and recently while interacting with mediapersons on Sunday, he gave the new slogan, "No Corona, Corona No".
Watch The Video:
For More Videos, Subscribe Us Now
Click here to watch this video directly on YouTube
Soon, the micro-blogging site Twitter was flooded with memes and jokes on the new slogan and here are some of the selected reactions that will tickle your funny bone:
#1
Coronavirus : pic.twitter.com/88hesPTbIO

— A̷z̷y̷🏹🚜 (@AzyConTrolI) December 27, 2020
#2
After success of "Go Corona" when Ramdas Athawale announced "No Corona"

Le Corona virus to Athawale – 😂😜 pic.twitter.com/yEZoDMLAMY

— बाबूराव गणपतराव आप्टे (@baburao__aapte) December 28, 2020
#3
*Ramdas Athawale gives another slogan "No Corona, Corona No" for new Covid-19 strain*
Meanwhile CoronaVirus: pic.twitter.com/AKqpVjdtdG

— 亗 The Accidental Memer (@krazzy_harsh) December 27, 2020
#4
Scientists rn pic.twitter.com/gbnW4F9TQN

— Rebellious™ (@flawsome_guy) December 27, 2020
#5
#COVID19 #CovidVaccine
Countries taking appropriate steps like banning flights, to prevent spread of the new coronavirus strain.

Meanwhile, Ramdas Athawale ji after giving the slogan "No Corona, Corona No" : pic.twitter.com/3K8GKdj6h3

— Ritesh Mahato (@Ritesh_7l) December 27, 2020
#6
Corona Virus after seeing this :- pic.twitter.com/k3wj2d7hiD

— BndNews 🌠 (@BndNewz) December 27, 2020
#7
Scientists who are making vaccine for new coronavirus strain: pic.twitter.com/28b6dBICDq

— SpiDeY™ (@Parody_guy10) December 27, 2020
#8
Corona and it's Strain be like: pic.twitter.com/a2UVFuOKHC

— DEEPAK TOMAR (@tomDEEPAK) December 27, 2020
#9
— Professor ngl राजा बाबू 🥳🌈 (@GaurangBhardwa1) December 27, 2020
#10
🤣🤣🤣🤣

अटावले pic.twitter.com/exhDjcNbfS

— 🎧विशाल🎧 (@VISHUU100) December 27, 2020
#11
Le Corona** pic.twitter.com/i04sHvWJuM

— Nehr_who? (@Nher_who) December 27, 2020
More than 1.76 million people have lost their lives worldwide to this disease and if we talk about only India, the number of lives lost is over 1.48 lakh. Though there has been some relief after hearing that several countries have started giving vaccines to their citizens, the news of people suffering from side-effects of vaccine has also scared people.
Hopefully in 2021, we will get rid of coronavirus and its strain and will lead a normal life like earlier. Let us just keep our fingers crossed for the best and meanwhile don't forget to tell us your opinion in regard to the new slogan given by Ramdas Athawale.
Share Your Views In Comments Below