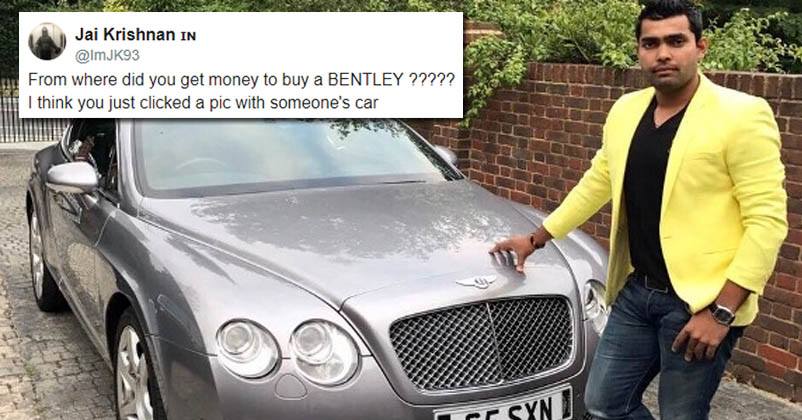 Pakistani cricketer Umar Akmal (27) is a talented player but the problem with him is that he is not consistent when it comes to his performances in matches. He attracts a lot of public attention but the bad part is that it is for the reasons other than cricket. He was sent back to Pakistan before the Champions Trophy because of his fitness issues and he is also not awarded contract with the Pakistan Cricket Board this time. He has represented Pakistan in 16 Test matches, 82 T20s and 116 ODIs.
Umar is the brother of Pakistani wicket-keeper Kamran Akmal and he was mocked once again on the social media after he posted a photo of himself on July 13 with a Bentley car.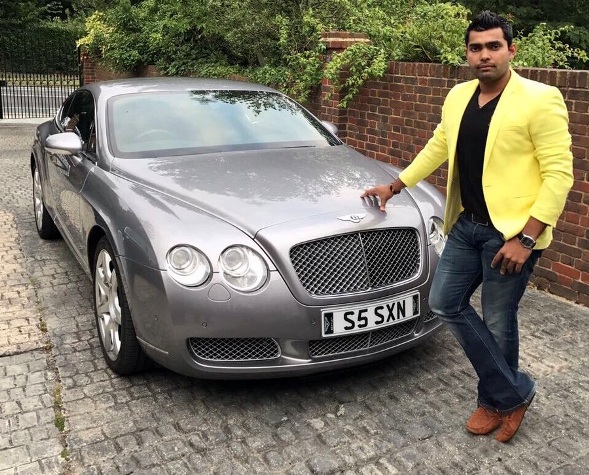 The caption that he wrote was, "Enjoying London after hard work".
Enjoying London after hard work pic.twitter.com/N6U05mgAse

— Umar Akmal (@Umar96Akmal) July 13, 2017
The caption was not liked by Pakistani Twitteratti and they started mocking him by targeting his performance, fitness issues and the PCB contract. Here are some selected tweets:
You don't deserve to be in the team:
They are khotas shud be kicked out dont deserve the place even in c grade cricket team lol now they blocked me khotay keep annoying them plz

— Farrukh Sair (@farrukh_sair) July 14, 2017
Mango man!
Work Hard to get a job there as a Cab Driver as Ur future in Cricket is no more..?
U don't deserve any place in the Team Now!!

— Khurram Abbasi (@khurramabbasi01) July 15, 2017
Just enjoy in London and please don't play cricket becoz you have nothing to showcase.

— Gul Haider (@gulhaiderrr) July 14, 2017
Epic insult:
Only if you worked on ur cricket as much as ur pics we would have a half decent cricketer

— Assif (@assif26) July 14, 2017
Heights!
Amazing weather, stunning car. nice coat Phateeeeechar player:

— Iamsbn (@iamsbn1) July 14, 2017
You got this car on rent?
London mai b rent py mil jati?

— ARJ-Tweets? (@Ch__ARJ) July 15, 2017
What hard work?
Keira hard work???? Bsss twitter dy e hard work rahi putar performance ty koi deni ni ty fotwan lawan da bra shouq ay

— Faiz Ul Hassan (@faizulhassan21) July 14, 2017
Keraa hard work? Mazdoori start kr di kiya?

— Nadeem Malik (@Undefinefmalik) July 14, 2017
What hard work? Dabs? 100s of runs that you were not able to score?

— Muhammad Mansoor (@mmansoor78) July 14, 2017
Here we have the answer:
???? team se bahir hona bhi hard work hi hai naaaa

— fariakhter (@fariakhter) July 14, 2017
Too much hard work in doing everything except focusing on ur real job

— Mansoor Ali Khan (@HappyMansoor) July 13, 2017
Screwed badly:
??????. He's showing off with a car because the rest of the players are getting awarded free cars and he's not it's killing him ?

— KHAN (@skh786kk) July 13, 2017
Here again:
From where did you get money to buy a BENTLEY ?????
I think you just clicked a pic with someone's car

— Jai Krishnan ?? (@ImJK93) July 16, 2017
One more time:
Kitne paisay diye Gari k sath picture bananay k liye??

— MANI (@1mransiddique) July 14, 2017
You can't play cricket now!
तुम भी किसी काम के नहीं रहे
घूमते रहो बस और फोटो अपलोड करते रहो
क्रिकेट तो तुम्हारे बस की नहीं रही

— Farman Ahmad (@FarmanA06415948) July 15, 2017
You need to shed kilos:
Forget the car you need to get on a treadmill ?

— KHAN (@skh786kk) July 13, 2017
You should be banned for life:
Khotaya do some hard work and plz dont ever be in pak team again ppl like u n @iamAhmadshahzad shud be banned 4 life nakamay welay haramkhor

— Farrukh Sair (@farrukh_sair) July 13, 2017
Yellow jacket:
That yellow jacket sums you up ??? mango

— ASH (@red_4_life_Ash) July 13, 2017
In neelay peelay khattay kapron ne hi tujhe barbaad kiya hae.

— Shehzad Hameed Ahmad (@shehzadhameed) July 14, 2017
What do you have to say about Umar Akmal's tweet?
Share Your Views In Comments Below