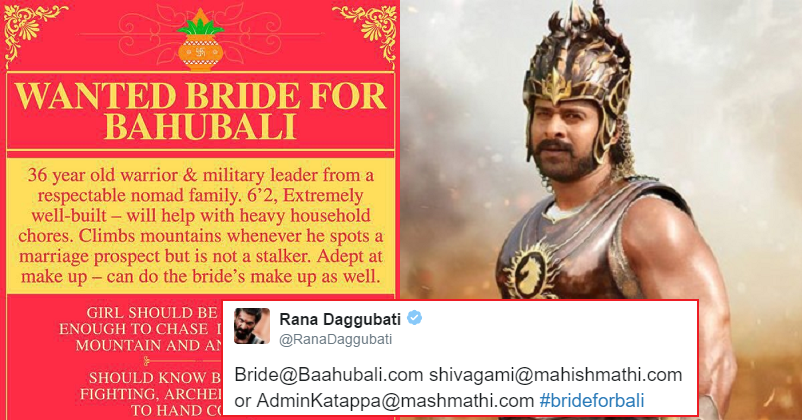 Stars of Baahubali 2 had put in a lot of efforts to help the film get a whopping total. It has broken even the toughest or records and has created a very difficult situation for upcoming movies.
These Baahubali stars not only share a great rapport on sets but also share a wonderful relation outside. They like to have fun with each other and are just like a family.
Few days back, there was fake news about Prabhas rejecting around 6000 proposals for marriage; media houses tried to hype the news of his marriage by reporting whatever they wanted to.
But if you aren't aware, let us tell you that in January 2016, Rana Daggubati was actually looking for a bride for Prabhas and we have his tweet too.
[email protected] [email protected] or [email protected] #brideforbali pic.twitter.com/22eTA5vD8c

— Rana Daggubati (@RanaDaggubati) January 20, 2016
Yes, Rana had posted a matrimonial ad for Prabhas in which he mentioned all the qualities of his would-be bride. Check out the image below….
The ad reads,
"WANTED BRIDE FOR BAHUBALI
36 year old warrior & military leader from a respectable nomad family. 6'2, Extremely well-built — will help with heavy household chores. Climbs mountains whenever he spots a marriage prospect but is not a stalker. Adept at make up — can do the bride's make up as well.
GIRL SHOULD BE ATTRACTIVE
ENOUGH TO CHASE DOWN A FOREST,
MOUNTAIN AND AN AVALANCHE.
SHOULD KNOW BASIC SWORD FIGHTING,
ARCHERY AND HAND TO HAND COMBAT.
SHOULD RESPECT MOTHER-IN-LAW WHO IS CURRENTLY UNDER RIGOROUS IMPRISONMENT.
MUST HELP IN HOUSEWORK, MILITARY STRATEGY AND NEW TECHNIQUES TO DEFEAT THE ENEMY."
Wow, what a superb matrimonial ad this was, isn't it? I am sure many girls must have applied for the same, LOL. Here's how Twitter reacted,
What about Bhallaldeva?
.@tamannaahspeaks what do you think of Bhallaladeva alias @RanaDaggubati bride wanted add!! ?

— Shobu Yarlagadda (@Shobu_) January 20, 2016
Someone got angry!
@RanaDaggubati @Shobu_ @BaahubaliMovie someone is making fun of our #Prabhas & you all are joining hands. This is not funny. Please stop..

— M(r)s. Baahubali ? (@VivaciousVids) January 20, 2016
Girls will try all activities!
@RanaDaggubati don't say like that now all girls in a.p will try all the activities

— vinay (@vinayvarma999) January 22, 2016
Where can I send my application?
@RanaDaggubati Dearest Rana, where can I send my application?

— ContremaîtreDuDémon (@Anouch_jan) January 20, 2016
Send us amantran patra!
@RanaDaggubati hahaha, loved this….after selection pls do tweet the amantran Patra!!!.

— abhijit mukherjee (@AbhijitPiku2005) January 22, 2016
Do you want to add something more to this matrimonial ad? Share with us in our comments section below.
RVCJ Video Of The Day
Share Your Views In Comments Below