Sports
Ravi Shastri Becomes Team India's Head Coach! Twitter Gets Flooded With Funny & Ironical Reactions
Finally after a lot of drama, the Indian cricket team got its new head coach till World Cup 2019 and he is none other than former Indian cricketer Ravi Shastri (55). He will be replacing the former coach Anil Kumble who resigned just before the West Indies tour of team India. Kumble also made it clear that he resigned because his relations with captain Virat Kohli worsened to such an extent that there was no scope of reconciliation.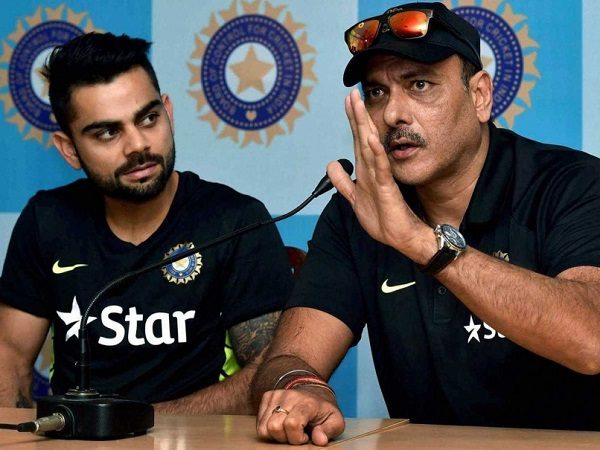 It is not hidden from anyone that Virat also supports Ravi Shastri's candidature as they both share a good bond from the time when Ravi Shastri was the manager of team India. Twitter had a field day after the announcement of Shastri's appointment was made and it was flooded with mostly funny, ironic, satirical and sarcastic tweets. There were many who were not happy with this development and they made it clear with their messages. Here are some selected reactions:
Kohli's reaction on this news:
Virat Kohli's reaction after hearing Ravi Shastri will be India's head coach. #ViratKohli #TeamIndia pic.twitter.com/cvIwgPX8ge

— Ameya Tilak (@ameyatilak) July 11, 2017
Yes Man:
https://twitter.com/ynakg/status/884732812204556288
Manmohan Singh of team India:
Team India Gets It's Manmohan Singh. Ravi Shastri Appointed As New Team India Head Coach.

Boys Played Well To Keep Legend Anil Kumble Out. pic.twitter.com/FXQGy9MFYo

— Sir Ravindra Jadeja (@SirJadeja) July 11, 2017
It can happen only in India:
Ravi Shastri new coach. Virat gets what he wants. BCCI and CAC dancing to the tunes of egoistic captain. Can happen only in India

— Vinay S (@yesvinay) July 11, 2017
https://twitter.com/PUNchayati/status/884739969448689664
Breaking News: Virat Kohli appointed Ravi Shastri as new Indian coach.

— Silly Point (@FarziCricketer) July 11, 2017
Such a shame!
Such a shame. No Ravi Shastri in the commentary box for 2 years at least. SUCH. A. SHAME.

— Raunak Kapoor (@RaunakRK) July 11, 2017
Sarcasm!
Having @ImZaheer as bowling coach is a fantastic move.Wish Team India good luck under Ravi Shastri .Hopefully d focus will be on cricket now

— Mohammad Kaif (@MohammadKaif) July 11, 2017
Why did they create the drama of resume, interview and all?
Ravi Shastri appointed Coach of Indian Cricket team till 2019 WC. Pity others who applied fr this sham process.Why put them through this?

— Sumanth Raman (@sumanthraman) July 11, 2017
Why they did drama of resume nd interview if #RaviShastri as coach was to be selected by Virat Kohli himself? BTW,all the best Ravi Shastri!

— Gaurav Kumar (@puraanigali) July 11, 2017
Meanwhile Kohli:
https://twitter.com/SampathRedDevil/status/884739461594005505
Twitter had a good laugh over this appointment and few hilarious reactions outpoured:
Ravi Shastri is a jolly-good fellow who'll allow Captain & others 2 party up 2 late night & not question performances! @BCCI @SGanguly99 1/4

— Gurudas Kamat (@KamatGurudas) July 11, 2017
Just after Ravi Shastri is appointed as coach of our cricket team, he announced that beer & vodka shots wd be served during the drink breaks

— Ra_Bies (@Ra_Bies) July 11, 2017
If Zaheer Khan Will Take Care Of Bowling,#RahulDravid Will Take Care Of Batting,What Is #RaviShastri Taken For? To Take Care Of After-party?

— Sir Ravindra Jadeja (@SirJadeja) July 11, 2017
Zaheer Khan ~ Handle Bowling department#RahulDravid ~ Handle Batting on foreign tours#RaviShastri ~ Enjoy the free tour package

— ChaatStation (@ChaatStation) July 11, 2017
Ravi Shastri proves again if you have good English you can crack interview even if you have less knowledge and experience #RaviShastri

— Sangam Kumar ☺️ (@Sangam_Sangs) July 11, 2017
And the best one!
Journalist: dada, what is team India's future under Ravi Shastri's coaching.

Saurav Ganguly: pic.twitter.com/0m6LcfqC8X

— Humor Ministry (@HumorMinistry) July 11, 2017
Kohli is a brilliant politician:
https://twitter.com/SaraKhanWorld/status/884745658451861505
What is your opinion in this connection?
Share Your Views In Comments Below