Bollywood & TV
Shatrughan Sinha Feels Lucky His Name Wasn't In The 'Me Too' Movement, Netizens Are Disgusted
Shatrughan Sinha, veteran actor and father of Sonakshi Sinha, today promoted a misogynistic view that a majority of the male population in the country uphold.
Very confidently. Mr. Sinha said at an event, that behind the fall of every successful man, there is a woman. He also made fun of the #MeToo movement and everything that it stands for when he said that the movement had been the cause behind the downfall of a lot of prominent men.
But was that not the whole point? To highlight the evil and the monstrosity hiding behind the facade of fame and wealth? Not that we expect Shatrughan Sinha to even understand.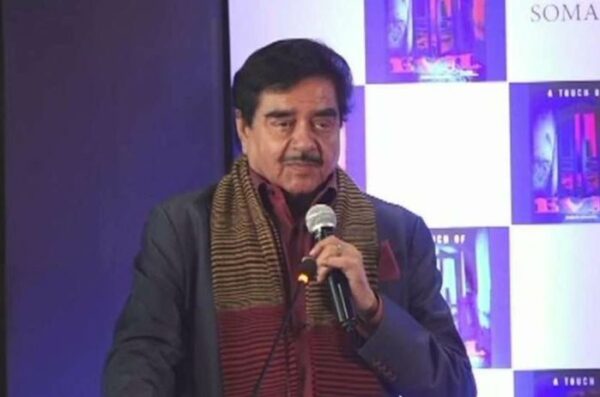 And that was not all. He went on to say that he is lucky to not have been named in the movement despite everything he had done during his stint in Bollywood. Now, we can't help but wonder if that's something to be proud of. In a way, he practically incriminated himself and as someone pointed out on Twitter "He MeToo-ed himself."
Shatrughan Sinha also went onto admit that he uses his wife as a shield, and more often than not, has used the "I am happily married" dialogue to get out of tricky situations. Now, isn't that just what a "true man" does?
His statements have sparked the wrath of netizens, who find the comments disgusting and offensive. Check out what they have to say:
#1
Fortunate My Name Hasn't Come Out in #MeToo
Veteran actor-politician #ShatrughanSinha on Wednesday said behind a successful man's fall is a woman but clarified that he was not making fun of the #MeToo movement & his comments should be taken in the "right humour"#roseday pic.twitter.com/5WTUy0Gzy4

— Vinit Kulkarni (@koolvinit_india) February 7, 2019
#2
Khamosh! – everyone to Shatrughan Sinha https://t.co/HMMcIug0KI

— Shreemi Verma (@shreemiverma) February 7, 2019
#3
Hardik Pandya : No one can destroy their own image better than me.
Shatrughan Sinha : Hold my beer.

— Panda (@WizzPanda) February 7, 2019
#4
You [email protected] Sinha are a brain less personality

— Bal Krishan Kalra (@kalra_bal) February 6, 2019
#5
Did he … did he just MeToo-ed himself 😲😜https://t.co/HM4eAGyLSm#ShatrughanSinha pic.twitter.com/Gu1WskLap7

— 🔴Captain Fun🔴 (@CaptainFun11) February 6, 2019
#6
Also, he's begging to be called out with this statement. Can someone please call out Shatrughan Sinha?

— Titash (@ts_cattiot) February 7, 2019
#7
Shatrughan Sinha in a private function looking at a dancer girl – Ye Ladki Humko Chahiye!

Thank the Gods, you senile old man, SM didn't exist in those dayshttps://t.co/fUfg1m9o5U

— Farzi Lord (@DhaOnez) February 7, 2019
#8
You know it's banter era when even today Shatrughan Sinha will milk 80's folk by saying "Khamosh", yet he's got no clue when to shut the fuck up himself. https://t.co/IAldJI1Lwb

— Arjun Chopra (@ArjunChopra_8) February 7, 2019
#9
I have feeling that one day Shatrughan Sinha will use the campaign #MeToo that BJP has harrased him.

Hahahaha…

— Sidhartha Bhandari (@sidhartha9607) February 7, 2019
#10
Why is Shatrughan Sinha disgracing #Metoo movement

Cos his wife and daughter are involved??🤔🤔

Pooja Mishra is Gaya from news ever since…complete #khamosh#ThursdayThoughts
⬇️

Sonakshi Sinha and Poonam Sinha behind Pooja Mishra's sexual assault? https://t.co/UPh34Z2PqK

— 𝕮𝖔𝖓𝖌𝖗𝖊𝖘𝖘 𝖔𝖓 𝕭𝖆𝖎𝖑 (@being_delhite) February 7, 2019
He's practically begging for someone to call him out on this. Do we let him get away with this?
Share Your Views In Comments Below