Entertainment
Uday Chopra Finally Breaks His Silence On Depressive Tweets, Here Is What He Has To Say.
Though we all are quite aware, how nepotism works in the Bollywood industry, we got to see instances, where they didn't actually. Bollywood actor Uday Chopra made his acting debut in 'Mohabbatein' in 2000 and was later seen in films like 'Mujhse Dosti Karoge', 'Neal n Nikki', 'Pyaar Impossible' and as Ali, in the popular Dhoom franchise.
But, it seems everything is not well with the 45 year old actor. He is depressed and heartbroken, which is quite evident from a series of Tweets, posted on his official account. Apart from the Dhomm franchise, we never saw much professional growth in his career whereas, in his personal life, his alleged relationship with actress Nargis Fakhri, also ended.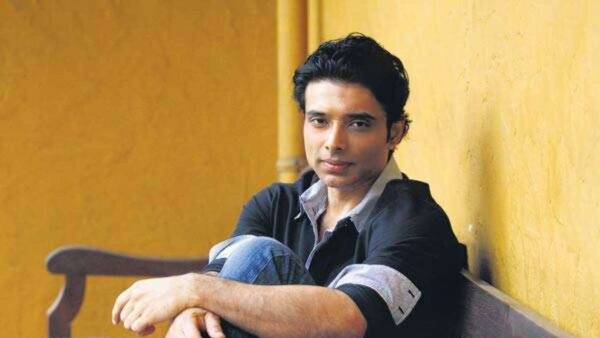 Actor producer Uday Chopra, created quite a stir with some tweets, declaring his mental health as quite unsettling, got netizens worried and concerned about him. Though he later deleted those tweets, screenshots of those tweets started doing the rounds on the social media.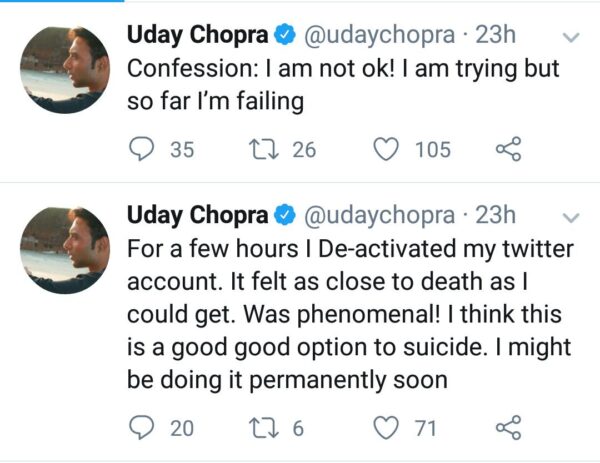 But it seems, he is alright now as he posted a confirmation on his official Twitter handle by assuring his well wishers and fans, he is doing well. He also stated that those tweets were a result of his 'dark humou' and so got everyone to misunderstand him.
Seems like I tweeted something recently that got a few of you worried. I'm totally fine, its just my dark humour that sometimes gets misunderstood. Thanks for all your concern though.

— Uday Chopra (@udaychopra) March 24, 2019
Even director Kunal Kohli replied immediately.
Love you buddy

— kunal kohli (@kunalkohli) March 24, 2019
Even netizens took a sigh of relief and said they are glad to know that he is fine.
#1
I actually followed you a few minutes ago on twitter since I read something in the news; obviously which I found concerning. Good to know you are fine. Please hang in there. Time and phase change very fast.

— Alpesh Sanghavi (@AlpeshSanghavi) March 24, 2019
#2
Sir please don't do it again. I don't think anyone saw it as humorous in any shade of gray. It shakes us as fans and as humans to see fellow people under chronic stress. Hope you stay fit, hale and hearty for long. Wish to see you on the big screen again soon. 🙂

— Saransh Tiwary (@saransh23) March 24, 2019
#3
I'm happy you are fine ❤❤ Have a good Sunday dear 😘😘

— Uday Chopra Fan ❤ (@UdayChopraFan) March 24, 2019
#4
Your life may help someone one day – please treasure it. Nobody said this better "Thank you, thank you, very ok, very ok"

— Raag RK (@RaagRk) March 24, 2019
#5
It was rather scary Uday. All your fans are rightly worried after reading you tweeted about a suspected attempt to end life.

— Priya Sahukara (@priyasahukara) March 24, 2019
This was not the first time that he wrote about his mental illness and love life, back in June 2018, he tweeted that he lost that urge to love and feel alive again. Here are those.
#1
If you or a loved one is suffering from a mental illness get help.
Remember you cannot will it away. You cannot just "think positive" or "shake it off" or "be strong"
It's the same as asking a person with a broken leg to just walk it off
There is no shame in it; help is available

— Uday Chopra (@udaychopra) June 9, 2018
#2
Depression, Anxiety, Social withdrawal, behavioral changes, over-indulgence in food, alcohol, drugs etc these are all signs. If they continue for a longer period of time then there could be an issue. Most importantly do not judge them for it, instead try and understand them.

— Uday Chopra (@udaychopra) June 9, 2018
We last saw him in 2013, in the third installment of the Dhoom franchise. We really hope he gets well soon enough and gets rid of this dark humor as well.
Share Your Views In Comments Below