Sports
Virat Kohli Quits Test Captaincy, Issues A Statement On Twitter, Fans Lash Out At BCCI
Fans of the Indian cricketer Virat Kohli must be pretty disappointed as he chose to give up the test captaincy after he lost the 3-match test series to South Africa by 2-1. Just few minutes ago, Virat Kohli took to the micro-blogging site Twitter and announced his decision of quitting the test captaincy.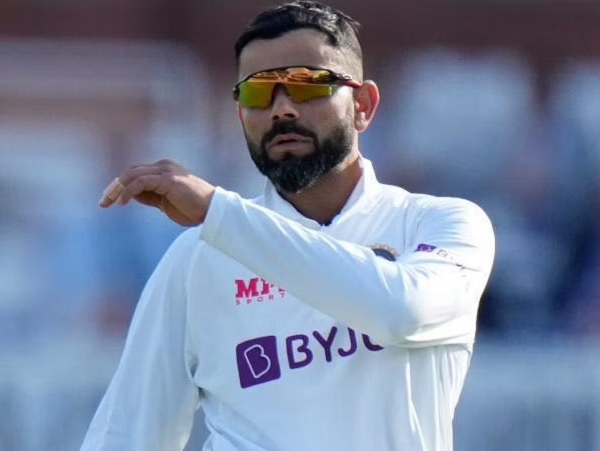 He issued a statement in which he wrote that he led the team with complete honesty and gave 120 percent but as everything comes to a halt at some point of time, it's time for him to stop being the test captain. He thanked BCCI, teammates, former head coach Ravi Shastri and support staff for their continuous support and for helping him in bringing his vision to life. Virat also thanked the former Indian skipper MS Dhoni for believing in him and in his capability to take the Indian team forward.
Here is what Virat Kohli wrote in his statement,
"It's been 7 years of hard work, toil and relentless perseverance everyday to take the team in the right direction. I've done the job with absolute honesty and left nothing out there. Everything has to come to a halt at some stage and for me as Test Captain of India, it's now. There have been many ups and also some downs along the journey, but never has there been a lack of effort or lack of belief. I have always believed in giving my 120 percent in everything I do, and if I can't do that, I know it's not the right thing to do. I have absolute clarity in my heart and I cannot be dishonest to my team.

I want to thank the BCCI for giving me the opportunity to lead my country for such a long period of time and more importantly to all the teammates who bought into the vision I had for the team from day one and never gave up in any situation. You guys have made this journey so memorable and beautiful. To Ravi Bhai and the support group who were the engine behind this vehicle that moved us upwards in Test Cricket consistently, you all have played a massive role in bringing this vision to life. Lastly, a big thank you to MS Dhoni who believed in me as a Captain and found me to be an able individual who could take Indian Cricket forward."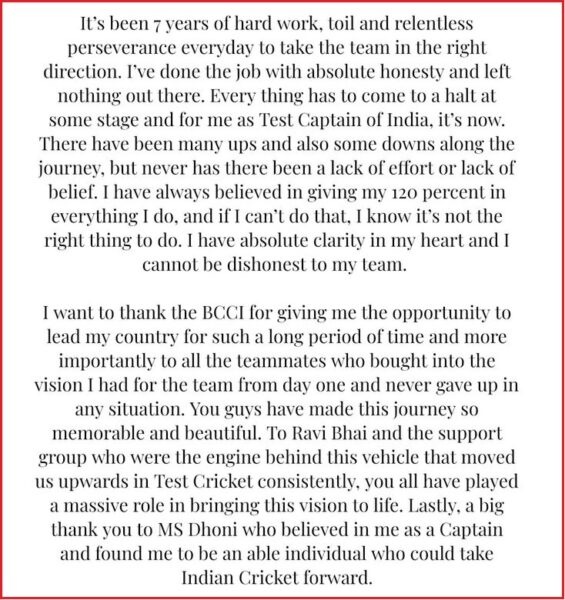 — Virat Kohli (@imVkohli) January 15, 2022
Twitter has slammed BCCI for Virat Kohli's decision of quitting captaincy and here are some selected tweets:
#1
These are the two people who destroyed the career of @imVkohli and Indian Cricket. @BCCI #ViratKohli #shameonbcci #ResignGanguly pic.twitter.com/3wsc4bsO8v

— ILYAS🇮🇳/ఇలియాస్ (@IlyasAli28) January 15, 2022
#2
SHOCKING ! BCCI IS TARGETTING THE MAN WHO TOOK INDIAN CRICKET TO NEXT LEVEL. #ViratKohli #shameonbcci #BCCI pic.twitter.com/BzoeRlN2RF

— Shiva Tiwari (@ShivaTi72504679) January 15, 2022
#3
Thank you for your service. May you continue to dominate world cricket with your batting.

— THE SKIN DOCTOR (@theskindoctor13) January 15, 2022
#4
ICT lost a gem as a Test captain !

India can never get a captain like him .
Mark My Words ✒️#ViratKohli #ShameOnBCCI pic.twitter.com/luBdSXaZXn

— Priyanshu Khandelwal¹⁸ 🇮🇳✨ (@Priyanshuinnn) January 15, 2022
#5
Believe me you are the Greatest Test Captain India ever had and you'll remain the best.There's is still time and millions believe the same !
In the end it's your decision.
Thank you KING 👑 @imVkohli#Shameonbcci pic.twitter.com/1oB5jUysZ2

— شیخ سلیم (@AdvSheikhSalee1) January 15, 2022
#6
True💔#shameonbcci|#CaptainKohli pic.twitter.com/0MmmLGGrEQ

— Tributer 2.0(follow back 💯) (@kingkohli43) January 15, 2022
#7
So sad to see GOAT of cricket getting treated this way by BCCI despite giving everything for his nation.
Such instances just break you from inside.#Viratkohli #Bcci #Shameonbcci pic.twitter.com/lpoHZ7sgM2

— Kohli's 71st century (@virat_fc__) January 15, 2022
#8
Fight for the next captain of the Indian Cricket team……#ViratKohli#BCCI pic.twitter.com/rtx2NyZH8Z

— Krishna (@Atheist_Krishna) January 15, 2022
#9
Only viratians and rcb fans can relate 🥺💔#BCCI #ViratKohli pic.twitter.com/xrCEVh3Laf

— Kohli's 71st century (@virat_fc__) January 15, 2022
#10
Darkest Day in Indian Cricket..Out of nowhere.. #BCCI politics took over most celebrated and successful test captain #shameonbcci https://t.co/Bqeb6JFQWC

— Praveen Aagiya Naan (@tvpraveenhere) January 15, 2022
#11
Thank you #ViratKohli 🙏#IndianCricketTeam #Captain #BCCI pic.twitter.com/wXu9HFPmws

— Avinash (@Aviinashx) January 15, 2022
#12
so true! #BCCI #SAvsIND pic.twitter.com/xpgBcG4VcM

— Mandar. (@Mandar12_) January 15, 2022
There is no denying the fact that Virat Kohli is the most successful skipper of India as he led the team in 68 test matches and India won 40 out of them but it is also true that he hasn't been able to make his team win any major ICC trophy neither in short format nor in the longest format. Though Virat Kohli led the Indian team in the finals of the World Test Championship 2020-21 but lost it to New Zealand.
Earlier, Virat Kohli gave up the T20 captaincy after the ICC T20 World Cup and later on he was removed from the post of the ODI captain by the Board of Control for Cricket in India (BCCI). Virat Kohli hasn't been able to score a century in test matches since 2019 which was also going against him.
A huge controversy got erupted when he was sacked from the ODI captaincy and now he was under fire for his rash behaviour in the third test match when the South African skipper Dean Elgar was given not out by DRS.
With Virat Kohli giving up the test captaincy, an era came to an end but hopefully we will see him play some great innings as a batsman.
Share Your Views In Comments Below