Food
"Yeh Kya Combination Hai?" Viral Pic Of Hari Mirch Ka Halwa Leaves Foodies Baffled
Indians love to have sweet dish after having food and halwas are certainly an integral part of our lives. While gajar (carrot) ka halwa is the most popular among the halwa lovers, many people also love to have suji ka halwa, moong ki daal ka halwa, atta ka halwa, etc. There may be many other versions of halwa as per people's interests and choices but have you ever heard about hari mirch (green chill) ka halwa?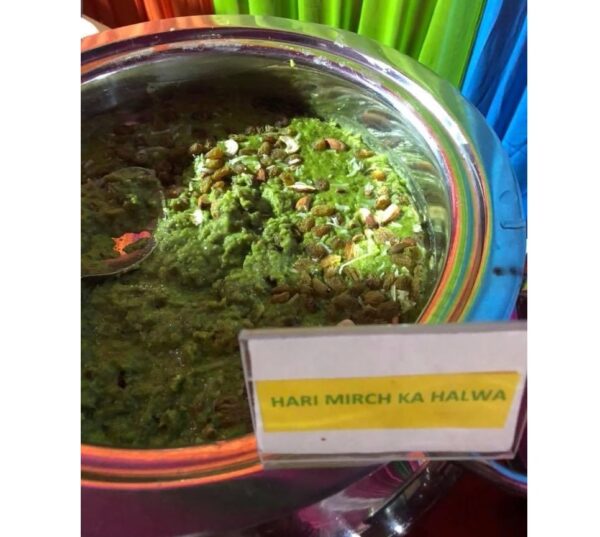 Yes, you read it right! Well it is even difficult to think of something like this but let us tell you that such halwa is also cooked and has even been served in weddings.
Recently, a Twitter user shared a photo of hari mirch ka halwa with the caption, "Sardi ke liye hari mirch ka halwa" (Green chilli halwa for winters).
Sardi ke liye Hari mirch ka halwa pic.twitter.com/dcIPJEITdB

— Rana Safvi رعنا राना (@iamrana) January 27, 2022
The tweet was posted a couple of days ago and till now, it has received more than 400 likes. The majority of Twitter users are finding it difficult to believe that even such a dish can be the result of someone's imagination. While some refused to try it, several others seemed to be tempted to try the dish.
Check out some of the reactions:
#1
Whoa, how is that made? And how hot are the chillies?

— Gaurav Sabnis 🇮🇳🇺🇸 (@gauravsabnis) January 27, 2022
#2
What is it to be eaten with? Never heard of this but sounds very interesting.

— Arpita (@arpitaswrites) January 27, 2022
#3
Halwa wo bhi Hari Mirch Ka, ye kya combination hai?

— Munawar Ali (@munawar19) January 27, 2022
#4
@Qanoonwaala THIS is virodhabhaas alankaar. @drsureshpant @avtansa

— Ajay Divakaran (@ajaydiv) January 28, 2022
#5
Hearing about this for the first time. You tried? How was it?

— Reema Asnani ریما اسنانی (@RAsnani) January 27, 2022
When a follower asked the Twitter user whether she has eaten it, the Twitter user replied in affirmative, saying that she had it in a wedding few years ago and it was really good.
It was good. Had at a wedding few years ago

— Rana Safvi رعنا राना (@iamrana) January 27, 2022
Have you ever tried hari mirch ka halwa or any such dish or would you like to try it?
Share Your Views In Comments Below