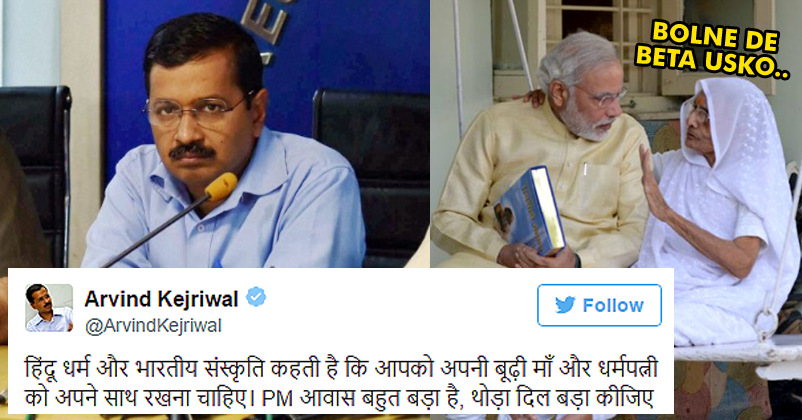 PM Modi has been very active on social media. He never leaves out a single chance to keep the followers updated with his latest happenings. Whenever the PM goes somewhere or does something, he always takes to his Twitter handle and posts every detail. As soon as he tweets, there are thousands of retweets and likes on it; obviously, his posts are damn interesting.
However, when Arvind Kejriwal reads his post, he starts his blame games. It seems as if a school kid isn't happy with his teacher or principal, LOL. This time too, PM Modi tweeted something and Kejriwal was ready with his troll; but little did he know that it would backfire.
What happened was that Modi took to Twitter in the morning and posted that he will be skipping Yoga since he has to go and meet his mom. Here's his tweet…
Skipped Yoga & went to meet mother. Before dawn had breakfast with her. Was great spending time together.

— Narendra Modi (@narendramodi) January 10, 2017
As usual, Kejriwal tweeted back in an attempt to insult him. He said that if he was going to meet his mom, there was no need of showing off on social media. A similar incident had happened during demonetization, when PM Modi's mom was in the bank to exchange her notes. Even that time, Kejriwal had stated that the PM is using his mom for political gains. Once again he reminded everyone of that episode.
Here's what Kejriwal tweeted today;
मैं अपनी माँ के साथ रहता हूँ, रोज़ उनका आशीर्वाद लेता हूँ लेकिन ढिंढोरा नहीं पीटता। मैं माँ को राजनीति के लिए बैंक की लाइन में भी नहीं लगाता https://t.co/CT243GCiaC

— Arvind Kejriwal (@ArvindKejriwal) January 10, 2017
He also gave a lecture;
हिंदू धर्म और भारतीय संस्कृति कहती है कि आपको अपनी बूढ़ी माँ और धर्मपत्नी को अपने साथ रखना चाहिए। PM आवास बहुत बड़ा है, थोड़ा दिल बड़ा कीजिए https://t.co/CT243GTTzc

— Arvind Kejriwal (@ArvindKejriwal) January 10, 2017
As soon as Kejriwal tweeted this, people were ready with their trolls and slams. Check them out…
LOL!
https://twitter.com/I_Atheist_/status/818679226593181697
Stop sharing old news!
कुत्ते *हो* गए हैं? Stop sharing old news!😂😂@I_Atheist_

— Siona Gogoi (@SamajhdaarLadki) January 10, 2017
What a comparison!
how dare u to insult poor kutta?? Kutta is much much better than such kejru…….

— Lalit Waykole (@lswaykole07) January 10, 2017
Lotpot.com ki khabren band kar!
चुतियानंदन, लोटपोट डॉट कॉम से ख़बरें पढ़ना बंद कर गँवार। 😂 @CrimeMasterV2 @coolfunnytshirt @ArvindKejriwal

— Keshava (@Kumar_Ke5hav) January 10, 2017
Quality time with mummy!
सड़ @ArvindKejriwal जी रैली में मम्मी के साथ क्वालिटी टाइम बिताते हुए pic.twitter.com/VUCpZcCyzk

— Dogaㅤ (@Doga_The) January 10, 2017
Can't agree more!
https://twitter.com/iAnkurSingh/status/818678730226798592
Topi pehnata hai!
👈 लेकिन अपनी अम्मा को टोपी पहनाकर आपिया कीचड़ प्रचार ज़रूर करवाता हूँ। ये भी बोल देता कुत्ते की औलाद😡

— SAFFRONISED!! (@AAPfool) January 10, 2017
Kejriwal is never going to stop blaming Modi; he just wants a chance to do so! By now, we all are used to this behavior of his, isn't it? Do share your views in our comments section below.
Share Your Views In Comments Below