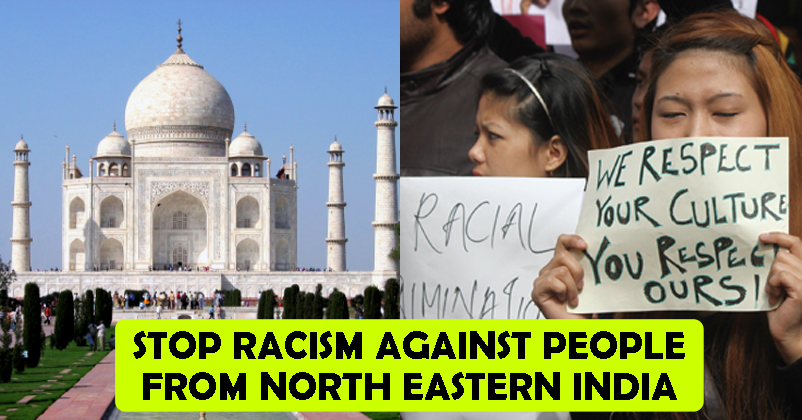 Racism is highly present in our society and no matter what means are taken, it just can't be stopped.
Discrimination against North East Indians isn't new. There have been many cases wherein these people have highlighted how abused and left out they feel. They face the harassment of racism consistently and relentlessly. One more incident has come to light and it's shameful!
A group of Manipuri students experienced this torture when they visited Taj Mahal, as part of their college trip.
According to reports, CISF personnel stopped these students and asked for nationality proof.
Basically, these students were from Imphal's Central Agricultural University and were on an educational tour. They were stopped at the gate of the monument because the officials thought they "Resembled foreigners".
You might all be thinking that it was due to security issues that these students were stopped; but no, the reason was something else. It was due to the difference in ticket price.
The entry ticket for foreigners costs around Rs 1000 each while that of Indians cost Rs 40 each. Officials demanded them to pay Rs 1000 each to get an entry.
Even though the students showed the letter that they were on national tour and also the ID card, the CISF officials didn't believe them. They only permitted entry to students having Aadhar cards. This led to a heated argument between the security officials and the professor who had accompanied the students.
Finally, the local police intervened and students were granted entry. However, they lodged a complaint with ASI officials for this discrimination.
RP Pandey, SHO of the Tourism police station said
"As alleged by the students, the CISF personnel misbehaved with them and asked to show their nationality proof. They the tourism police was approached, who reached the spot and intervened to allow the students to enter."
Now, the ASI officials have ordered an inquiry in this matter and CCTV footage has been demanded from the main gates so that the allegations can be verified.
Racism is ruining everything; it was the duty of CISF personnel to verify each and everything before behaving so harshly.
Share Your Views In Comments Below