News
1$ Reached Rs 70 & Twitter Is Sarcastically Trolling The Government For This Achievement
We may have been hearing a lot of good things about the Indian economy from various organizations such as International Monetary Fund but on Monday, the Indian Rupee fall to a lifetime low, crossing the 70 mark per dollar, i.e., 70.1.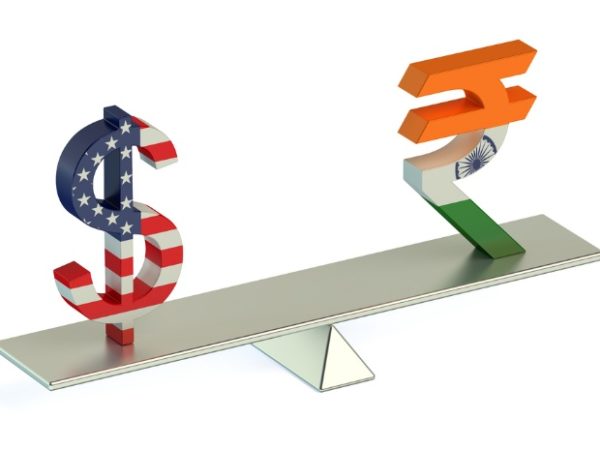 The Indian currency has been losing its sheen for quite some time now as just 10 years ago, we were standing strong at 42.1 in comparison to 1USD but five years ago, we reached the value of 59.3. In September 2013, it touched 68.84 that was the lifetime lowest at that time while just a month ago, it was 67.1.
Indian Rupee per US Dollar.

Ten years ago: 42.1

Five years ago: 59.3

One year ago: 64.3

One month ago: 67.1

Now: Rupee Plunges To Record Low Of 70.06 Against US Dollar

— Marketing Mind (@MarketingMind_) August 14, 2018
The experts are of the opinion that it is the result of the Turkey financial market crisis as the currency of Turkey "Lira" is taking a free fall and on Monday morning only, it fell more than 12 percent. Experts feel that this Turkish crisis is now showing its effect on the Asian markets and making the dollar strong.
However, the Indian Twitter users are holding PM Modi and his government completely responsible for the fiasco and asking whether these are the "ache din" that he was talking about and this is how he wanted to change India. Here are some reactions:
#1
MODI JI LEAVE YOUR THEORY OF GAS FROM GUTTER. OUR CURRENCY IS FALLING DAY BY DAY. TODAY WAS ABOUT TO TOUCH RS 70 =$1. FIRST TIME IN 70 YEARS.
FIRST THINK ABOUT THE COUNTRY. WE WILL THINK LATER ON ABOUT THE GAAY GOBAR GAS MANDIR MASJID AND HINDU MUSLIM. @RahulGandhi @INCIndia .

— Sk (@SkJain53577365) August 13, 2018
#2
Calm down guys, This Gas tragedy was just to cover up the news that RUPEE has touched all time low of 69.62 against US DOLLAR today.

— Nehr_who? (@Nehr_who_) August 13, 2018
#3
#RupeeisDead @RahulGandhi @divyaspandana @priyankac19 @nsui look at Modi vikas .
INR is sinking ,economy gone in ICU .
Is this vikas ?Hamara desh badal raha hai . pic.twitter.com/4Mc8HE3vgS

— Hopeless Indian (@Schdhry19) August 13, 2018
#4
And see the point, all are got busy in talking nonsense things and no one is pointing that Rs 70. = 1$ history thing. This should be shown as biggest achievement in 4 years compared to 60 years of Congress..

— Santosh Singh (@santosh_chandel) August 13, 2018
#5
What the Congress could not do in "70" years has been done by Modi Sarkaar. US$ 1 = Rs "70".

— Ranjit Kumar (@RanjitOne) August 13, 2018
#6
1 Dollar = 70 Rs/-
1 Euro = 80 Rs/-
Looks like DOLLAR and EURO are taking revenge on India for naming underwear brands on their names 🙂

— Pankaj Baid (@pankajbaid17) August 13, 2018
#7
Dollar crossed Rs. 70 today. Rs. 1.20 fall in a single day.

Congratulations, great economists @Swamy39

— Suresh Sharma (@scsharma333) August 13, 2018
#8
How refreshed u feel SriSri that 1$ at Rs 70/- U couldn't hv imagined even with yr yogic (non) sense! Ramdev Sri Sri Asharam &many under custody all over d country hv business interests which Modiji assured 2protect. India doesn't matter 2 mean Bhogis & selfish Gujarati Jugaljodi

— Capt G R Choudhary (@captgrc) August 13, 2018
#9
Tomorrow is our Independence day (15 Aug) and dollar rate is Rs.70/$1

I don't feel we're independent, we're moving towards slavery again. I don't know when these politicians actually start working and leaving their policies behind.

Should I say happy Independence day?

— Jagdish Kashyap (@Jagdish1O1) August 14, 2018
#10
For the first time in Independent India's 71 year old history, Rupee trying match numbers… Rupee at record low Rs 70 to 1 US Dollar…. Over to certain nationalist celebs now.. Jai Hind… https://t.co/7FdnKExmJW

— Ankit Tyagi (@Ankit_Tyagi01) August 14, 2018
#11
Once again modiji created history
Where Rs is 1 st time at its low value (70 rs per $) against dollor#CongressIsWinninghttps://t.co/IymooTAloa

— swapnil mahantare (@s_mahantare) August 14, 2018
What is your take with regard to this? Let us know your views.
Share Your Views In Comments Below