Extras
10 Most Irritating & Annoying Bollywood Celebrities
#1 Himesh Reshamiya-

The most annoying songs, from Tak tanana tandori nights to jhalak dikhla ja, (.2% of the poop) are even more annoying than our pappu Rahul Gandhi. His torturous voice gave nightmares to many. But no, he din't stop there. He stared 'ACTING'. :O double trouble with 'ye tera mera milna' and then he composed this –> 'Ice Cram Khaungi, Kashmir Jaungi'.
Dude, Please, Stop.
#2 Kamal Rashid Khan-

May peace be upon him, the prophet of the Bollywood fraternity. Yes, Kamal Rashid Khan calls him KRK, apparently to prove that he exists in the race (just like SRK OOPS). Nonetheless, let's not waste our time to another waste of skin and bones and move forward.
#3 Anu Malik-

He is such a brilliant singer, that his song "Ek garam chai ki pyali ho" is still sung by people exactly like he sang. And now that he's done singing, he is indulging himself in shairo shairy which is even more pathetic. (His shers and 1 liners automatically raise my hand on to my face) (Facepalm, yeah).
#4 Rakhi Sawant-
Hey jijjus, kya bana dala? No, we cannot let you go away with this. We need compensation cause we have been lisening and seeig this girl all our lives. Ever seen a hybrid crocodile and cow specie? She is that. (Yes, Judge me, Please)
#5Veena Malik-

Well, yeah, she's pretty and umm…yeah pretty. Anything else? Yep. She's dumb.
Is that it? yup.
The way she used to present herself to Salman Khan in Bigg Boss and her AEEEshmit wala accent urghhhh. And thank god her Swayamwar didn't happen.
#6 Dolly Bindra-

This particular woman is an epitome of annoyance. She got famous through Bigg Boss, ah ha, not for good reasons. She targeted Shweta Tiwari and Veena Malik and verbally abused them. Her loudness and harsh tone could murder your ear drums.
#7 Shweta Tiwari-

This woman is omnipresent. You can find her anywhere in any channel. Not because she'e famous, because she wants to be under the lime light. Forever. C'mon Shweta, Kittu gilehri chhammak chhallo rani?? SERIOUSLY?????
#8 Harman Baweja-

What exactly was Ashutosh thinking when he signed Harman Baweja? What the fish was Priyanka Chopra thinking when she started dating him? He looks like a pirated version of Hrithik, and his amazing  performances (pun intended) were so amazing, that we amazingly slept in the theater while watching 2050.
#9 Tushar Kapoor-
Why God? I ask you Thy Lord, why did you even create him? He's annoying as hell, his movies are annoying, his sister's daily soaps are annoying, everything about him is annoying. He belongs to a Bollywood background, and mayaya o, boi ke, is all he gets to speak in his movies?
#10 Sajid Khan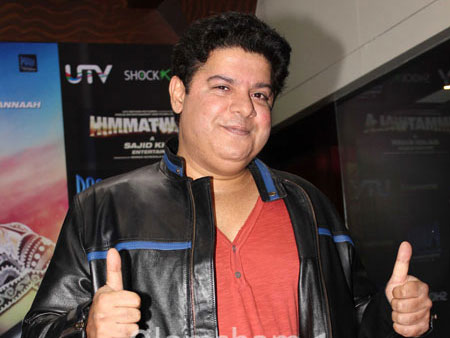 Dude why can't you just shut up?
What?
Never heard about shutting up? Ok
Then try jumping off the roof.
No? not ok. You really need to do this for the sake of humanity.
It's amazingly effective and might make people, able to tolerate you.
Image Sourced From here & here
Who is most annoying Bollywood celebrity according to you? Share in comments section below
Share Your Views In Comments Below