Entertainment
10 Reasons To Watch One-Of-Its-Kind "Hunarbaaz – Desh Ki Shaan", Colors TV's New Talent Show
India is home to some great talents that are not only unique but unbelievable as well; however, the problem is that they are scattered in different corners of the nation and a platform is needed where these talented people can showcase their distinctive skills.
Colors TV's new show
This situation has been addressed in a pretty good manner by Colors TV which is going to launch a home-grown talent reality show titled as "Hunarbaaz – Desh Ki Shaan". As the name suggests, the show will bring forth the undiscovered talent which was lying hidden till now and give the contestants a platform to use their talent and art for making a name for themselves in the world. "Hunarbaaz – Desh Ki Shaan" has been produced by Frames Production and three famous Bollywood celebs – Karan Johar, Mithun Chakraborty and Parineeti Chopra will be gracing the jury panel.
Here are 10 reasons why should watch one of its kind talent reality show – "Hunarbaaz – Desh Ki Shaan":
The promos are already generating a lot of excitement by showing the glimpses of acts done by acrobat dancers, gymnasts, beat boxers, magicians, flautists, rappers and other artists and it won't be wrong to say that the show will not only entertain us but also give an adrenaline rush.
The show is being hosted by famous celebrity couple comedian Bharti Singh and her husband Haarsh Limbachiyaa, who are very much known for their comic timing and beautiful chemistry. In the promos, the lovely couple is seen making jokes on each other and their relationship. Their presence confirms that there will be lot of fun, laughter and teasing and we are quite certain that they won't leave any chance of pulling the leg of judges as well.
Bharti has a huge fan following because of her funny style, humorous acts and brilliant comedy and there is hardly anybody who can stop laughing when she is on the stage.
Parineeti Chopra is making her TV debut with "Hunarbaaz – Desh Ki Shaan" and her fans will love to see the diva adding the tadka of glamour plus intelligence as she is undoubtedly the beauty with brains.
Karan Johar is known for his sass, wit, quirky style and not forget to mention his love for entertainment so quite obviously, he won't leave a chance to entertain the audiences and we will also get to hear something funny, catching and interesting about the Bollywood celebs.
Mithun Chakraborty has judged many reality shows in the past and the veteran actor is certainly an inspiration for many. His experience and wisdom will be a great asset for the show as well as contestants and we will also get to hear some old tales of Bollywood and other actors.
One more point which makes this show unique is that the live audiences will play a major role in deciding whether the contestant will go to the next round or not as they will have 70 percent weightage in the overall score while the judges will have only 30 percent weightage.
"Hunarbaaz – Desh Ki Shaan" is a homegrown talent reality show of the country.
For the first ever time, the trio of Karan Johar, Parineeti Chopra and Mithun Chakraborty will come together for any show and their antics will surely be a visual treat for fans and viewers.
The judges who belong to different age brackets are versatile and experienced in different genres, they will not only judge the contestants but also emotionally connect with them, thus making them feel like home and not on a competition platform.
Premiere of the show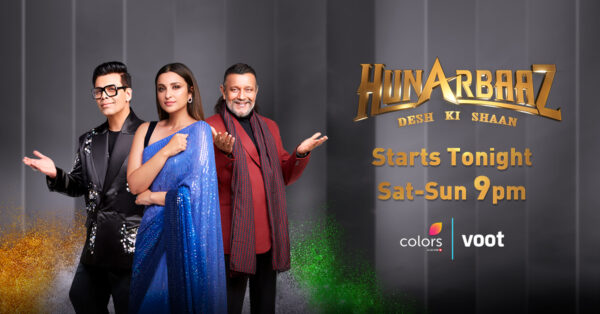 "Hunarbaaz – Desh Ki Shaan" starts Tonight at 9PM and will be aired every Sat-Sun at the same time only on ColorsTV.
Share Your Views In Comments Below