India is a nation that hasn't invaded any country. But that doesn't mean we stay on backfoot and let any other country to infiltrate our border. To overcome such problems India is on the verge of developing super-weapons which will give lead to our defense forces in every sector.
So, here we are to show you the Top 10 Super-Weapons that India will have in the next 4 years.
1. HAL AMCA
HAL Advanced Medium Combat Aircraft (AMCA) is fifth-generation fighter aircraft being developed by Aeronautical Development Agency and Hindustan Aeronautics Limited. Its primary purpose will be multi-role fighter capability which includes Air superiority mission, Attack mission, Strike role, Precision targeting, Interceptor, and Bombing mission. It is a single-seat, twin-engine, stealth super maneuverable all weather multi role fighter aircraft. The design work of the aircraft was completed in 2014 and is expected to take its first flight in 2023-2024.
2. Agni-VI
Agni-VI ICBM is an Intercontinental Ballistic Missile being developed by DRDO for Indian Armed Forces. Agni-VI will be a three stage missile and taller than Agni-V. Agni-VI will have a strike range of 8,000 to 10,000 kms.
It will be embedded with Micro Navigation System (MINS) which will ensure that missile reaches the exact target point. It will also have capability to be launched from submarine as well as land.
3. MBT Arjun MK II
Main Battle Tank Arjun MK II is an advanced third generation tank developed by India's Defence Research and Development Organisation (DRDO), for the Indian Army. Arjun Mark II has a total of 93 upgrades, including 13 major improvements. The Arjun MK II has completed most user trials in 2012 and 2013 and displayed impressive performance. The Government cleared a budget of Rs 6,600 crore for Indian Army to acquire 118 Arjun Mark II tanks by 2020.
4. Sukhoi/HAL FGFA
Sukhoi/HAL Fifth Generation Fighter Aircraft (FGFA) is a fifth generation fighter jet being developed jointly by India and Russia. The project is a derivative project from PAK FA (T-50 is the prototype) being developed for Russian Air Force. It will have 43 improvements over the T-50 prototype. Indian Air Force to have 144 planes for a cost of $30 billion whereas Russia is supposed to receive 250 aircrafts.
5. DRDO Rustom-2
Rustom-2 is an unmanned combat air vehicle (UCAV) developed by DRDO for India's all three defense services. Its test flight is expected to happen this year in April/May.
6. HAL Light Combat Helicopter
The HAL LCH is a multirole combat helicopter which is being developed by HAL in India for Indian Air Force and Indian Army. According to HAL, LCH is designed to carry out dedicated combat roles such as Air Defense, anti-tank, scout and support combat search/rescue missions. The Indian Air Force is expected to acquire 65 LCHs and Indian Army to acquire 114 LCHs.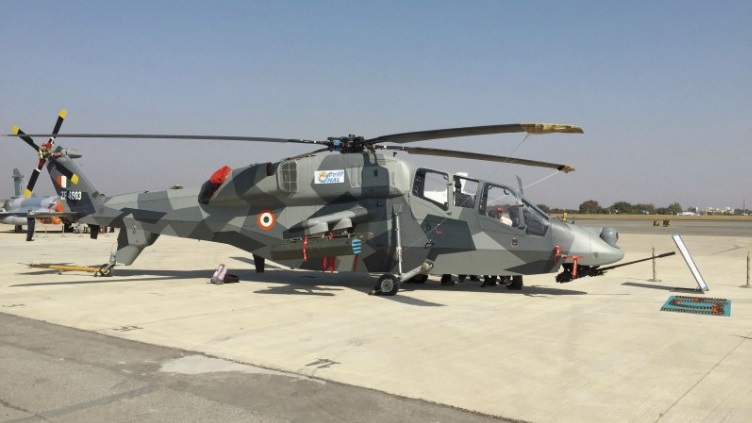 7. BrahMos-II (missile)
BrahMos-II is a hyper-sonic cruise missile being developed by India's DRDO and Russia's NPO Mashinostroeyenia. The missile is expected to have a range of 290 kms and a speed of Mach 7 (8,575 km/h). The missile will be ready for testing by 2017.
8. UAC II-214 (MTA)
It is Multi-role Transport Aircraft (MTA) which is being developed by United Aircraft Corporation (UAC) of Russia and Hindustan Aeronautics Limited (HAL) of India. It is a medium-military transport aircraft. This Transport Aircraft is intended to replace Indian Air-force's Antonov An-32 fleet of transport aircrafts. It is expected to take its first test flight in 2017 and to enter service in 2018.
9. INS Vikrant
INS Vikrant is India's first indigenously-built aircraft carrier. 98% of the work related to the carrier has been completed. The flight deck of the aircraft carrier is yet to complete. The 40,000 tonne INS Vikrant is expected to be commissioned to Indian Navy by 2017. However it was un-docked last year in June for testing and will go through extensive sea trials throughout this year before getting commissioned in Indian Navy next year.
10. Tejas MK2
Tejas MK2 is Multi-role fighter that means it is an aircraft capable of tactical strike, air reconnaissance, air defense, and maritime roles. It will be able to perform different roles during combat.
With these super-weapons in India's arsenal, no country would try to mess with us.
What are your thoughts, let us know in the comments section below.