News
1000 Trees Have Been Cut Down In Odisha To Build Modi's Helipad, Netizens Are Furious
Apparently, deforestation is clearly not on Modi's mind as more than a thousand trees have been cut down in Odisha in order to make way for construction of his helipad.
Our Prime Minister is planning to visit the town named Balangir in Odisha, and thus a temporary helipad was deemed necessary for his arrival.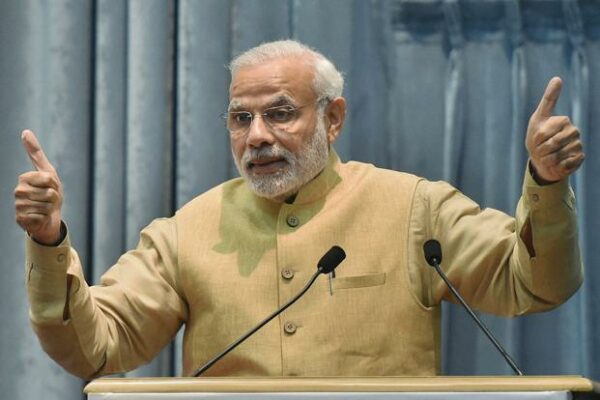 The plot is approximately 2.25 hectares, and is controlled by the Indian Railways. However, a vacant land was required for construction purposes and 1.25 hectares of land was cleared.
However, according to environmentalists, this is an appalling move and the Modi government did not even bother to ask for permission.
Netizens are furious. Check out the comments received:
1.
Propaganda : Hundreds of Trees Cut to Make Helipad Space for Modi's Odisha Tour, UN must take back Champions of The Earth Award from Modi

Reality : Only Shrubs and few saplings have been removed 😭 pic.twitter.com/kLRuBfDPnY

— Dr. Laliya 🇮🇳 (@Lala_The_Don) January 15, 2019
2.
Over 1,000 trees cut in Odisha for a helipad for the upcoming visit of PM Modi. So what?

Desh ke liye trees itna to kar hi sakte hai na.
Shame Shame Shame

— Pinakin Mehta (@PinakinMehta1) January 15, 2019
3.
Champions of earth award
More then 1000 trees cut to build hellpad for Modi Odisha visit.
Philip Kotler award, what next?😯 https://t.co/8eeXQiyBtR

— पतं🐒 जलि🔥 भक्तो का Clinic (@wills167) January 14, 2019
4.
What about #Kodanadestate 's murder & CM's involvement?

….Modi 's love on tamil? 😂

….Trees were cut for landing modi's Helicopter in odisha

Rahul's strategy in LK election

Will ppl accept rahul as Next PM?

Finally tharamana sambavam #petta v/s #Viswasam 😂😂

— ☠ மிடில் பென்ச் ☠ (@jhambt) January 14, 2019
5.
Hundreds of trees fell for Modi's helipad in Odisha; PWD 'had no idea' who cut trees?
Lord Jagannath must have done that!

— Basant Kumar Patra (@mike_pat) January 14, 2019
6.
Apparently over 1,000 trees were cut in Odisha for a helipad for the upcoming visit of PM Modi, the person who was honoured with highest environmental honour 'Champions of the earth'. How ironic. @giri1478 @roy_eat @p7eiades

— Sagar सागर ساگر (@Sagar4000) January 14, 2019
7.
For PM Modi's one hour meeting 2000 trees cut down to make a helipad in Balangir, Odisha.

— Manoranjan Mallick (@MartianTutu) January 13, 2019
8.
@narendramodi @dpradhanbjp @sambitswaraj
Dear PM sir, I found news that 3500 tree cut down for your bolangir(odisha)rally for helipad. Dis z nt acceptable. I am gr8 fan and huge supporter of MODI and BJP. But this z not acptble. You should ask for immediate plantation dist admin

— Jitendra Kumar Sahoo (@Jitendr84902958) January 13, 2019
What do you feel about this?
Share Your Views In Comments Below