News
11-Yr Girl Gave A Brilliant Idea To Anand Mahindra To Control Noise Pollution & He Is Highly Impressed
One of the biggest problems that a commuter has to tackle on the roads is unnecessary honking done by the drivers despite the fact that they know it's of no use at all.
Unnecessary honking not only causes noise pollution but also irritates other people on road. Now an 11 years old girl has also expressed her unhappiness over the fact that people keep on honking in the traffic even when they have an idea that the vehicles are not in a position to move. The little girl from Mumbai is Mahika Mishra and she has written a letter to Anand Mahindra, the chairman of Mahindra group.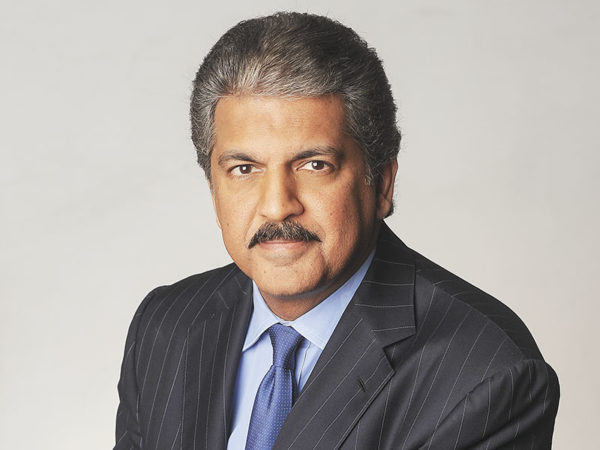 Mahindra group is involved in the production of vehicles so it is quite obvious that Mahika decided to share an idea of putting a control on this unnecessary honking with Anand Mahindra. According to her, a limit should be put on the number of times along with the duration of horn.
She wrote that a person should be able to honk only 5 times in 10 minutes and honk should be only for 3 minutes. If this method can be implemented, the roads will be very quite as noise will be minimised to a great extent.
Here's her letter: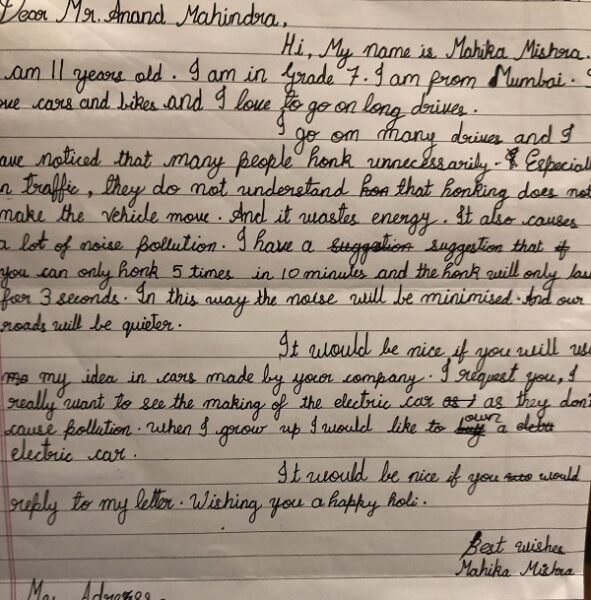 Anand Mahindra who is very active on social media shared the girl's letter on the micro-blogging site Twitter and praised her. The caption that he wrote read,
"At the end of a tiring day, when you see something like this in the mail..the weariness vanishes…I know I'm working for people like her, who want a better—and quieter world! 😊"
Check out the tweet:
At the end of a tiring day, when you see something like this in the mail..the weariness vanishes…I know I'm working for people like her, who want a better—and quieter world! 😊 pic.twitter.com/lXsGLcrqlf

— anand mahindra (@anandmahindra) April 3, 2019
Mahika also requests Anand to make electric cars and promises that she will own an electric car when she grows up as they don't cause pollution.
Twitter also loved her idea and this is how people reacted:
#1
Dear sir, request you to encourage her to help build the tomorrow that she wants. She took a great initiative to write to you. Please guide her further on how she can make what she desires possible.

— Teja Vardhan (@TejavardhanP) April 3, 2019
#2
Sometimes children to come up with brilliant ideas…please implement the idea Sir

— Apurba Misra (@apurbam) April 3, 2019
#3
Great idea! You must implement this idea and also take advise from her if necessary. 😊

— Shubham Gujarathi 🇮🇳 (@IndianGujarathi) April 3, 2019
#4
This is a fantastic idea and thought. I think changemakers like you need to seriously consider implementing this

— Saji Kumar Krishnan (@sajik_krishnan) April 3, 2019
#5
Real problem solver and feels like that is the solution. Hats off to the age and the thought kid has.

— Satya Gp (@gpsatya) April 3, 2019
#6
How sweet…Children see the world through a lens we've almost forgotten to clean & rinse.
It would be nice to see her suggestion being implemented. 😊🙏

— Gomathi Karri Reddy 🇮🇳 (@GomathiKarri) April 4, 2019
#7
Brilliant idea brimming with commonsense. Could only come from a child. Would love to see your take if a honking frequency could be pre-set in cars.

— Harsh Kathuria (@Hershkathuria) April 3, 2019
#8
Very well written by you 'mahika'.
Loved your innovative idea and vision. Hope to see some changes in near future @anandmahindra .

— Ashish kushwah (@ashishkushwah07) April 4, 2019
#9
Thankyou Sir @anandmahindra , we have been working on this project since two years now, and finally there is some measurable movement that we see will happen in near future.We @shhhnohonking look forward to connect and take this plan ahead and cause a HONK FREE INDIA. #nohonking

— Shhh…No Honking (@shhhnohonking) April 4, 2019
#10
That's a good idea and a very constructive proposal. Though Traffic can be weary but the honking adds to further frustration and tiredness. Government has to regulate with strict rules which didn't happen and auto makers should step in.

— Murali (@umkev) April 3, 2019
Brilliant girl, isn't she?