Sports
"14 Cr Ka Chuna Laga Diya," Memers Have A Field Day As Deepak Chahar Reportedly Rules Out Of IPL
Chennai Super Kings which is the second most successful team of the IPL with four title wins is going through a very tough phase in the IPL 2022 as it has lost four consecutive matches and hasn't been able to open its account in the tournament till now. MS Dhoni has already given up his captaincy, Ravindra Jadeja is the new skipper of the team and he is certainly not happy with the manner in which things are turning out in his captaincy.
There is one more bad news for the CSK team and fans as a leading daily has reported that Deepak Chahar, the cricketer whom franchise has purchased for a whopping price of Rs. 14 crore, won't be able to take part in the IPL 2022 due to injury. Deepak Chahar suffered a quadriceps injury before the IPL 2022 started and he was recovering from the injury at the National Cricket Academy, Bengaluru, but as per the reports, his back injury has returned which means he won't be playing in the IPL 2022.
However, an official from the CSK management has denied any such news, stating that they have no information about Deepak Chahar's back injury. He adds that Chahar is working hard to get fit but as of now, he is unavailable to play.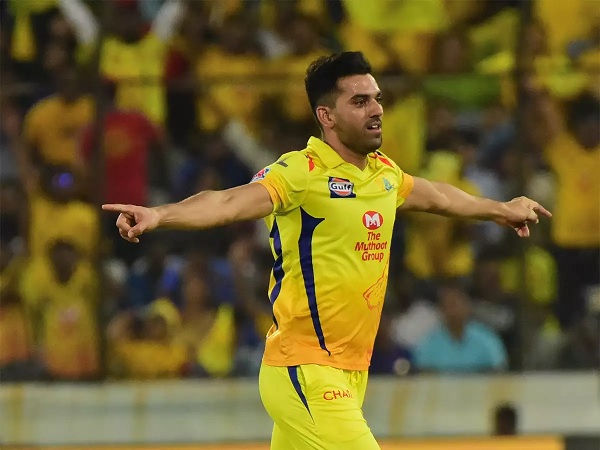 If this news is true, it is certainly a big setback for CSK which is already finding it very hard to register its first win but it has given a great chance to memers to have fun and as a result, social media sites are flooded with jokes and memes in this regard. Check out some of the selected ones:
#1
Deepak Chahar, who was recovering from a quadricep tear, has sustained a back injury.#RCBvsCSK #ipl #dhoni #virat #kohli #deepakchahar pic.twitter.com/I5HH3V3gmW

— Gabba Ka Papa 🔰🌟 (@riseup_pant) April 12, 2022
#2
Deepak Chahar drop 5 Rs in every CSK fans account from your 14 Crs so that we can buy a hand kerchief.

— CSK Cheems 💛 (@CheemsCricket) April 9, 2022
#3
#DeepakChahar ruled out of tournament. #CSKvRCB #RCBvsCSK

Csk owner to deepak chahat: pic.twitter.com/hrAaMJ9V5F

— Urwashi_07 (@UGwalwanshi) April 12, 2022
#4
Deepak Chahar is ruled out of the IPL and we spent 14 crores. 😭 pic.twitter.com/gErh5YxU60

— Khushi🌻 (@hit_wicket__) April 12, 2022
#5
Meanwhile Deepak Chahar 😭 pic.twitter.com/dgeB9wzOvh

— Yash Jain (@kiwiyash____) April 12, 2022
#6
MI bought Archer for 8 Cr to play in the 2023 IPL

CSK: hold my beer 🍻
We bought Deepak Chahar for 14 Cr to play in the 2023 IPL

Rivals they said, very well said.

— Vaibhav Bhola 🇮🇳 (@VibhuBhola) April 12, 2022
#7
Mom : Lemon's are so expensive these days…

Me : Nowhere close to Deepak chahar's signing bid for CSK. #IPL

— Kamina (@bittu7664) April 9, 2022
#8
Is it really Deepak Chahar won't be available for the whole IPL 2022💔
Right now fans reaction 😔😔#deepakchahar pic.twitter.com/CULRUwaXzg

— Ashutosh Srivastava (@kingashu1008) April 12, 2022
#9
Deepak Chahar ruled out of IPL 2022. (Reported by TOI).

:- Mufaddal Vohra

CSK fan's 🤣 pic.twitter.com/ymmmCpDTE6

— Ash…. Rohitian (@Rohitian45a) April 12, 2022
#10
Deepak Chahar Rulet Out Of IPL2022.
CSK To Deepak Chahar : pic.twitter.com/adSpgBVFWs

— Jitendra K Behera (@imChinKu) April 12, 2022
Deepak Chahar is ruled out from the entire IPl #CSKvsRCB
CSK fans : pic.twitter.com/whBqeseOoW

— DEBARATI (@DebAnu2002) April 12, 2022
CSK fans & management rn#DeepakChahar pic.twitter.com/iReGQlFNx4

— Balu (@worstsledger) April 12, 2022
Presently CSK is at the 10th spot in the points table; what is surprising is the fact that CSK and MI are the two most successful teams of the tournament but in this season, they both haven't registered a single win in the four matches that they have played.
Do you think CSK will be able to make a comeback in the IPL 2022 without Deepak Chahar? Do let us know your views.
Share Your Views In Comments Below