News
30-Yr Single Man Spent Rs 40000 To Find A Date By Advertising Himself On Billboard
Marketing is undoubtedly pretty necessary for every business but do you know that it is as important for an individual too, especially if he/she is looking for a date? With the advent of various dating apps, such as Tinder, Happn, etc., it has become quite easy to find a date but sometimes nothing works for a person.
Something of this sort happened with a man named Mark Rofe who is from Sheffield and works in marketing. Mark is 30 years of age and is quite upset with the fact that he is single while his friends are entering the new phase of life by getting married.
Mark came up with an innovative idea in order to get a date. He took a billboard on rent in Manchester for marketing himself and paid approximately Rs 40,000 (£425) for this purpose.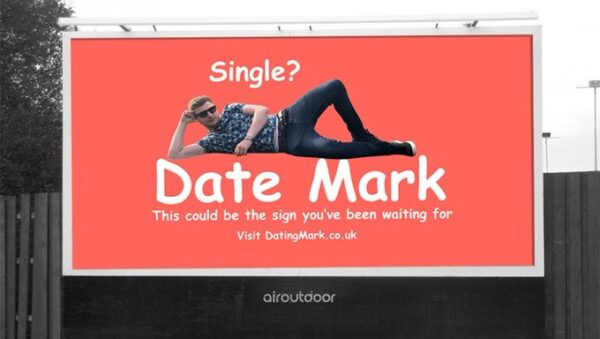 He marketed himself as an eligible bachelor as the billboard read, "Single? Date Mark. This could be the sign you've been waiting for."
Mark took to social media to make people know about his unique approach. He tweeted,
"The dating apps weren't working, so I bought a billboard and set up a website to stand out and try get a date.
Help me out https://datingmark.co.uk #DateMark"
The dating apps weren't working, so I bought a billboard and set up a website to stand out and try get a date.

Help me out https://t.co/ddz5s5aTul #DateMark pic.twitter.com/z4nBlA4v1X

— Mark Rofe 🧦 (@iamrofe) January 31, 2020
Till now, Mark has received more than 1000 applications and hopefully he will find a suitable date soon.
I've actually been getting applications 😂

Thanks for anyone that has applied, I will go through them and get back to you.

Also, I know it's really hard to believe, but I designed the billboard by myself.

— Mark Rofe 🧦 (@iamrofe) January 31, 2020
The billboard's right side had the words, "Dating Mark. One man. One billboard. One mission."
I'm at the billboard.

Regret not getting my haircut first.

— Mark Rofe 🧦 (@iamrofe) February 1, 2020
He has also set up a website www.datingmark.co.uk in which he has given his personal details.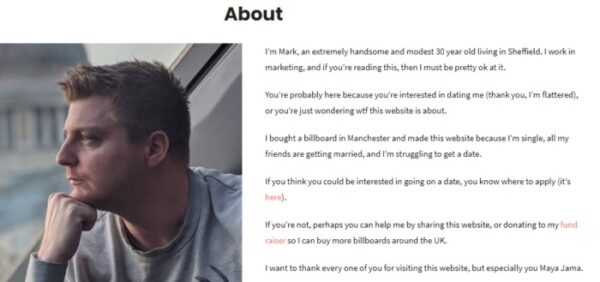 He has also written that till now, he has kissed more than 3 girls.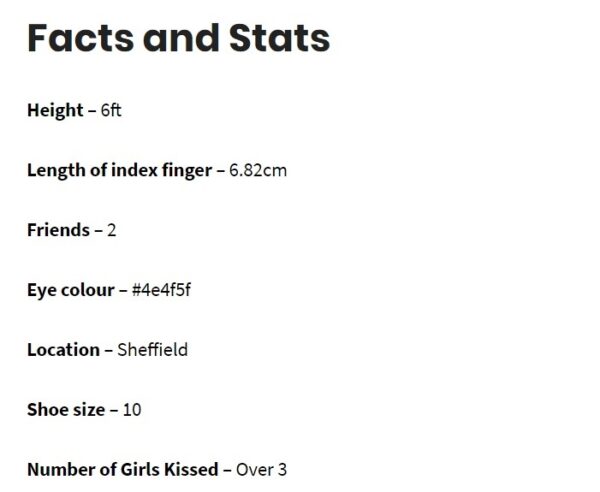 Mark asked interested girls to apply to date him and at one fell swoop, he also asked for financial help so that he can get more billboards for marketing himself.
Thank you for everyone who has shared this.

I'm not optimistic with my chances, so also set up a fund raiser to buy more billboard advertising across the UK.

I'm hoping this increases my chances of success. https://t.co/Tq9GP6yjED

— Mark Rofe 🧦 (@iamrofe) January 31, 2020
However, this idea was very much liked by netizens and they praised him for his unique approach.
#1
"Eye colour – #4e4f5f" – Brilliant.

— Mark (@markgs21) January 31, 2020
#2
Comic Sans? pic.twitter.com/wUWOpxzEK9

— Tim Stewart (@pjeedai) January 31, 2020
#3
I applied, fingers crossed

— Emma Stevenson (@EmmaStevenson97) January 31, 2020
#4
Nice job Mark. Dating is 💯 harder these days and the apps don't make it easier. People think their is endless choices and thus they can be 💯 x 💯 as picky.

— Duane Brown 🇨🇦 (@duanebrown) January 31, 2020
#5
Why does a parody account even exist when the real you does stuff like this!

— Dave Elliott (@DaveElliottSEO) January 31, 2020
#6
Great idea @iamrofe although I wonder if you can't enhance this approach using your digital experience 🤔

How about inviting all your ex-partners and encounters into one room to discuss their commonalities and then attempt to build a lookalike audience?

— Nick Wilsdon (@nickwilsdon) January 31, 2020
#7
You seem a bit strange but I'll go on a date with you next time you're in Manchester 😂

— Hayley Jordan (@HayleyfrmNZ) January 31, 2020
#8
This is amazing Mark! Fingers crossed that it works mate!

— Richard Harper (@richardharper) January 31, 2020
#9
So funny Mark, fair play mate. I didn't notice any mention of the 'sock website' you built on your https://t.co/9pfdwgTtpp website 😂

— Gary Yeardley (@GaryYeardley) February 3, 2020
#10
You need a tv crew filming your trials and tribulations…you're going to attract some nutters out there; would make good tv viewing….good luck

— Shaun (@ShaunBastin) February 1, 2020
#11
@adampacitti You've inspired a generation

— Bill (@billysimmo) January 31, 2020
What do you think of this idea of marketing using billboard? Let us know your views.