Sports
4 Instances When England Cricketers Shamelessly Violated Spirit Of Game & Had No Issue With It
The Indian women's cricket team managed to give a grand farewell to Jhulan Goswami by whitewashing the 3-match ODI series against England but a huge controversy also got erupted in the final match after Deepti Sharma dismissed Charlotte Dean by mankading her. Though mankading is now known as run-out and it is within the laws of the game yet many former and current English cricketers started slamming Deepti Sharma for using this method to dismiss Charlotte Dean. A number of people are of the opinion that even though it is a legal method to dismiss the batter, still it is against the spirit of the game.
Deepti Sharma was supported by her skipper Harmanpreet Kaur and the Indian team management and some former Indian cricketers such as Ravichandran Ashwin, Virender Sehwag, Amit Mishra, etc. handled trollers on social media by giving them kickass responses.
While the English cricketers may have been preaching Deepti Sharma on the matter of the game's spirit, there have been instances where they behaved in such a manner that they not only violated the rules but also went against the spirit of the game.
1. Amy Jones falsely claiming catch of Smriti Mandhana:
This is the most recent incident in which wicketkeeper of the England women's cricket team, Amy Jones who is also leading the side in absence of Nat Sciver falsely claimed a catch of Indian batter Smriti Mandhana. It happened during a T20I match when Smriti Mandhana edged a delivery to Amy Jones, though the latter caught the ball, she fumbled and dropped the ball on the ground but instead of telling everyone that she missed the catch, she went on to celebrate the dismissal of Smriti Mandhana. However, her cheating was caught by the cameras and Smriti Mandhana asked the on-field umpires to consult the third umpire who gave decision as "Not Out".
Here is the full video of Cheater AMY JONES cheating against Smriti Mandhana. #INDvsENG #ENGvsIND #mankading #DeeptiSharma #ENGvsIND #lords #PAKvENG #ENGvPAK #IPL #psl #T20WorldCup pic.twitter.com/vTxO5v9Tfc

— LSG 🏏 (@PeterParker7194) September 25, 2022
2. Grant Elliot's run-out despite the fact that he collided with Ryan Sidebottom:
In an ODI played between England and New Zealand in 2008, the Kiwi batter Grant Elliot collided with English bowler Ryan Sidebottom in the middle of the pitch while trying to take a quick single. The ball was picked by Ian Bell and he threw it towards Kevin Pietersen who was standing at the non-striker's end and didn't delay in removing the bails. The English cricket team appealed for run-out but the on-field umpires asked the English captain Paul Collingwood whether he would like to reconsider his appeal because Grant Elliot was not able to run as he collided with Ryan Sidebottom. However, the English skipper Paul Collingwood refused to reconsider his appeal and Grant Elliot was given out. The commentators also stated that you don't remove bails in such situations but England cricketers are now lecturing Deepti Sharma over spirit of cricket.
2008, New Zealand's Elliot collided with English bowler Ryan Sidebottom while attempting a quick single. England ran him out and Collingwood, the English captain refused to withdraw their appeal for the runout.

Bit rich from England complaining about the spirit of the game pic.twitter.com/ePVIjjkym6

— Dan Qayyum (@DanQayyum) September 25, 2022
3. Stuart Broad not leaving the ground even after edging to the first slip
Stuart Broad is one of those English cricketers who were very unhappy with what Deepti Sharma did but in an old test match against Australia, Stuart Broad stood his ground even after getting caught by Michael Clarke in the first slip. Stuart Broad edged the ball in such a manner that there was no doubt that he was gone but on-field umpire Aleem Dar gave him not out and Stuart Broad also didn't show any sportsman spirit by walking out. The Aussie players were very upset with this decision and the commentators were also shocked as to how an umpire could miss it and how a batter could stay in crease after he was also sure that he was out. When some online users started circulating this video after Stuart Broad slammed Deepti Sharma, he clarified his stance by saying that 99 percent batters stood their ground after edging the ball.
Wait, what were *you* on about here, Stuart? pic.twitter.com/vjraYwY08f

— El Chopernos (@El_Chopernos) September 24, 2022
4. Using mints for tampering the ball in 2005 Ashes series
Ashes series is played between arch-rivals England and Australia and the latter has emerged victorious majority of the times. 2005 five-match Ashes series can easily be called as one of the most exciting series of all times because the matches were pretty close and England managed to win it by 2-1 for the first time since 1986-87. However, former English cricketer Marcus Trescothick admitted in his autobiography that he was ball tamperer for his team as he used mint on the ball in order to keep the ball shining for a longer period, because of which they were able to swing the ball more as well.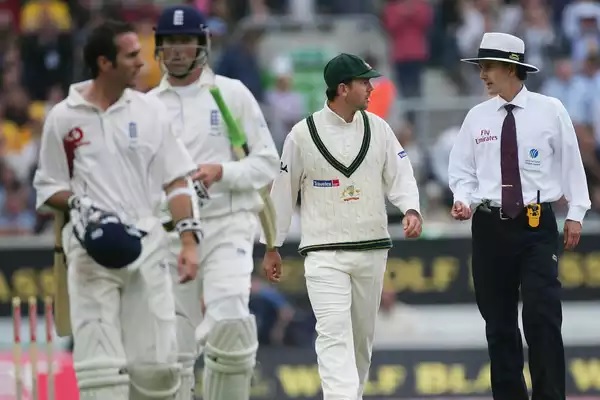 So, here are four examples of the English cricketers who preach a lot about the spirit of the game but don't hesitate in flouting it when it's their turn.
Share Your Views In Comments Below