Politics
5 Times Tripura CM Biplab Deb Made Extraordinary Statements & Left Indians Speechless
Tripura Chief Minister Biplab Deb has been making headlines for few days but for all the wrong reasons. He has constantly made controversial remarks one after another that not only raised eyebrows but also invited trolls and criticism on the part of the Tripura CM.
In this article, we have compiled all his remarks and we leave it to our readers to determine how sensible or true his statements are!
1. Who else could have even thought that technology, Internet and satellite existed even during the Mahabharata period and what a wonderful example he has cited to prove his statement!
He said,
"Internet and satellite communication had existed in the days of 'Mahabharata'. How else could Sanjaya (the charioteer of King Dhritarashtra in the epic) give a detailed account and description to the blind king about the battle of Kurukshetra? It means internet was there, the satellites and that technology was there in this country at that time."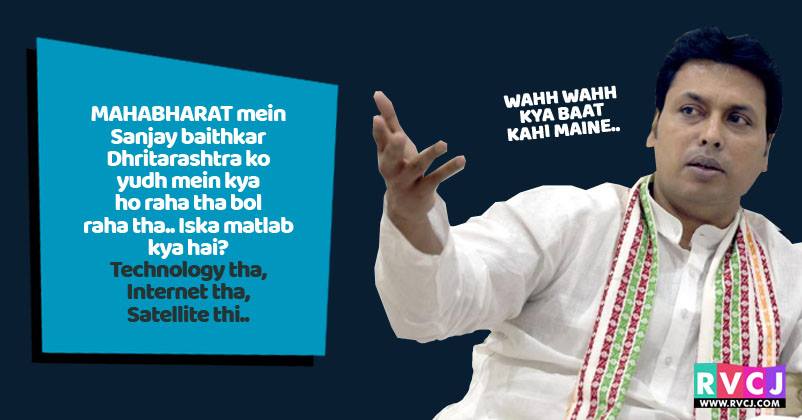 2. It's said that beauty lies in the eyes of the beholder and it seems that Biplab Deb's definition of beauty is very different from many others as he questioned the crown of Diana Hayden as Miss World but at the same time justified Aishwarya's title as Miss World.
Here's his statement,
"Whoever contested the international beauty pageants won. For five consecutive years, we won the Miss World/Miss Universe awards. Diana Hayden won it too. Do you think she should have won the title? Aishwarya Rai represents the Indian women. She became the Miss World and that's all right. But I do not understand the beauty of Diana Hayden."
3. Who can beat his logic which says that only civil engineers should go for Civil Services and not mechanical engineers as they are not suitable for it? (Pun intended)
Check out what he stated,
"After pursuing mechanical engineering one should not go for Civil Services. Instead, civil engineers should join Civil Services as they have the knowledge and experience to help build administration and society."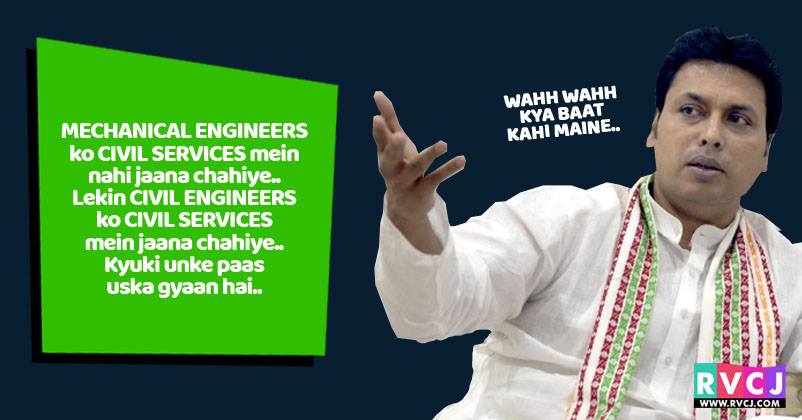 4. Stop hunting for job and instead rear a cow; you'll have a big bank balance in just a decade. Are you going to take his advice?
"Every household should have a cow. Milk is being sold at Rs 50 per litre in Tripura. If a graduate, who keeps job hunting for 10 years, rears a cow, he would earn Rs 10 lakh."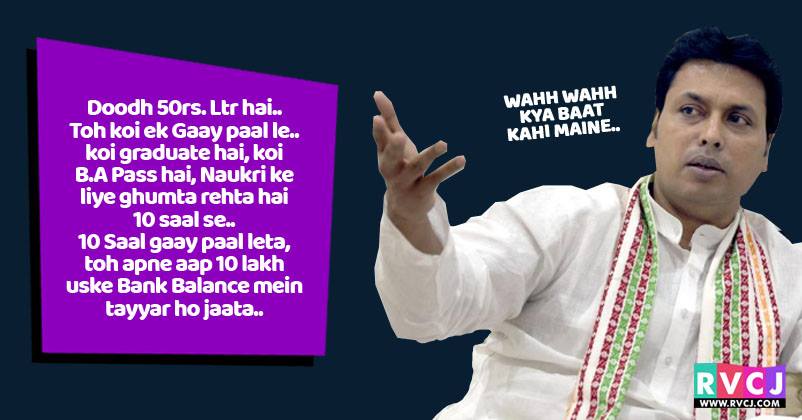 5. This one needs big salute. Don't waste your precious time while searching for government jobs. Instead, set up a paan shop and get a huge bank balance.
"The youth here runs after political parties for several years to get a govt job and wastes the vital time of their life, had the same youth instead of running after parties set up a paan shop he would have by now had a bank balance of Rs 5 lakhs."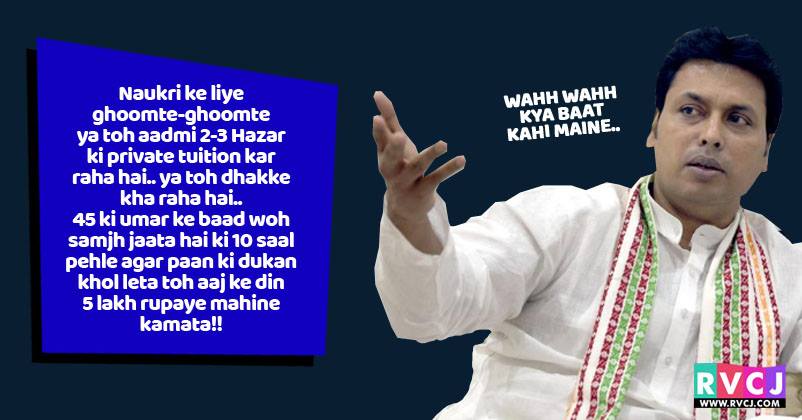 What do you have to say about the statements made by Tripura CM Biplab Deb? Let us know your views.
Share Your Views In Comments Below