Videos
6 Yr Girl Requests PM Modi To Reduce Homework In The Cutest Way, Video Goes Viral
The coronavirus pandemic has affected all and sundry in an adverse manner as many people have lost their loved ones while a number of individuals have lost their jobs or their salaries have been decreased while some businessmen had to shut down their businesses as they were not in a position to bear any more loss. The kids have also been affected to a great extent as they are forced to remain indoors and forego playing outside with their friends. The class room sessions were replaced by the online classes and it was not liked by the majority of the kids. Aside from this, what has made them crib more is the good amount of homework that the teachers give them.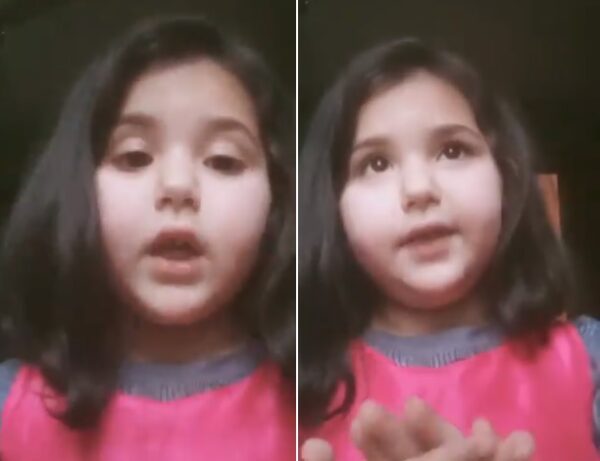 In a video which has gone viral, a cute little girl has talked about the problem of huge homework and she has asked the Indian Prime Minister Narendra Modi to do something in this regard. In an undated video, the innocent 6 years old girl reveals that she has to take online classes from 10 am to 2 pm and their teachers give them so much homework which should be given to the students of classes 6, 7, 10, etc. She also asks the Indian PM as to why the kids are being given this much homework.
Here is the video which will make you fall in love with the girl's cuteness:
Modi saab ko is baat par zaroor gaur farmana chahiye😂 pic.twitter.com/uFjvFGUisI

— Namrata Wakhloo (@NamrataWakhloo) May 29, 2021
Click here to watch this video directly on Twitter
Twitter was soon bowled out by the cuteness and innocence of the girl and this is how people reacted:
#1
My goodness 😍😍😍😍😍 kitni sweet hai ye. 😘😘😘😘😘😘 https://t.co/pqPKQR1VF0

— Lisha ✨🤍 (@lisha230792) May 31, 2021
#2
Cuteness Overload

Why grown ups don't have that innocense

— Mayank Patel (@Mayankujjaini) May 29, 2021
#3
Such a genuine demand hope @PMOIndia and @manojsinha_ sab will take note of it. https://t.co/UbsvW3f9Zf

— M Huraib Lone (@Huraib_Lone) May 31, 2021
#4
So adorable 🥰…
But it is a matter of fact that the duration of the online classes are prolonged which makes the children tired and there should be some considerations on the durations of the classes against the backdrop of certain concerns such as health,tiring h/w,etc.

— Imad Kirmani (@KirmaniImad) May 29, 2021
#5
Those last worda "Ab kya karee" awww its just… 😍🤗 https://t.co/kAfgaQq0bv

— ժҽѵíӀ ϲհɑղժɾɑ (@im_devil46) May 31, 2021
#6
😘😂😂poor Modi Saab is answerable and responsible for everything these days,her reminds me of my younger one who is also 6 and padhai Chhor

— Purnima Rao (@PurnimaRao12) May 29, 2021
#7
Indeed their days should be lively and joyful @OfficeOfLGJandK @EduMinOfIndia https://t.co/FgQUkzaG8K

— Rameez Malik (@rmz_mlk) May 31, 2021
#8
Not only you beta….hum badho ko bhi bht kaam milta hai…..#workingfromhome https://t.co/JgswD9DDLe

— Vamsi Krishna (@vamsikrishna717) May 31, 2021
#9
Such is the faith in our PM @narendramodi ji. Even a 6 year knows whom to look for when in problem.
Loved here cuteness and innocence ..🥰 https://t.co/5S1mOGf26V

— Varun Puri (@varunpuri1984) June 1, 2021
#10
She has said it so perfectly. She is too intelligent and deeply understands everything. Hope her important concern is resolved at the earliest.

Stay Happy and Blessed 😊

— Arkesh Narayan Singh Deo | Please Wear A Mask 😷 (@ArkeshOfficial) May 31, 2021
#11
So she adorably come up with genuine issue of her age group.. https://t.co/jIHDqOs4CF

— Hritike Verma (@grey_shade_) May 31, 2021
The concern of the girl is pretty correct if the kids are getting a lot of homework and special attention should be paid to the children in these tough times as they are forced to live a life in which they can't go out to play, can't go to school, can't meet their friends, etc. which is having a negative effect on their mental status.
Share Your Views In Comments Below