Brands
7 Reasons Why Indian Students Prefer Online Live Classes For Competitive Exams
Cracking a competitive exam is not an easy task, especially in a country like India where the ratio of applicants and jobs is so high. When it comes to preparing for competitive exams, most students face the problem of finding the best teacher or mentor. For this, they either opt for coaching institutes or go for online education.
These days we are seeing a trend that aspirants with expert guidance from online resources are doing better than previous years because of a new interactive way of preparation- Live classes. So, what makes Live classes beneficial for students while preparing for competitive exams? Take a look at some points below to understand:
Accessibility
Live' classes have made a significant impact on Tier II, III and IV cities where there is limited access to coaching centres. Live courses offer access to the best teachers. Normally, the choice of a coaching institute for competitive exams is done on the basis of location. However, location is no longer a constraint in exam preparation with access to effective tools like live classes.
2. Affordability
Online programs are more affordable option than traditional methods. Every year lakhs of students prepare for exams and look out for preparation material. However, only a 15-20% of these students can actually the high fees of coaching centers or can afford to relocate to a bigger city for preparation. While opting for an offline method, students pay for so many additional things along with the course fee. With online education, all you have to pay is for the course. Online preparation enables students to prepare from expert faculty at home, at an affordable cost. This benefits numerous students across the country who can't afford premium fees but want to prepare for competitive exams.
3. Quality and Effective Learning Outcomes
In India there was an increasing need for a solution designed to focus on Effective learning outcomes. With the advancement in Ed-tech, online live classes have been a game changer. They offer a virtual classroom learning experience which includes interactive live classes and a structured study plan methodology. As per Gradeup, Live online classes have proven to be effective in driving student activity, with a 4X higher engagement compared to recorded videos and lectures.
Now, students from anywhere in India can prepare effectively for competitive exams. Online study gives aspirants access to exam-wise classes, and preparation material by expert faculty. All in the comfort of one's home at almost half the cost of offline methods.
4. Access to India's best Faculty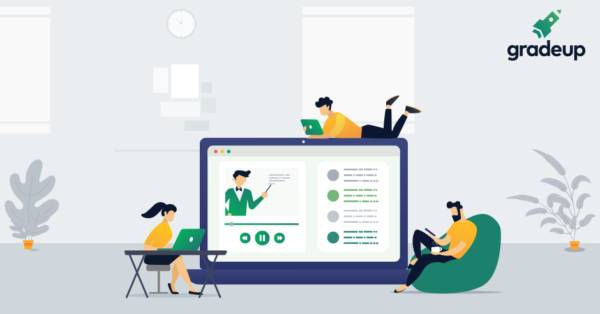 In Tier 2, 3 cities, where there are not many options to pick a good teacher or institute, students have to compromise on the quality of education and study material they get. This problem is addressed in Live classes. Teachers also now prefer to teach online, with the overall demand rapidly increasing. With Internet access and a mobile, students in smaller cities can prepare with some of India's best teachers. Teachers are delivering knowledge to 10X more students as compared to offline modes, giving students even in remote areas access to high quality study material.
5. Interactive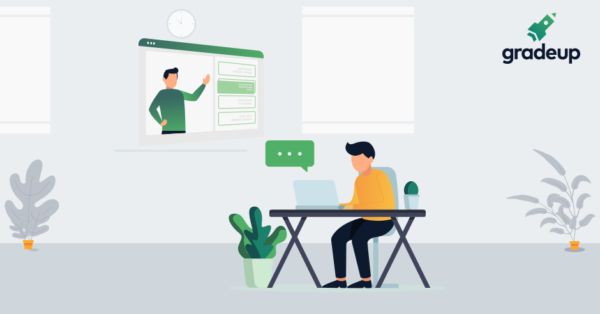 Live classes are an interactive way of learning and preparation for an exam. Live classes give a virtual classroom experience to students. For those you are shy to ask questions in real, live classes are a great opportunity to participate and clear doubts easily than face-to-face classes. Live classes have very high engagement rates. Students can get their doubts cleared instantly during a live class or even after class through 24*7 mentor support.
6. Time Saving and Comfortable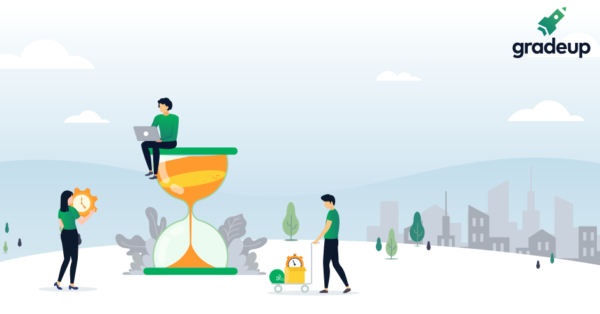 Time is very crucial while preparing for competitive exams. With live classes, students attend classes from the comfort of their home, and this save a lot of travel time and energy. They also avoid the distraction that one faces in class and before & after the class is done. In the case of live classes, there is no dress code and you can sit on your couch or bed and be comfortable while watching a lecture. It's not always easy to focus in a class full of students. There are many students who like to study without any disruption and for them sitting in an idle place and learning through live classes is the best option.
7. Community learning with peer-to-peer interaction
Students prepare better when they prepare together; by questioning, helping and challenging each other. Hence, a community of co-preparers and expert mentors enhances the preparation journey. Students in smaller cities lack peer to peer interaction with other students preparing for the same exam. With an online community, students can now interact with everyone else who is preparing for the same exam, discuss, pose questions, have quizzes, solve doubts and foster peer-to-peer learning. Overall, students are able to guide and support each other.
Gradeup's Research on Live Classes
Gradeup, India's largest exam preparation platform for competitive exams, recently did a research on 'Evolving Ed-Tech and why Live Online Classes is becoming the most preferred tool for learning and test preparation'.
The findings suggest that, of the students who are currently using offline modes for exam preparation, 70% would shift to online learning if given access to live online classes. Of these, over 80% cited 'access to expert faculty' as the primary reason to make this shift. Additionally, over 90% of the total participating students say that they would choose online modes of learning rather than offline coaching. Factors such as 'convenience' of preparing from home, 'access to live classes', and 'cost-benefit' are the top 3 drivers for this choice. Further, 20% of the total number of participants also said they would be willing to pay extra for access to live classes.
The survey further found that 63% amongst those students that prefer online learning would choose live classes for their exam preparation, while a much lower proportion, at 29%, would choose recorded lectures. The foremost reasons students stated for choosing live classes are 'interactive classes for instant doubt resolution' and 'proper planning through a day-wise study plan'. These findings are clear indicators that students are increasingly realizing the benefits, and opening up to the idea, of taking to live online classes for their exam preparation.
In a very short period of time, Gradeup have become a go-to destination for students preparing for exams like JEE, NEET, GATE, SSC, Banking, Railways, Teaching, UPSC, Defence and State level because of providing effective preparation through live classes.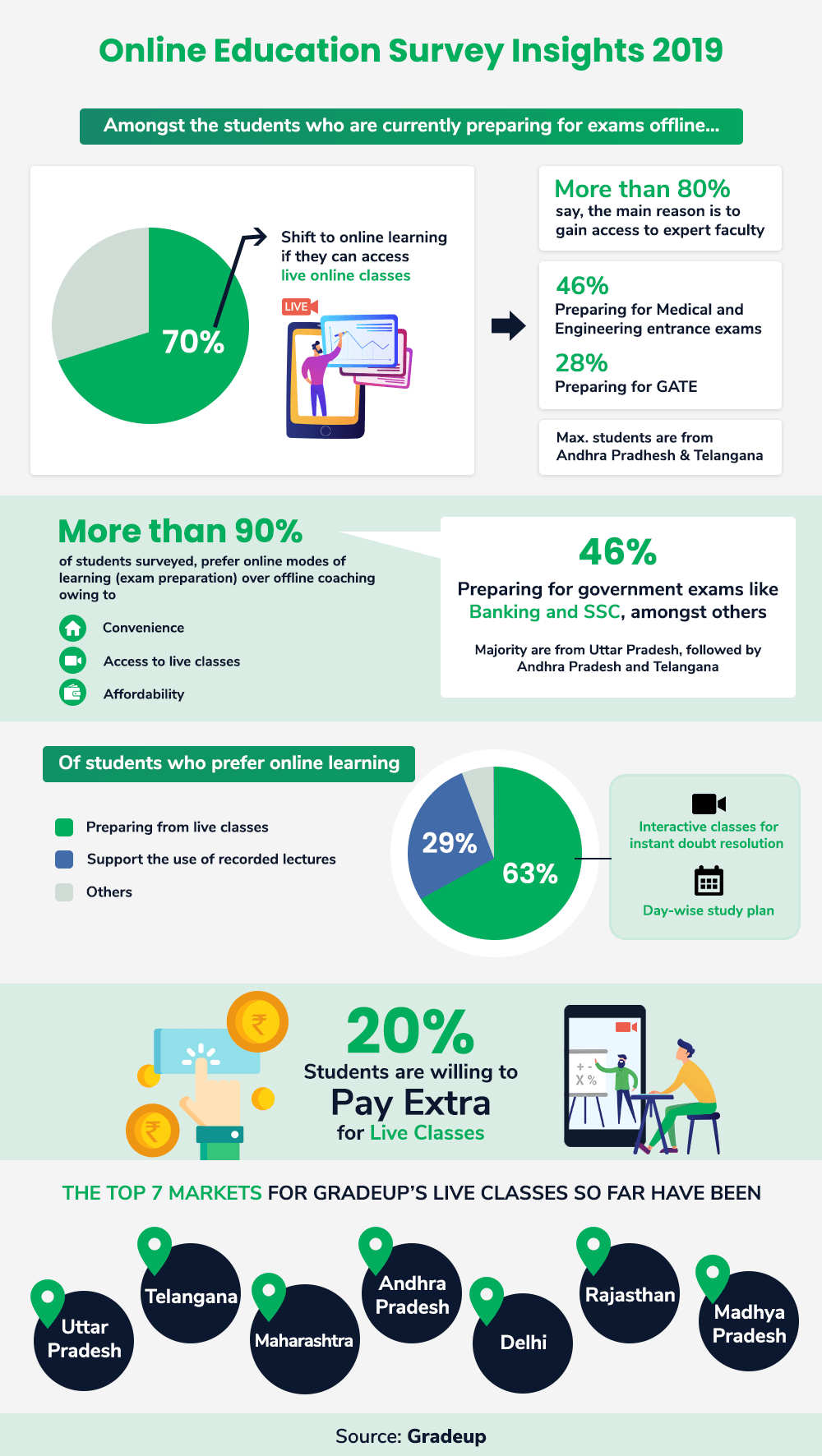 Share Your Views In Comments Below