News
A 37-Yr Businessman With 8-Figure Income Wants A Non-Feminist Wife. Twitter Reacts Angrily
Giving ads on a newspaper for the purpose of getting married is not new and there's nothing wrong in it too. However, a matrimonial ad has been making headlines on the Internet and social media for all the wrong reasons. Netizens are extremely angry with the conditions mentioned for the bride and have found the ad offensive. For the same, they are criticising the person who has given the ad as well as the newspaper for publishing it.
It's about a Mysuru-based industrialist who is 37 years old; however, he wants the bride to be below 26 years of age strictly. He is earning in eight figures with his own international export businesses and is Kshatriya by caste; nevertheless, there is no bar for caste, creed, religion and nationality of the bride.
Well, what invited flak and wrath of social media users is the part where he wrote that she should be a non-feminist.
I mean really? What was the man thinking while giving such an ad? Did he expect that a long queue of girls will be more than eager to tie the knot with him after knowing about his great (satirical) thoughts?
Here's what the matrimonial ad read,
"A Mysore-based bachelor industrialist having own international export businesses, with Rig & Atharva Vedic background of warrior caste (Kshatriya), presently earning in eight figure, 37 years of age looking for an attractive bride with high aspiration and below 26 years of age strictly. She should be a non-smoker, non-feminist, good cook and never been married before or having any kid. Caste, Creed, Religion and Nationality, no bar. No dowry required.

Please email a short biography and recent picture of the bride."
Check out the ad: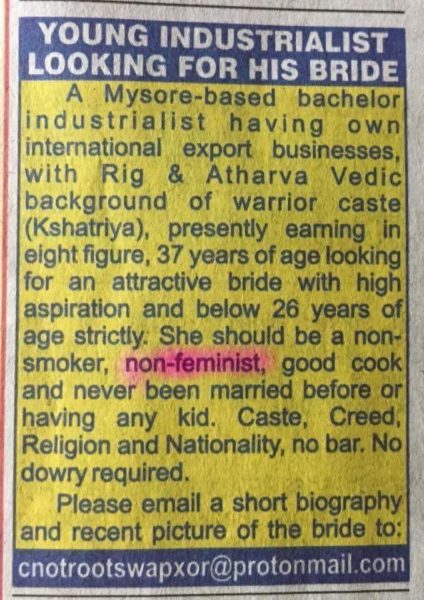 There is no denying the fact that this ad is highly objectionable and sexist in nature which didn't go well with Twitterati. This is how furious people reacted over it:
#1
The bride has to be a 'Non-feminist' & good cook. However, caste & religion are no bar. pic.twitter.com/c2Dw1vbCP9

— Shams Ur Rehman Alavi (@indscribe) September 10, 2018
#2
Why the fuck does the bride have to be 11 years younger? These matrimonial ads are depressing, shows everything that's wrong with the society https://t.co/eWqYmwCvPh

— Neerja Gogoi 🏳️‍🌈 (@ngogoi98) September 10, 2018
#3
These days matrimonial ads got filter facility just like flipkart or amazon… (if u know what I mean)

— Carmilla_thewebseries (@CThewebseries) September 11, 2018
#4
Even tinder requires either your Facebook login or phone number for profile creation. How has the @the_hindu published a matrimonial ad without any identity verification? Imagine, this man will someday have a wife. I shudder to think about her life with him. https://t.co/ssFnbP3nd7

— Neha Ramneek Kapoor (@PWNeha) September 11, 2018
#5
Form an orderly queue, ladies below 26 years of age.

Eight figure earning (00000008) and doesn't want any dowry. Such a catch.

(Also think he forgot to add, 'should not have had any jingle-mingle before)#IndianMatrimonyAdsBeLike

(Via @Kavipriya_M) pic.twitter.com/VNLjfKI3nX

— 𝐒𝐢𝐝 𝐁𝐚𝐥𝐚𝐜𝐡𝐚𝐧𝐝𝐫𝐚𝐧 (@iwrotethose) September 9, 2018
#6
"non-feminist" has now made it to the matrimonial ads. We must be doing something right. 😂 pic.twitter.com/BPohObQQ9y

— Rimi (@realgreenfields) September 10, 2018
#7
With an ad like this, I'm sure the ladies are queuing up in droves, lover boy.#matrimonial #feminism #IndianValues pic.twitter.com/XIum5dxBB1

— ComicThief (@ComicThief) September 11, 2018
#8
A #matrimonial ad. The guy's checklist.

I've seen worse, so ya, don't ask me why I'm not married yet and don't tell me these kinds are exceptions. They're everywhere.
I haven't married by choice as I have my own identity. Not born to be a slave of anyone's desires and demands. https://t.co/wWenYvi4V1

— Neha Chamaria (@NehamsChamaria) September 9, 2018
As reported, a woman responded to the ad and got rape threats:
All day today, we saw a picture of a matrimonial advertisement which was being circulated because of how disgusting it was. It was published by @TheHindu.
My friend decided to reply to this man to teach him a lesson on his ignorance and what she got in return is a RAPE THREAT. pic.twitter.com/oTSJ7CNXVY

— Maitreyee Misra (@Maitreyee_Misra) September 9, 2018
What do you have to say about this ad? Let us know your views.
Share Your Views In Comments Below