Food
A Company Comes Up With Chyawanprash Cookies, Twitter Says, "Paap Hai Ye"
There are many nutritional and healthy products in market which are used by people in order to improve their health and immunity and one such product is Chyawanprash. It has a jam like texture but it doesn't taste sweet like jam; it has a rather unusual taste which might not be so pleasant to taste buds. Though we may eat it as an attempt to keep ourselves healthy, it certainly doesn't taste pretty delicious.
However, you may be surprised to know that a company has now come up with a product which has sent many online users in a state of coma. Recently, a Twitter user made a tweet which contained a photo of a product which was named as Chyawanprash Soft Rolls and though it looked like cookies with chocolate filled inside them, everyone knows how they will taste.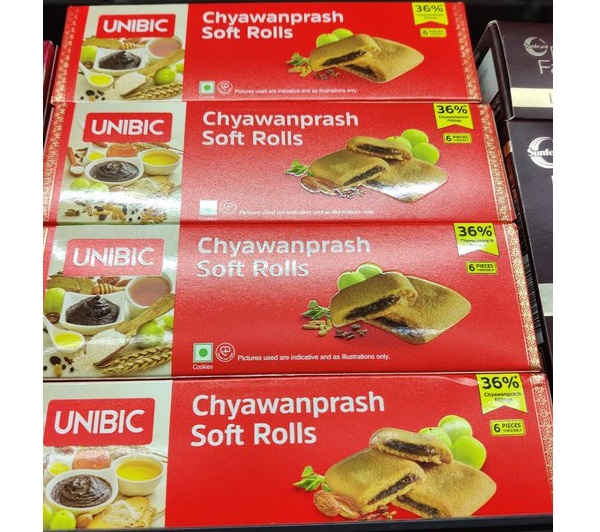 Here is the tweet:
everyday we stray further away from god

(pic by a friend) pic.twitter.com/kybpdXNUwN

— Soumya (@bytesofnews) February 28, 2021
Twitterati soon got in action and expressed their discomfort by posting memes and jokes. Here are some of the selected tweets:
#1
I don't know how this shit ended up in my house but the first bite I took I just threw the whole thing out so friggin 🤮

— Chrisel Monteiro (@ChriselLeolla) February 28, 2021
#2
Is this for real?

— Rishi Tejpal (@TejpalRishi) February 28, 2021
#3
— Ashutosh Mishra (@ashu23p) February 28, 2021
#4
Now waiting for Kayam Churna filled samosas 🥴🤢

— ATom Cat (@asu1yk) February 28, 2021
#5
Meanwhile Baba R is calling Board Meeting to decode why this didn't come from Patanjali first 😂

— PoojaS (@PoojaSolanki) February 28, 2021
#6
What fresh hell is this?

— brinda (@VasudevanBrinda) February 28, 2021
#7
Creativity in food products should be allowed only till a point. Beyond that, it should be a punishable offence. https://t.co/j3DYO2Ki6b

— Samrat (@SamratNM) February 28, 2021
One thing is for sure that not many people are happy after seeing this product and the companies should also think about the emotions of people before introducing such products. Would you dare to eat it?
Share Your Views In Comments Below