Food
A Firm Comes Up With Haldi & Chyawanprash Flavored Ice-Cream For Immunity. Twitter Goes WTF
The coronavirus pandemic has left us in a state of shock as we can see that the developed countries which had world-class medical facilities were also not able to save many of their citizens from this lethal virus. Now everyone is looking forward to increase their immunity and focusing on including those food items in our diet which can enhance our immunity. The best part about Indian cuisine is that the basic ingredients used in our meals such as haldi, black pepper, cloves, etc. are very good for our health and increasing their use will also make us strong.
However, what will you say if we tell you that now you can also have haldi flavored ice cream? Sounds unusual but it is true that such ice-cream is available in some parts of the country and the company which is producing claims that it will increase the immunity of its consumers. It has been launched by a company based in the Indian state of Karnataka and it has also launched a chyawanprash flavored ice-cream.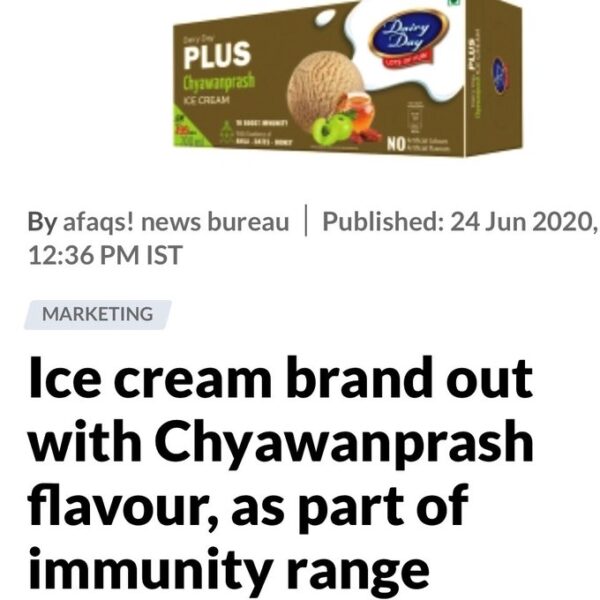 While the haldi flavored ice-cream has turmeric along with pepper and honey, the chyawanprash flavored ice-cream has dates and amla along with honey. However, you will also need to spend a little more for these healthy ice-creams in comparisons to other ice-creams as they will be approximately 30 percent costly than other ice-creams.
The end is nigh. Also, eww. pic.twitter.com/X7xZRgrE1b

— Sucharita Tyagi (@Su4ita) June 24, 2020
Can you IMAGINE someone actively wanting to eat CHYAWANPRASH FLAVORED ICE CREAM who comes up with this stuff

— Sucharita Tyagi (@Su4ita) June 24, 2020
Twitterati was not able to believe it and some of them also expressed their unhappiness on the launch of such ice-cream flavors. Here are some of the selected reactions:
#1
Yikes!

— Tahira Kashyap Khurrana (@tahira_k) June 24, 2020
#2
No, no, no! IT WAS SUPPOSED TO BE ICE-CREAM FLAVORED CHYAWANPRASH! https://t.co/puUaBLQz3z

— Kautuk Srivastava (@Cowtuk) June 24, 2020
#3
What what what who wants to eat this ??? Yikessssss

— RJ ginnie (@rjginnie) June 24, 2020
#4
Not at all surprised, considering how here in Malaysia, an ice cream company came up with cough syrup flavour.🤦🏾‍♂️

— Sadho (@sadhosays) June 24, 2020
#5
Never gonna try even out of curiosity!!! pic.twitter.com/7lsn07jiiW

— Sriram Sahu 🇮🇳 (Shree) (@SriramSahu1996) June 24, 2020
#6
And people say it's not the end of the world. Nai matlb aur kya bacha h. Haldi and garlic flavour ice-cream?

— NozyNozzy (@GrammrNaziNozzy) June 24, 2020
#7
Ayurvaid ki shakti se bhara. Corona ke virrudh raksha kavach. Yeh hai chyavanprash…ice cream? :/ duh.

— Sameer Mohan (@sleepyhead148) June 24, 2020
#8
Ab toh chawanprash choclate, protein bar, biscuit sab aanaa baaki hai

— A-B-Z (@arbaazsayed16) June 24, 2020
#9
I wouldn't even have ice cream flavoured chyawanprash, much less the other way round.

— Himon* (@OmegaFalcon19) June 24, 2020
#10
Mera to ice-cream se hi man uth gaya after reading this !! 😄

— PSV (@VinodPS19) June 24, 2020
Which one are you going to try?
Share Your Views In Comments Below