Sports
Aakash Chopra Paid 7 Lakhs Approx For A Meal In Indonesia. Twitterati Came With Funny Reactions
Aakash Chopra has made a great name for himself in the Cricket World thanks to his commentary. Something that further makes him popular is the way he stays active on Twitter.
Aakash keeps his fans updated and regularly posts interesting things and facts related to the game. Sometimes he posts random and hilarious things which keep his fans entertained.
Recently, Aakash Chopra posted an interesting update from his Indonesia trip about the meal he ate. The interesting thing about the meal was the bill he had to pay for it.
You will be amazed to know that Aakash Chopra paid 7 lakhs approx to eat Veg food in Indonesia and shared the bill with his fans. Have a look-
Paid nearly 7 Lac for a meal 🙈🤣😇😂 Welcome to Indonesia 🇮🇩😋
Paid nearly 7 Lac for a meal 🙈🤣😇😂 Welcome to Indonesia 🇮🇩😋 pic.twitter.com/LYySPXPN3c

— Aakash Chopra (@cricketaakash) July 15, 2018
You can also check the picture below-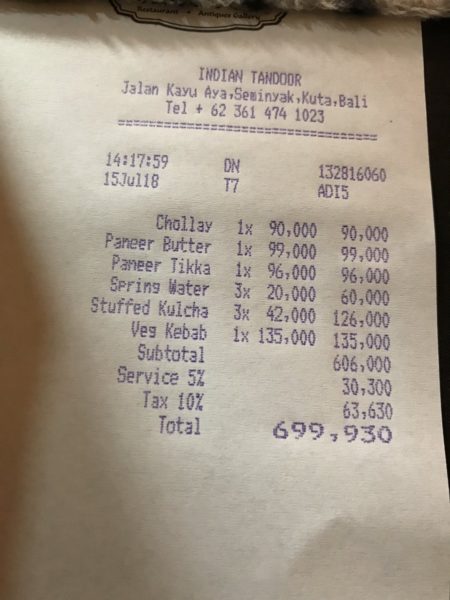 But the fact is that all that money was paid in Indosian currency and after conversion, it becomes Rs 3500 approx.
He got some interesting replies in return. Take a look-
#1
Translates to approx. 3500 in Indian rupees 🙂

— Navneet Mundhra (@navneet_mundhra) July 15, 2018
#2
Sir , 7 lack yearly income नही है
मेरे पापा की
So you are so lucky for out off India……
And पैसे आप के पास है ।
Enjoy full life

— Akshay tadvi (@imAkshaytadvi) July 15, 2018
#3
Rs 700/- for a family meal. Its quite cheaper than many places in India though. Isn't it Sir ?

— Ansuman Rath 🇮🇳 (@_AnsumanRath) July 15, 2018
#4
Akash bhai sorry to say….but this post not suitable to u bcz u r always been a good analyst…
So u have to analyse money exchange before u post….bdw for your commentary 100% …love

— CA. Shailesh Prajapati (@Shailes93594208) July 15, 2018
#5
Not a person to judge but Indonesia me bhi chole bhature??? Kamaal karte ho..

— MMG (@OldThibido) July 16, 2018
#6
Hope the Veg Kebab was worth the price of 135k! 🤪

— Saurabh Malhotra (@MalhotraSaurabh) July 15, 2018
#7
1 INR = 210 Indonesian Rupiah
700000/210 = 3333.33
So it cost Rs. 3333.33 only.

— Upendra Brahmachari (@unbrahmachari) July 15, 2018
Isn't that hilarious?
Share Your Views In Comments Below