Sports
Afghan Man Made A World Cup Trophy Out Of Grass. Even ICC Is Impressed & Tweeted This
Cricket is one of the most popular sports in India and its neighbouring countries and now slowly it is also gaining prominence in Afghanistan. For many years, Afghanistan was suffering with various problems but now the life is going back to normal and people are able to enjoy their lives by indulging in sports and other extracurricular activities.
While majority of the cricket fans are busy supporting and cheering their favourite IPL teams, few cricket fans are eagerly waiting for the World Cup 2019 to start. An Afghani is so seriously crazy about the mega tournament that he made a replica of the trophy with grass and we must say that it looks amazing.
Take a look at the pics of the unique grass trophy:
#1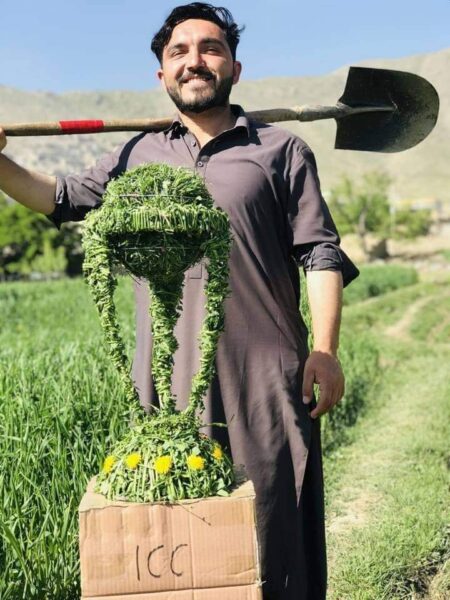 #2
#3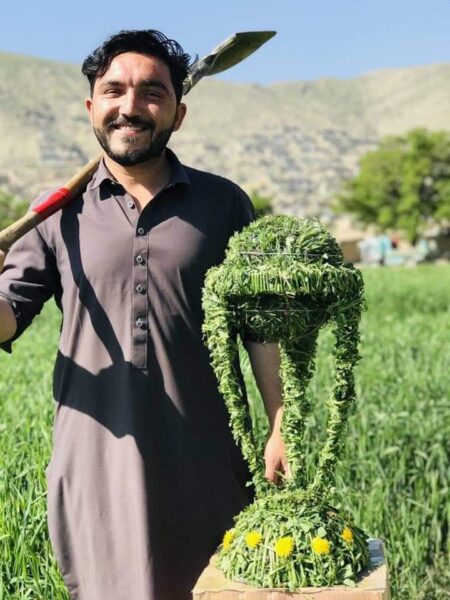 The trophy was loved by not just netizens but also the official Twitter account of the ICC World Cups. Cricket World Cup tweeted its images and wrote,
"😍 WE. LOVE. THIS. 😍
A brilliant Cricket World Cup trophy made out of grass in Afghanistan, and we'd love to find the person who made it!"
Check out the tweet:
😍 WE. LOVE. THIS. 😍

A brilliant Cricket World Cup trophy made out of grass in Afghanistan, and we'd love to find the person who made it! pic.twitter.com/iAGdkgx5gE

— Cricket World Cup (@cricketworldcup) May 1, 2019
As the pics went viral, the man in the photo was identified as Sharaf Naib from Kabul. Talking to a news portal, Sharaf told that he decided to make this trophy after getting upset since he was not able to see the real trophy when it came to his country.
His name is Sharaf Naib. He loves #Cricket and wishes that one day #Afghanistan will win @ICC World Cup. Here is his tribute for upcoming #CricketWC2019. pic.twitter.com/t17ATefqtm

— Bashir Ahmad Gwakh (@bashirgwakh) May 1, 2019
The trophy travelled to Afghanistan in December last year under the ICC World Cup Trophy tour, as per which the trophy is displayed in each participating nation.
Sharaf Naib who is sometimes mistaken as the brother of Afghani cricket team skipper Gulbadin Naib has also made trophy with cardboard and ice.
Twitter also praised the man's efforts and this is how people reacted:
#1
This pic & passion depict how badly Afghanistan needs peace, stability & prosperity. A loving nation indeed. ❤️❤️

— Jacob Ahmet (@JacobAhmet) May 2, 2019
#2
Wowww. Your passion towards game surely can't be explained in words https://t.co/9jN1klbasc

— Jamal Abdul Nasir (@jamal111khan) May 2, 2019
#3
This man should be awarded a ticket to UK. And Eventually of the world cup matches.

— HIBA (@HibaHFT) May 1, 2019
#4
This is stunning. Brilliant. Beautiful. I too love this! Spread the spirit. Spread the love. #cricketforgood

— Samir Timothy Parmar (@SamirTimothy) May 1, 2019
#5
To promote global warming awareness, this green trophy should be brought to The LORDS, @HomeOfCricket .

— Haris Mazhar (@HarisMazharRPh) May 1, 2019
#6
Super, love it. Just watch the beauty of this trophy, I bet that people are watching this trophy more than the real trophy of cricket world cup. This call support from long distance. Never doubt in our talent. https://t.co/CMQmC28ttQ

— Nargis Alokozay (@AlokozayNargis) May 1, 2019
#7
What a tremendous love for cricket.
This is the reason why cricket is one of the most loved games.
Salute to these type of fans.

— World Cup 2019 (@WORLDCUP2019FEV) May 2, 2019
#8
What creativity who made the grass world cup and salute to the dedication for #ICCworldcup2019 #CricketMeriJaan https://t.co/9VuYuKCgfV

— Satwant Khosa (Sam) (@Khosa_official) May 1, 2019
#9
Inshallah bahut umda kaam kiya hai apne bhai, #nature aur #Cricket ko bhaut kareeb le aaye aap, Allah apko barkat de…#Afghanistan

— 𝕽𝖆𝖍𝖚𝖑 𝕶𝖗 𝕲𝖚𝖕𝖙𝖆 (@im_RKGupta) May 1, 2019
#10
Give the guy, the spotlight he deserves, by displaying it during the #CWC19.

— ৰণদীপ (@TheGhyGuy) May 1, 2019
What an awesome trophy!
Share Your Views In Comments Below