Humour
After Copa America Win, Pic Of Lionel Messi On Beedi Packet Is Getting Viral. Twitter Goes ROFL
There is no denying the fact that the Argentinean footballer Lionel Messi is one of the most popular sportspersons of the world and his popularity and worth must have increased further after Argentina won the Copa America Cup recently. This victory is very special for Argentina as it is after 28 years that any major title has been won by it.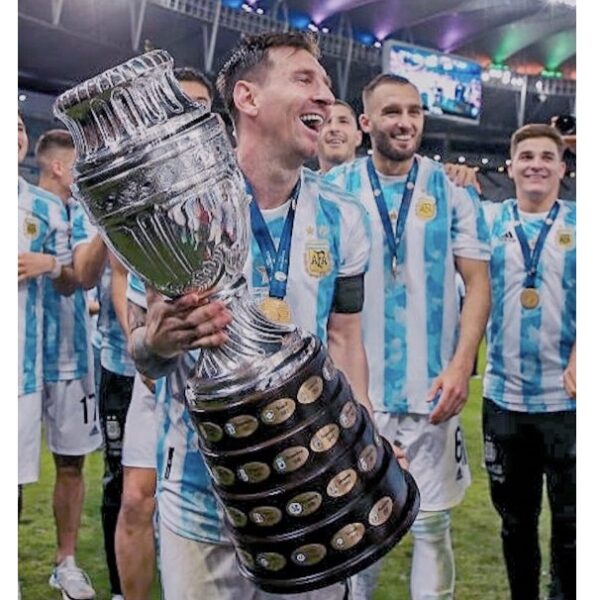 In the finals of the Copa America, Lionel Messi led Argentinean team defeated Brazil by 1-0 and celebrations started not just at the Maracana Stadium, Rio de Janeiro, Brazil, but off-field as well. Lionel Messi has a massive fan following all over the world and his fans were quite happy for him as the 34 years old six times Ballon d'Or awards winner had lost 3 Copa America finals and one World Cup final before winning the Copa America in 2021.
As we said that this victory must have increased the worth of Lionel Messi which means that the companies may need to pay him more for endorsements but a beedi company in India has started putting his photo on their packet and has named their product after him as well. It is quite obvious that this company has not officially signed Lionel Messi and is using his face and name illegally but it has produced some hilarious reactions on the micro-blogging site Twitter.
Here is the post in which an online user posted about Messi beedi:
Messi's first endorsement in India
☺️☺️☺️☺️☺️ pic.twitter.com/07vh7bTMwC

— Rupin Sharma IPS (@rupin1992) July 13, 2021
This is how Twitter reacted over it:
#1
This can happen only in India.#MessiBeedi@GabbbarSingh @TrollFootball @FootballFunnnys pic.twitter.com/oepYg80yoX

— Sachin Banthia 🇮🇳 (@banthiasachin) July 12, 2021
#2
COPA AMERICA FINAL#ArgentinaVsBrazil
1-0

After his first major Cup win for Argentina, Lionel #Messi finally gets his first endorsement contract in India..#MessiBiri pic.twitter.com/dMR36mmUM1

— @Akashtv1Soni (@Akashtv1Soni) July 13, 2021
#3
Messi beedi is the new normal#Messibeedi pic.twitter.com/QiLK0ZgwYp

— The_introvert_one (@shrivasDEVESH) July 14, 2021
#4
Bangladesh is on another level of advertisment 😄😄 pic.twitter.com/AgdppaWQAo

— Ramjee Gupta (@ramjeegupta2020) July 14, 2021
#5
https://t.co/0Y62zOySPG pic.twitter.com/M8GStmCMXO

— ꪖρꪮꪮ᥅ꪜꪖ (@theAprv) July 14, 2021
#6
Correction… it's investment and not endorsement. See the name… Messi beedi 😂

— Steevan Lewis (@iamsteevan) July 14, 2021
#7
Terry's was ultimate pic.twitter.com/Ejk25SewwJ

— Incognito Geezer (Guy Fawkes) (@xyan26) July 14, 2021
#8
If James bond can be seen chewing paan masala why not Messi?? If given a chance they will put up Vin Diesels photo and say he uses "Ganja brand ayurvedic hair oil"!!!

— Rahul ka Dhobi (@123yagoole) July 14, 2021
#9
Messi would return his cup to Neymar Jr after seeing this 😳😂🤣

— Dwiti Krushna Yaduvansi (Linkan)🇮🇳 #JaiBajrangi (@DwitiKr47869583) July 13, 2021
#10
Hahaha. This kind of craziness can found in India only.🤣🤣🤣

— Ashok Rayat 🇮🇳 (@ashokrayatchd) July 13, 2021
#11
Messi's untidy endorsement, this will be..

This biri manufacturer will surely become a millionaire now..

— piyuna (@piyuna) July 14, 2021
Earlier the former English footballer John Terry's photo was used by the cigarette company Gold Flake on their packet and John Terry slammed the company big time as he hate smoking. It will be interesting to see how Lionel Messi will react in this matter.
Share Your Views In Comments Below