Sports
After Hardik Pandya Aussie Reporter Trolls Virat Kohli, Shares A Clip Of Him Calling A Girl Ugly
After the scathing episode on Koffee With Karan, it is no secret the outrage that the statements made by Hardik Pandya and KL Rahul received.
The two boys were downright misogynistic, racist and their comments were derogatory in every possible way. As a result, they were suspended by the BCCI.
Even Virat Kohli went on record to say that he did not approve of this kind of behavior and that he did not support the statements made by the two.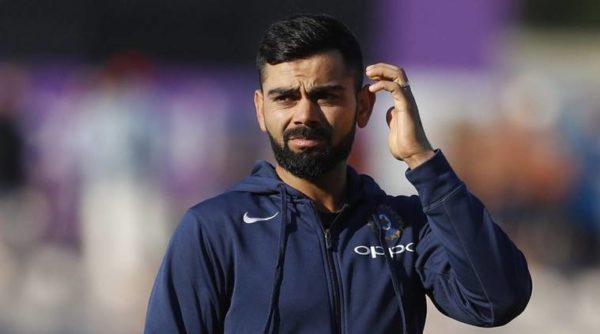 But an Australian journalist by the name of Dennis Freedman reportedly has a grudge against Virat, and is ready to go to any length to mock him.
In light of this controversy, Freedman has shared an old video of Virat Kohli where he is seen speaking to a female reporter. He tells the reporter that he once rejected a girl because she was ugly. The date did not last even 5 minutes because the girl he was with was not attractive.
Virat Kohli calls a girl "ugly" after leaving her stranded on a date.

Post your misogyny outrage below. pic.twitter.com/DjLYh4JJym

— c. Dennis b. Freedman (@DennisCricket_) January 13, 2019
While there is not much wrong with the statement, by the candor that Virat shows in the statement, we're guessing this is from when he was in the Under 19 team.
Check out how Twitter reacted:
1.
— yash borse (@yashborse99) January 13, 2019
2.
So he said she was just like other billion people of India?

— Bilal Hidayat (@BilalHidayat1) January 13, 2019
3.
Oye gore, you don't know Hindi. He is saying that she was 'ugli' (which means next). Chal bhaag bc.

— Prof. Moriarty (@DesiOptimystic) January 13, 2019
4.
— Rahul Tomar (@iamRtomar) January 13, 2019
5.
Maybe he's talking about Diana Edulji here?!! 🤷‍♂️

— Om Mehta (@om_mehta) January 13, 2019
6.
He was a 19 year old kid.. Period

— Hope (@get2keshav) January 13, 2019
7.
Ohh come on. Don't dig everything now. You're just jealous of his stardom and wealth.

— aditya (@adio_0807) January 13, 2019
8.
@BCCI will you gonna ban him also??? please 😂😂😂

— AbdulHanan🇵🇰 (@abdulhananPTI) January 13, 2019
9.
Really!! How old is the video, put into some context of what was happening!! No problem!! pic.twitter.com/U4OSCMbvOA

— Sarah Harvey (@1bigsarah) January 13, 2019
10.
The one who dug up this video is a scoundrel. He couldn't have been politically correct at 19.

— Madhusudan Rao (@im_msr1) January 14, 2019
What do you feel about this?
Share Your Views In Comments Below