Sports
After India Won ODI Series, Kerala Police Beats New Zealand Police In Meme Game On Facebook
The Indian cricket team has made history by defeating New Zealand in the ODI series by a big margin of 4-1 and fans are celebrating it in a grand manner. Social media has also been flooded with congratulatory messages, jokes and memes but one meme that stood out from all others is shared on Facebook by Kerala Police. Just to inform, Kerala Police posted it in response to a funny post made by New Zealand Police about team India.
When the Indian team was leading the series by 2-0, Eastern District Police of New Zealand came up with a funny warning for its citizens in which it alerted them against team India and posted their group photo with caption,
"Police would like to issue a warning to members of the public about the exploits of a group touring the country at the moment. Witnesses report seeing this group badly assault an innocent looking bunch of New Zealanders in both Napier and Mt Maunganui in the last week. Extra care should be taken if you are carrying anything that looks like a cricket bat or ball.😉"
Check out the post:
Now Kerala Police has taken to the social media site and posted a photo of the Indian team in which "Most Wanted" is written. Taking a cue from the post of New Zealand Police, Kerala Police wrote in their post that a group of Indians has thrashed the innocent New Zealanders and they have found that these men like Kiwi Juice.
Check out the meme shared by Kerala Police: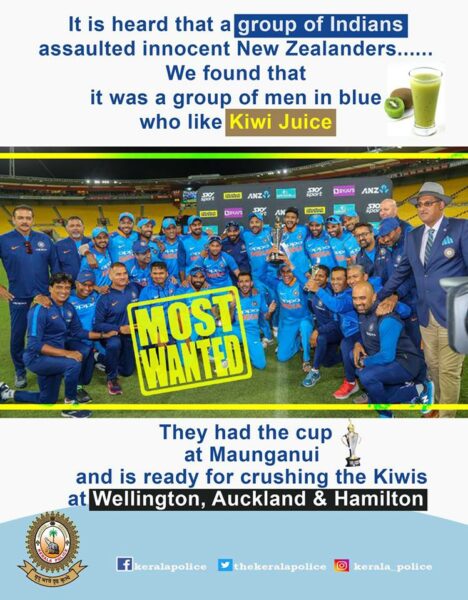 Here is what the post reads,
"It is heard that a group of Indians assaulted innocent New Zealanders….. We found that it was a group of men in blue who like Kiwi Juice."
While this was not enough, Kerala Police also announced that team India will crush the Kiwis in Wellington, Auckland and Hamilton, the three locations where the T20i matches will be played.
The Facebook post further reads,
"They had the cup at Maunganui and is ready for crushing the Kiwis at Wellington, Auckland and Hamilton."
Here's the post:
It seems that Indian police departments are taking their social media accounts too seriously. Whatever, it was a great fun post by Kerala Police. What do you say?
Share Your Views In Comments Below