Humour
After Kiki Challenge, Netizens Are Throwing Cheese Slices On The Face Of Babies. Watch Videos
Internet never leaves any chance to surprise you as it keeps on coming up with something fresh and exciting every day. If we talk about challenges, there's always something going on which keeps you glued and never lets you get bored.
After Kiki challenge, there's a new challenge which has caught the fancy of netizens these days. It's called "Cheese challenge". No, you don't have to emerge a winner by eating maximum cheese in this challenge. It's actually much more fun than that.
What's #CheeseChallenge ?
Netizens who are participating in the #CheeseChallenge carry a camera in one hand with the video recorder on and a cheese slice in the other hand. They then move towards a baby and throw that cheese on his/her face to catch the reaction.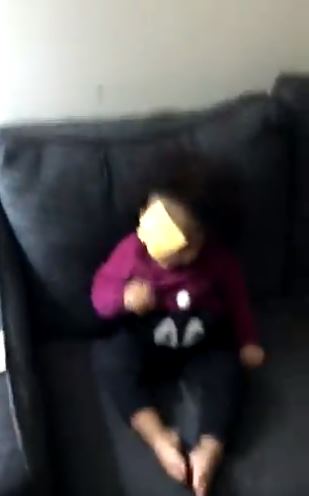 That reaction video is posted on their social media accounts. Though netizens are really enjoying it and it has become quite popular, the challenge is also receiving backlash for being cruel towards babies.
Have a look at some of the videos:
#1
#cheesechallenge she was unfazed pic.twitter.com/6IEXwKDRPz

— Amelia (@Amelia_424) March 3, 2019
#2
It gets better every time I watch it pic.twitter.com/QPRN42x8Xo

— AC🦋 (@annaclairerusso) March 1, 2019
#3
So the cheese challenge was definitely a fail for Maxon. He is 100% all his dad 😂 #cheesechallenge pic.twitter.com/8L7TMWT5BZ

— Kat Chapa (@KatChapa) March 3, 2019
#4
Mia was not escaping the #cheesechallenge 😂 pic.twitter.com/BewGA6jHPe

— Adrian Palacios (@Adrien_Palacios) March 2, 2019
#5
Got em 👋🧀 #cheesechallenge pic.twitter.com/VPNjPBNndp

— Esmé Bernier (@esmeliciouss) March 3, 2019
#6
when you decide to do #cheesechallenge on your baby but someone else takes part in it 😭😂 pic.twitter.com/HSypAJFLnk

— mamas 💋 (@nattycxo) March 4, 2019
#7
Introducing Logan, the Cheese Ninja –#cheesechallenge pic.twitter.com/xxXnHO1ou5

— Michael Tsang (@mtsang8) March 3, 2019
#8
It didn't really work with him #cheesechallenge pic.twitter.com/NDTBJ7JSbu

— Blake (@blakeherman2313) March 1, 2019
#9
#cheesechallenge thanks for participating kendall pic.twitter.com/RdtOfQWsnJ

— kailey reau (@kailey_reau) March 2, 2019
What are your thoughts on it? Do you think it's fun or cruel?
Share Your Views In Comments Below