Bollywood & TV
Ajay Devgn's De De Pyaar De Trailer Features #MeToo Alleged Alok Nath. Gets Slammed By Netizens
#MeToo wave started in Bollywood last year and impacted the fate of many stars and films. Sajid Khan and Nana Patekar were thrown out of Housefull 4, Hrithik Roshan starrer Super 30 got delayed due to allegations against the director Vikas Bahl and Alok Nath was expelled by CINTAA.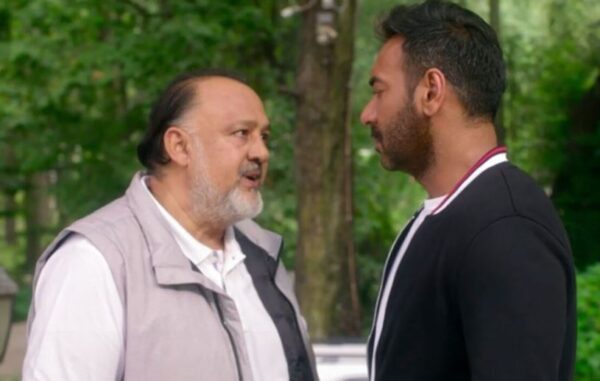 But even after a strict action against celebs including Alok, he has been seen in the recently released trailer of De De Pyaar De which stars Ajay Devgn, Rakulpreet and Tabu in lead roles.
The trailer was released today on the occasion of Ajay's birthday but instead of getting appreciation, the trailer and the team is being slammed by people. The reason is obvious – Presence of #MeToo accused Alok Nath in the film.
Netizens haven't taken his presence in the film kindly and have slammed it on Twitter. Have a look at some of the reactions-
#1
While women continue to be disbelieved, ridiculed and shoved back into silence, men accused of sexual violence continue to find work. @ajaydevgn @itsBhushanKumar I hope you know Alok Nath has been accused of rape and an FIR filed. Disgusting that he's part of De De Pyar De.

— #MeTooIndia (@IndiaMeToo) April 2, 2019
#2
Shame on @ajaydevgn for defending Alok Nath. They could have given him the boot post the allegations & FIR. I hate when celebs say "this is not the right platform to discuss". Issues such as this deserved to be discussed on every platform. #DeDePyaarDeTrailer @IndiaMeToo https://t.co/fA5DGDOczq

— Shamini.M.R (@Not_A_Shammer) April 2, 2019
#3
Didn't know that people are okay with watching a rape-accused's movie. Now I do. Also, the mental gymnastics men will perform to defend other men is fantastic. Why? Alok Nath tumhare rishtedar lagte hai kya? #DeDePyaarDe #DeDePyaarDeTrailer pic.twitter.com/i7rzNwUmhi

— Pramit Chatterjee 🌈 (@pramitheus) April 2, 2019
#4
WTF #metoo accused alok nath in #DeDePyaarDe. Shame on @itsBhushanKumar
@ajaydevgn
#BoycottDeDePyaarDe pic.twitter.com/xcFrIEKmYM

— Mumin (@ImMumin) April 2, 2019
#5
#DeDePyaarDeTrailer is looks entertaining stuffs. But why #Metoo accused people like Luv Ranjan and Alok Nath are still getting to work? Why so much outrage for Vikas Bahl only? Not for them now? Why so much hypocrisy?

— 💔 (@sohailrocks11) April 2, 2019
#6
Several bald and sanskari looking men NOT YET accused of rape who could have been cast in @ajaydevgn @itsBhushanKumar movie instead of Alok Nath.
But the pro-rape/ anti-women bias shows now.

— Anoo Bhuyan (@AnooBhu) April 2, 2019
#7
Guess what? Sanskari Alok Nath who was mentioned in #MeToo is in #DeDePyaarDe and no one is talking about it but imagine if he was in a Salman film 🙄 there would've been debates going on tv channels and all over social media blaming Salman khan for it hypocrites

— Dil_E-NADAAN (@Isalmanist) April 2, 2019
#8
Where are you #MeToo girls?#AlokNath comes with #DeDePyaarDeTrailer
Then why Nana, sajid khan not allowed to do #Housefull4?@mrsfunnybones@ajaydevgn @akshaykumar @SimplySajidK @WardaNadiadwala @Riteishd @iHrithik @itsBhushanKumar @karanjohar@ReallySwara @TanushreeDutta

— Bangali BaBu (@KhiladiBhakt) April 2, 2019
#9
I enjoyed the #DeDePyaarDeTrailer, but WHY IS ALOK NATH BEING GIVEN WORK!!!!! WHEN IS THIS GOING TO STOP! This man has harassed and molested women, and has in all probability committed rape. But we will STILL give him work, we will STILL cast him.

What. Is. This.

— Sahir. (@sahiravik) April 2, 2019
#10
WTF #metoo accused alok nath in #DeDePyaarDe. Shame on @itsBhushanKumar
@ajaydevgn
#BoycottDeDePyaarDe pic.twitter.com/xcFrIEKmYM

— Mumin (@ImMumin) April 2, 2019
When Ajay Devgn was asked about the same at the trailer launch event, he said that it's not a right place to talk about it. He further added that the film was completed before the allegations surfaced against Alok Nath.
Do you think Ajay Devgn's justification is right?
Share Your Views In Comments Below