Entertainment
Akanksha Sharma Files Complaint Against Yuvraj. Twitter Asked Her To Stop Publicity Stunt
Remember Akanksha Sharma, the most controversial Bigg Boss contestant of last season? Well, she has a Yuvraj Singh connection & taking advantage of that, she keeps creating dramas every now and then.
She was married to Zorawar Singh, Yuvi's younger brother, but since things didn't work out, they parted ways. Since then, Akanksha has been making many revelations against the family and creating troubles for them. Recently, she filed a domestic violence case against Yuvraj Singh, his mom Shabnam Singh and his brother Zorawar Singh.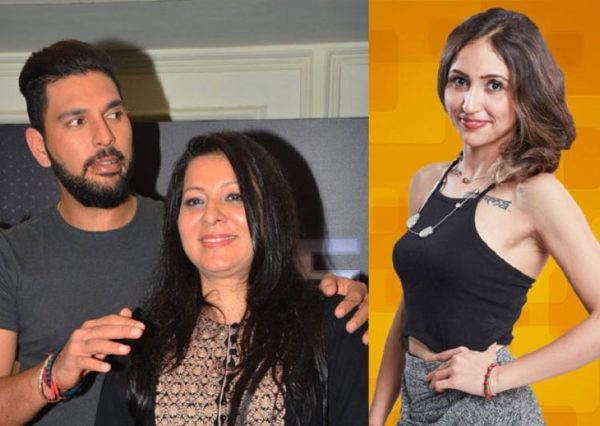 As per Akanksha, the family mentally and physically tortured her. In her complaint, she wrote that the family forced her for performing unnecessary tasks and would also invade her personal space. Yuvraj Singh's name is included in the complaint because he took no effort to stop all this!
Twitter came in support of Yuvraj Singh and slammed Akanksha Sharma for this publicity stunt. They started the trend #WeSupportYuvraj; check out their tweets…
Attention seeking!
#WeSupportYuvraj yes 100 percent always
Women like these take away attention from real victims#ShameonAkanshaSharma

— [email protected] (@Bolly_drama) October 19, 2017
Stop misusing!
Stop misuse of #Domestic #Voilence #law make #GenferNeutralLaws in #India . @PMOIndia @vaastavngo pic.twitter.com/oFxGv0t3Qf

— #WalkForMen (@mymumbra) October 19, 2017
Stop fooling!
https://twitter.com/NikishaDesai/status/920908081579491328
For money and popularity!
https://twitter.com/_SirJadeja/status/920905715602006016
Stunts are useless!
https://twitter.com/SirNawazuddin/status/920906188874596352
Stupid!
Stupid attention seeking stunt Akanksha! You said you have nothing against Yuvraj. Nobody is going to trust you. #WeSupportYuvraj pic.twitter.com/D2wx7rITRQ

— Anuj Prajapati (@anujprajapati11) October 19, 2017
Koi Bhaav dedo!
First akansha tried in #bigboss , now #domesticviolence on @YUVSTRONG12

koi to bhav de do usko #fakecases

— chandra prakash (@P_R_A_KASH) October 19, 2017
Fake cases
#WeSupportYuvraj
Why judiciary making mockery of #fakefeminism
Just for #fakecases to pile up n earn money?#scrap498a#equalpunish#Diwali pic.twitter.com/HvPHsWQfXc

— sunil putsala (@putsala_rao) October 19, 2017
If she's doing it for publicity stunt, it's really bad. We are waiting for Yuvraj Singh to react to this.
Share Your Views In Comments Below